I was watching The View the other day because they had a segment on that caught my eye- How To Eat Healthy On A Budget. The tips were given by Joy Bauer.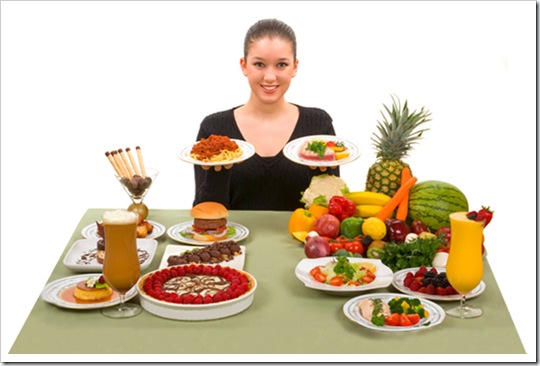 This is right up my alley as I have been making huge cutbacks to our grocery bills for the past few months.
I wanted share with all of you these awesome tips that I learned:
1) Eat like a Veggie
Did you know that eating like a vegetarian is cheaper than eating like a meat eater? Stock up on lentils, beans, and eggs for cost efficient meal ideas such as lentil stew, bean chili, and egg frittatas. The average cost per person for one of these meals above is only $1.25 USD per person!
2) Buy Produce that is in season
When you buy produce that is in season it is cheaper! That's why you rarely saw me buy berries in the winter time. Way too much money. The cheapest fruit to buy are apples, oranges, grapefruit, and bananas. The cheapest vegetables are broccoli, cauliflower, carrots (not baby), sweet potatoes, and onions.
3) Banish Expensive Drinks
Stop buying sodas and expensive coffees that drain your wallet. Joy suggested buying a seltzer machine (around $80) and making your own bubbly drinks for only 20 cents a litre! Try adding slices of cucumbers, oranges, or lemons to your at-home drinks to make them more fun (I Love this idea!). She also said that buying powdered drinks mixes are much cheaper than buying them already with water added.
4) Buy Bulk!
Instead of wasting money on those 100 calorie pre-packaged artificial foods, buy healthier foods in bulk such as nuts, seeds, and dried fruit and create your own pre-packaged portions! If you took a box of the 100 calorie snacks and dumped all the food out on the counter, there wouldn't be much food there. You really aren't getting much bang for your buck! I love trail mix. You can add so much variety and constantly change them up. Once you find a mix you love just portion it up in reusable containers and it is ready to go.
What are your favourite tips for saving money on grocery bills? Share your ideas below!

Day 18 (April 13th): Ok, so the Easter Bunny was good to us. Maybe a bit too good to us! But that is no reason to fall off the BBBC Challenge wagon, is it? Here is a great tip when receiving lots of candy or chocolate: FREEZE IT! Yup, that's right. Package up that chocolate and candy in plastic wrap + zip lock baggies and throw it in the freezer. Our of sight, out of mind! Sometimes I like to have frozen chocolate without dethawing it- it lasts longer!
To snap us all back into BBBC mode after a somewhat sugar blur of a weekend, let's make Monday a fun cardio day. Now is the day to get back on track and start off the week on a healthy foot! Aim to do at least 30 mins. of heart-pumping cardio, as well as a 1 minute plank, 1 minute right side plank, and a 1 minute left side plank. Ahhh…doesn't that feel better?

I thought I would show a few more pictures of our visit this weekend to the In-Laws. Their house is just too cute! The following pictures are from the older (1800's) section of the house!
The (Haunted) Laundry Room: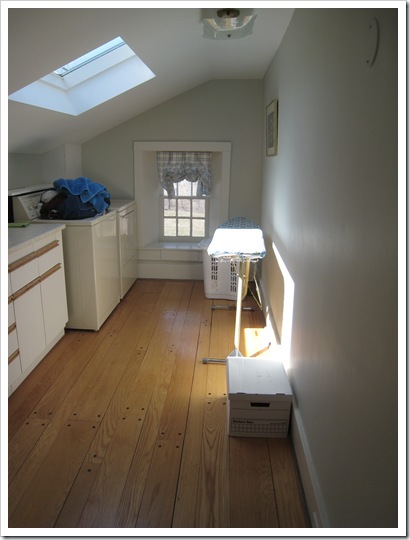 Apparently a young girl died in this house shortly after it was built. There is a rumour that she haunts this laundry room! There is a creepy long mirror on the back of the door and many people have said (including myself) that there is something very creepy about the mirror when they look in it (Sorry NO picture!!). Eric and I have also slept in this room overnight on several occasions before the extension was built. It was really creepy and I always felt a bit 'off' in that room! We also had one female guest say that she woke up to her bed shaking and bouncing about!
The (previous) Master Bedroom, now guest room: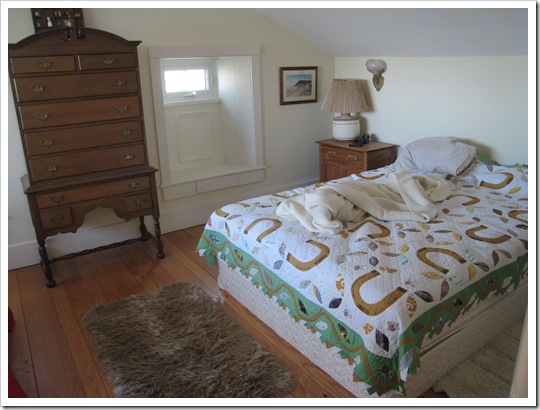 This room is just cute, cute, cute. I love the antique armoire. My In Laws have a love for antique furniture and the house suits it so well. The original wood floors are just fabulous!
The stair way landing: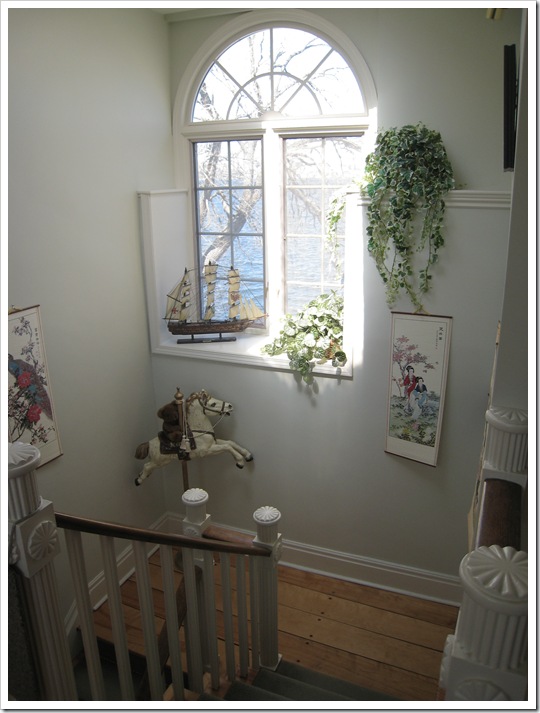 I love this picture window with the view of the water. At the top of the landing (sorry not shown) is my father in law's desk and computer- what a view he has!
Well, I am off to make a huge green monster! I can't wait :) Enjoy your Morning- I hope it is a great one!

"If we all did the things we are capable of, we would astound ourselves." – Thomas Edison