We're home after a long 3 hour drive! Actually the drive wasn't too bad. We lucked out and got a traffic tip from my brother in law who left about a half hour before us. He warned us of an accident on the highway, so we simply re-routed and took the back roads for much of the drive. Thanks bro!
The good news? On the drive home I finished reading my Food Safety Course manual– all 100 pages of it! I am pretty pleased with that. Now I just need to go back and study all the pesky definitions and regulations (e.g., poultry should reach an internal temperature of 180F for 15 seconds before it is suitable to eat).
But back to our wonderful weekend getaway, shall we?
Lunch
Lunch was fresh and tasty:
Make your own sandwiches featuring my homemade flax and pumpkin seed bread!
My plate:
Two slices of bread, romaine lettuce, tomatoes, mustard, black pepper and lots of great fruit!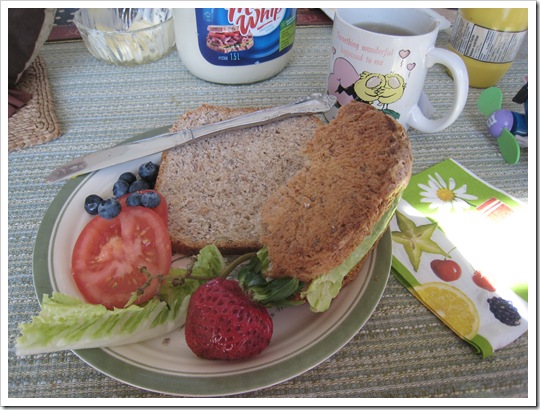 Look what the Easter Bunny brought!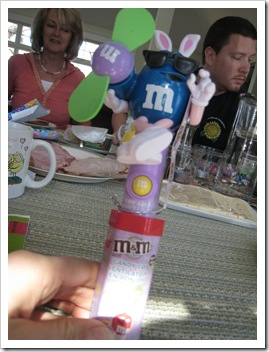 My dessert was a wonderful After Eight chocolate as well as a bite of my Beantween You and Me Brownie.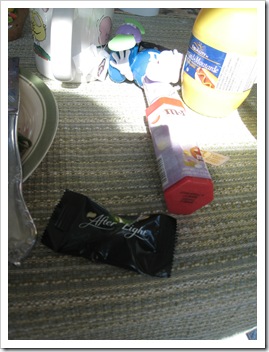 After lunch we practiced a little more guitar (I looove it!) and then packed up the car. On the drive home I had a Goji Berry Stash tea in my travel mug and a Larabar.
We got home around 7:45pm, and I was still quite hungry. Before I had dinner I had a few bites of this Daryl's All Natural Granola bar that Jessica gave me!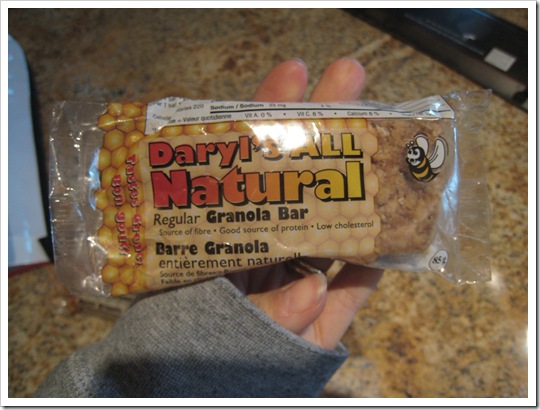 It was so delicious! It had a really prominent peanut flavour too. I hadn't had peanut butter in so long so this was a really nice surprise!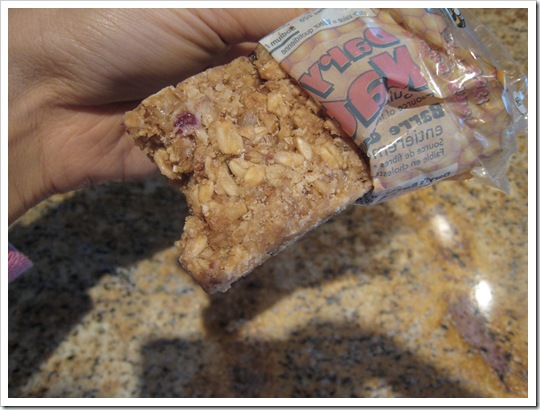 It is filled with lots of healthy foods. It also packs a whopping 16 grams of protein (!!!!)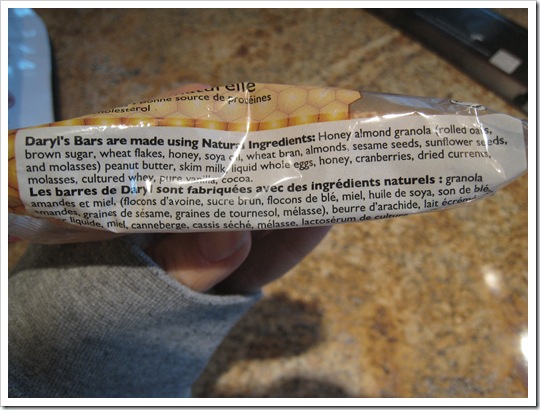 I will have to keep my eyes peeled for these bars! I still have another Chocolate one to review. Thanks Jessica! :)
Dinner
I sorta ruined my appetite for dinner, so I just kept it light tonight!
I whipped up some Tipsy Whiskey Black Bean Burgers: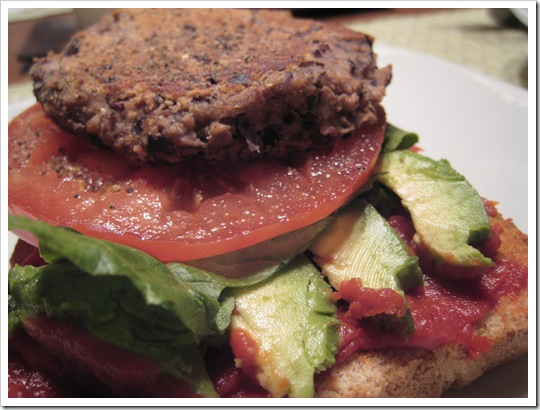 I love these and they are SO easy.
Ingredients (makes 2 small burgers):
3/4-1 cup black beans (sorry didn't measure!)
1 T Tipsy Whiskey BBQ Sauce (any BBQ sauce will do)
2 tsp whole wheat flour
1/2 tsp minced garlic puree
With a romaine salad + tomato + Red pepper + Ground flax: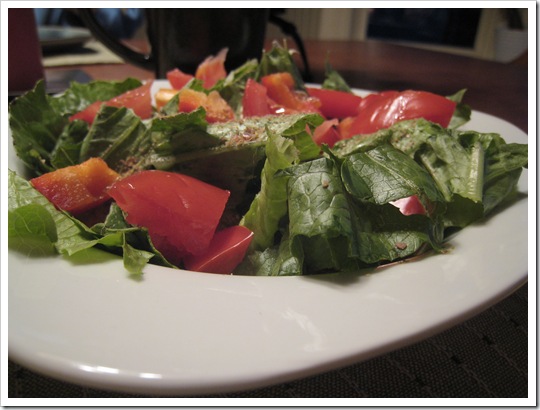 Eric hates black beans but he really enjoyed these burgers! It's all about the presentation, right? Many of my Glo Bakery goodies have veggies hiding in them!
For dessert, I had a Beantween You and Me Brownie and a Martini (Sweet Wheat Sugar cookie)! I love leftovers, don't you?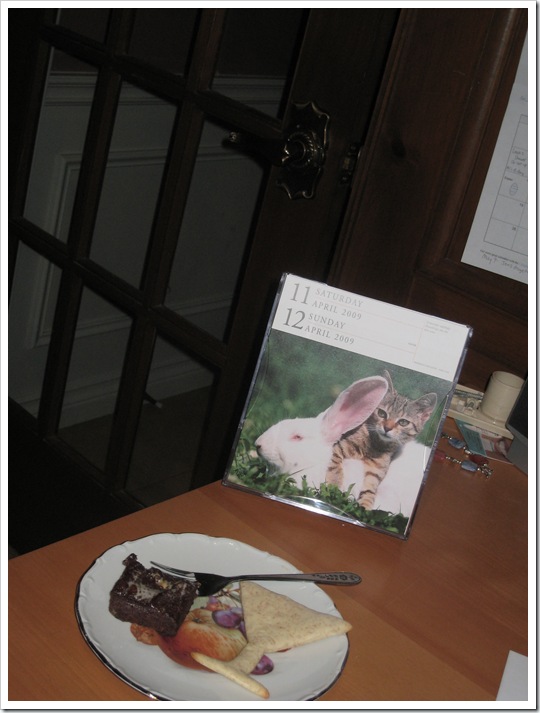 Now I am quite stuffed and done for the Easter weekend!
I am quite happy with how the weekend went eating wise. I was able to indulge in the treats that I wanted, while not going overboard. I think this weekend was a good example of moderation! It doesn't always turn out that way for me so I guess I am making progress. :)
One thing I am really craving is a Green Monster tomorrow! Today was my first day without one in over 1-2 months or more???
How was your Easter food-wise? Were you able to strike a balance with healthy foods and indulgences?

I'm off to play more gee-tar! :D