I have Eric's Anywhere Internet in the car right now. It is a fun way to pass some time although I won't be on here for long because the sun is beaming down on the screen and it is hard to see!
Eric packed the car this this morning and got out Sketchie's travel bag: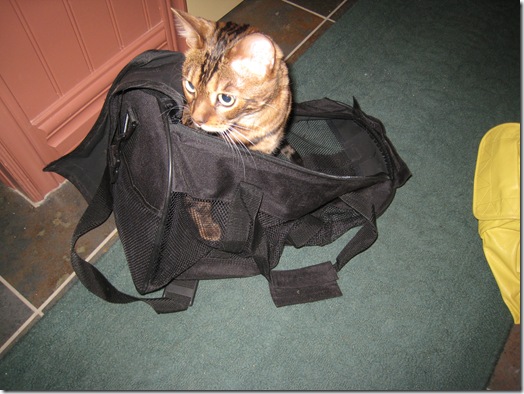 He sat in the bag for a full 2 hours until we left! He loves car rides and he loves visiting the in-laws. They have 2 other kitties that Sketchie likes to torment.
Breakfast was a Peppermint Tea Green Monster, 3 pieces of a juicy cantaloupe, and 1 Wakey Wakey Glo Bar: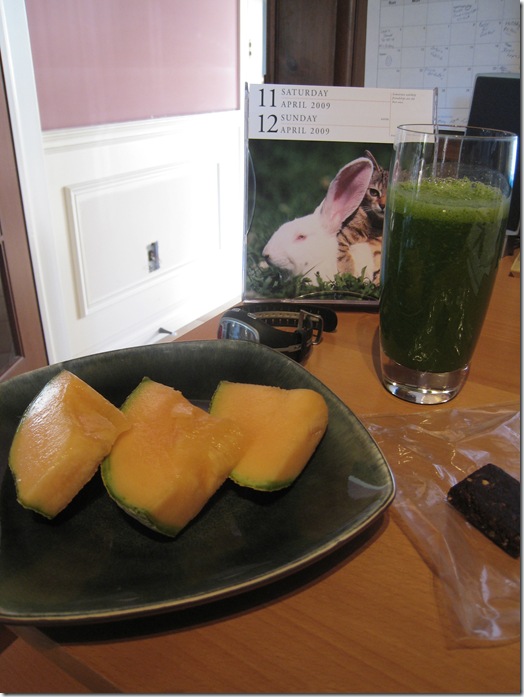 I had a fun and effective interval workout this morning!
Workout Stats:
Duration: 45 mins.
Max heart rate: 164 bpm
Avg heart rate: 143 bpm
Feel the burn: 340 kcals
Here is what I did on the treadmill:
2 min walking warm up, 4.0 mph, incline 7%
15 min run, 4.6 mph, incline 7%
1 min walk (same as above)
10 min. run (same)
1 min walk
5 min run
Last 8-10 mins I walked at 4.1 mph, incline 5-%
I also got off 3 times and did a couple downward dogs and 1 set of 20 pushups. After my shower I was starving yet again, so I had a wrap with tomato paste spread all over it (sorry no pic!). It held me over to lunch.
Lunch was Salmon Veggie Wraps!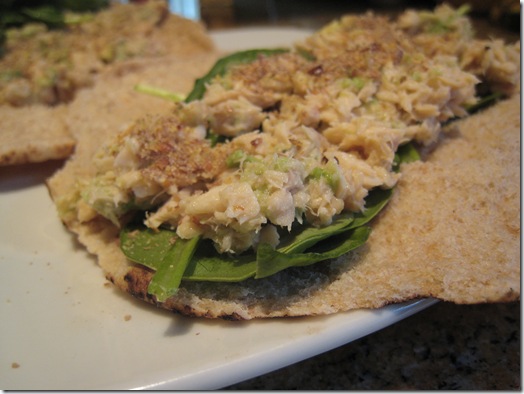 Contents:
Baby organic Spinach
1 can Gold Seal Flaked Salmon
Black pepper
Kraft Light Roasted Tomato Dressing (1 Tbsp approx)
Ground flax
1/2 avocado
Sliced tomatoes
Pita Wrap (same pitas I showed yesterday)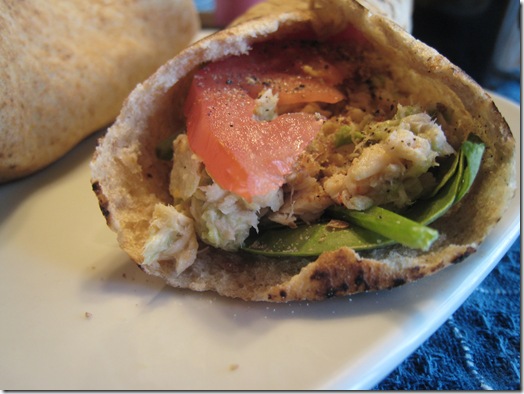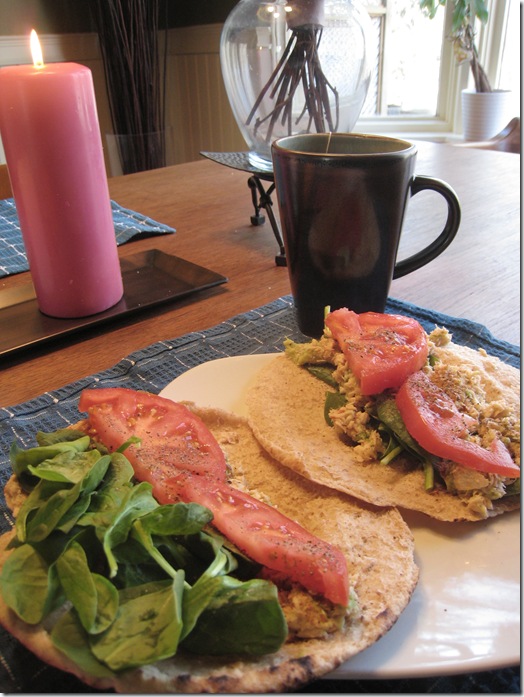 With a huge Sunkist Orange: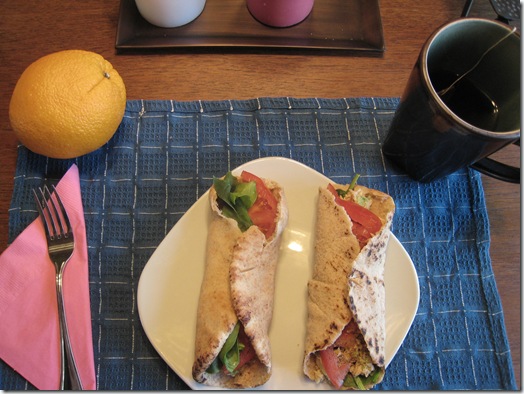 I also made Flax and Pumpkin Seed bread to bring with us to the In-laws today!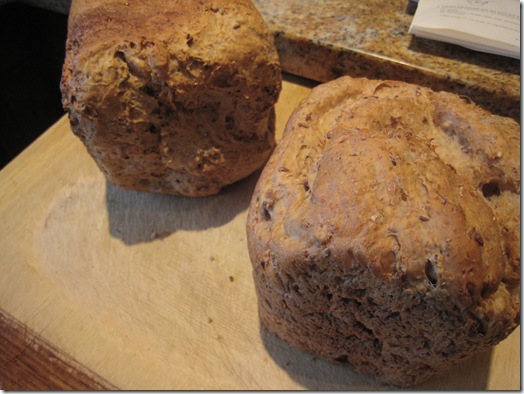 I wanted to eat it so badly, but we had to save it!!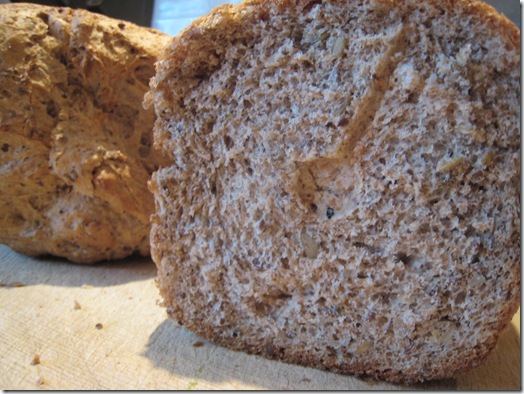 Once, in Toronto I dropped off my Glo order to the lovely Jessica. Jessica and I met through our photographers! Dave and Charlotte are shooting Jessica and her fiance's wedding this August! :) She was super sweet and gave me a gift!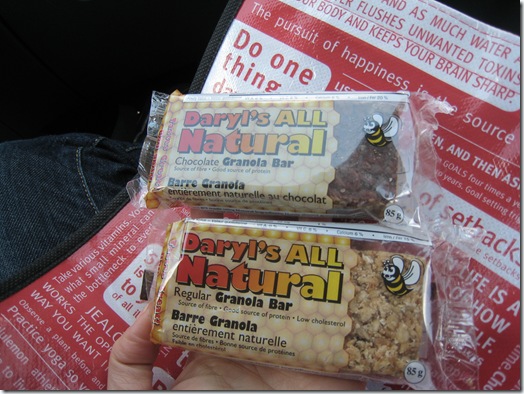 What a sweetie!! I can't wait to try these out. Stay tuned for a review this weekend! I may just have to have some now! :)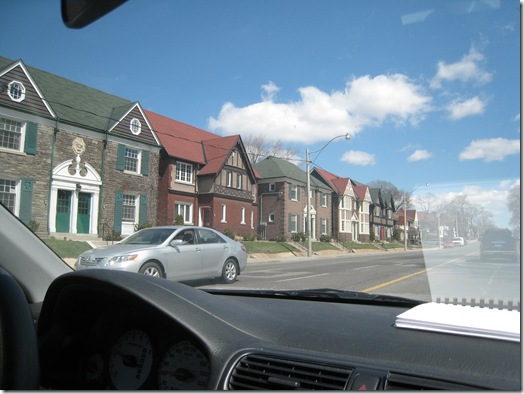 Such a beautiful day outside!
Ok, I'm going to shut down now folks! I'll leave you with another fun Yogi Tea quote. :)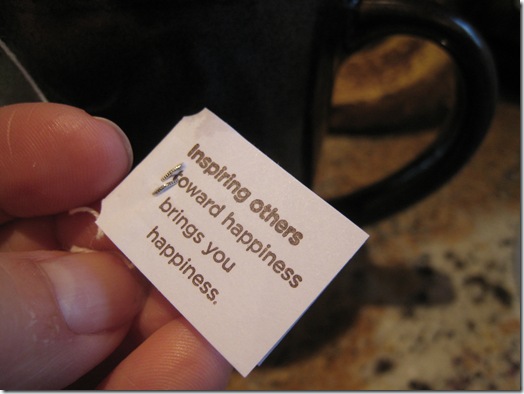 We have about 50-60 mins. left of our drive. Luckily no Easter traffic when we passed through Toronto.
I brought a bag of snacks and I'm getting hungry so I might have some now.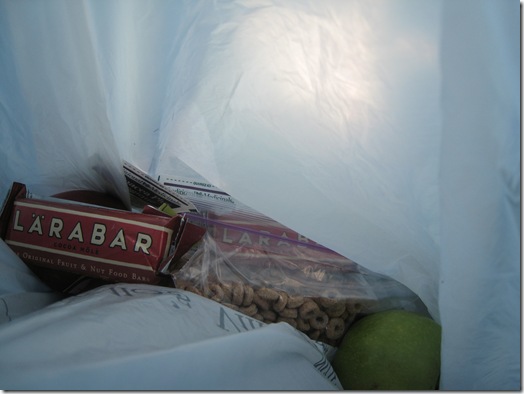 Not sure if I will post tonight or not…maybe a quick one before bed! I'll see how tired I am. :)
Have a great day everyone!
Angela (We'll just pretend that is my siggy!)