It is now day 16 of the Bikini Body Boot Camp. Times FLYS, eh? One of the biggest changes I have made to my regular routine is adding back in strength exercises as well as flexibility work. Both of those have been neglected in my fitness routine for some time.
Due to my injury I lost a lot of muscle strength and tone. I am happy to say in just 2 weeks, I already feel like I have made progress! I have been focusing a lot on core exercises because my Sports Medicine Doctor told me that one of the main reasons why runners get injured is due to weak core muscles.
2- week progress picture: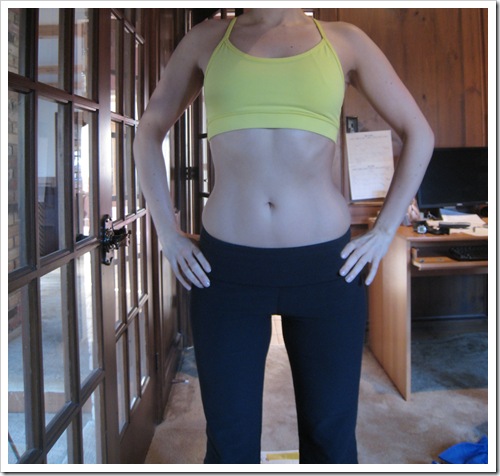 Now it is fairly difficult to see the changes from a picture, but overall I have noticed stronger, firmer abs and a tighter core area. In just 2 weeks, that is very encouraging progress! :) I have also noticed my legs firming up and more muscle in my arms.
Have you seen any changes (even small ones) since starting the BBBC? Leave a comment below and tell me why or why not!
If you aren't seeing changes yet, don't get discouraged. Two weeks is a very short amount of time and I am actually surprised that I have noticed anything yet. Remember, there are still 6 weeks of the challenge left!
This BBBC has been so successful, I am already thinking of doing a Summer Edition for Part 2! :)
Day 16 + 17 (April 11th and 12th): Since it is Easter weekend, I'd like to do a fun Easter related challenge! I want you to do 3 sets of bunny hops. Outside in the middle of the road. Make sure there are people watching!

I'm only joking- unless you want to of course! Your challenge Easter weekend is to enjoy moderation. I don't know about you but I have had Easter holidays that I have gone totally overboard and consumed way too much sugar. Our challenge this Easter is to enjoy some chocolate or candy, but savour it, eat it slowly, and enjoy every last bite. If you focus on the taste of the food you will find that you don't need as much to satisfy your craving. Stop the mindless munching and plan your desserts!

Hop, hop.

I was up early at 7am this morning packing my orders! Despite my critical view of my cookies, I was actually quite pleased with the overall product and presentation! One thing is for sure, this order has really given me a boost in my decorating skills confidence. In just two days my hand is already much more steady and I have more ease with a variety of piping tips.
The wrapped Tiffany's cake:
This is an example of a wedding favour! Although it is supposed to have a tiny white bow glued at the top but I am out.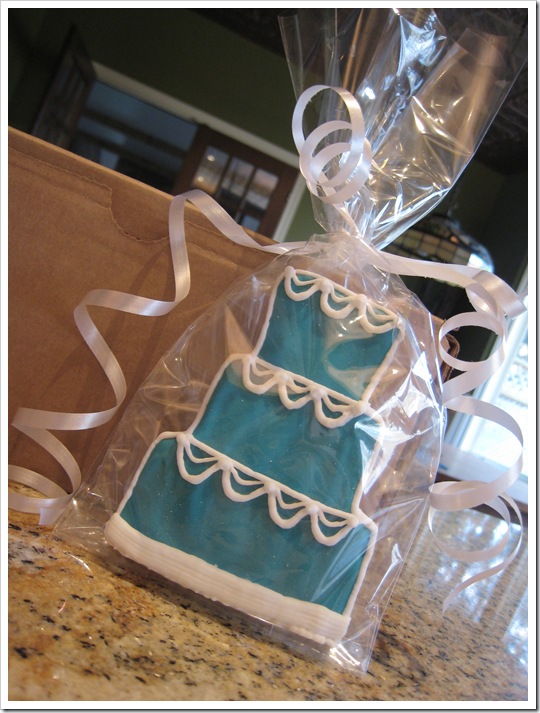 Martini, anyone?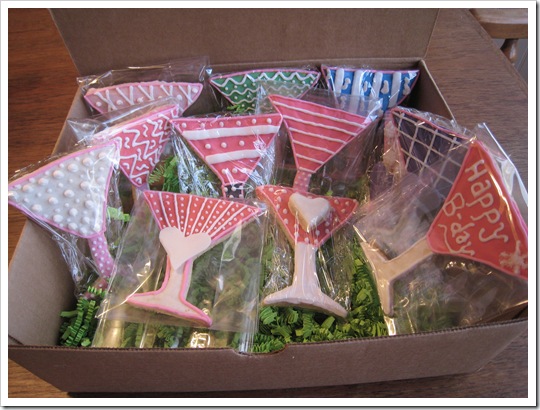 The whole lot including the goodies I am bringing to the in-laws today: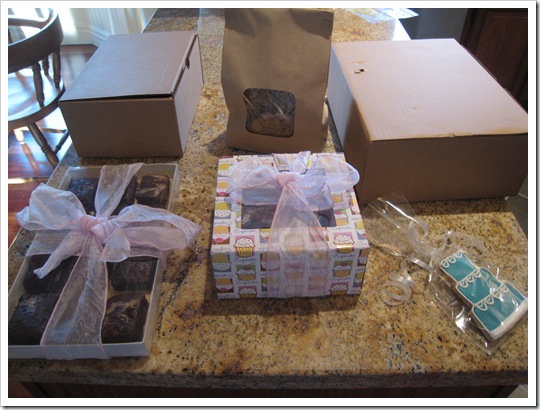 All and all I am quite happy with how things went! Now I just need to deliver them in one piece. :)
The Unofficial Glo Bakery Logo!
After many revisions, I have an unofficial Glo Bakery logo to show you all! We may still make some minor changes to this, but for the most part you get the idea!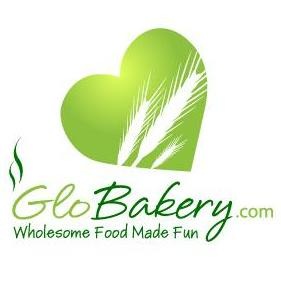 I LOVE the concept of the heart and the grains in the background. I think it goes really well with the overall healthy theme and will tie in nicely to the existing webpage: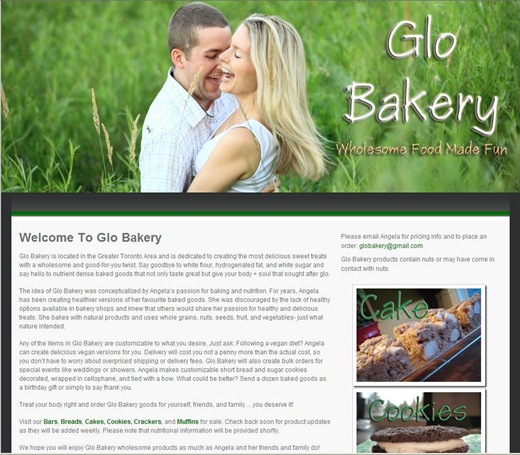 Now I can order business cards and stickers! Weeeeeeeee. Does anyone know a good place I can order them from online that has reasonable shipping to CAD?
Let me know your thoughts below!
Ok it's going to be a busy morning before we leave!
Breakfast (Tea infused Green Monster + Glo bar)
Workout!
Shower/dry hair/make-up
Pack
Make homemade bread + package for in-laws
Pack car
Dishes
And we're off by noon!
Good news is I will be blogging this afternoon– while in the car! Eric is on call for work this weekend and he has his 'anywhere internet' yay! :) Sure makes a 3 hour car ride go by quicker. See you this afternoon for a recap! I've received some great FAQ's in the past couple days so I may do another installment.
HAPPY EASTER!!!!!!