Last night I was freezing. We have been turning the heat down even lower than usual to save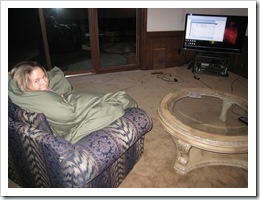 some money. I just couldn't get warm! I took a comforter off the bed and wrapped myself in it before we watched 24.
It was so comfy.
We watched the first episode of season 7 last night. It was good, but I must say we really miss out regular characters! I hope they return- especially Chloe!
It was a great episode! Of course Eric wanted to watch more when that one ended around 11:45pm, but I was zonked. Holiday or no holiday, I knew I needed to get up early this morning and get cracking on my sugar cookies!

Thank you all for your study tips yesterday! They helped me out huge. :) I am proud to say that I turned off the TV, PC monitor and I was able to read chapters 3-6! I am now more than half way through the manual.
I decided for the first time through I would read it to get a sense of the material (i.e., not take notes or quiz myself) and then the second time through I am going to zero in on the material.
For the most part the information has been super interesting!
I loved Greta's comment last night:
"The best motivator is a rapidly approaching deadline."
So true, isn't it? I have never been a big procrastinator (I was always the first one done projects out of my friends), but I still do put things off. Knowing that I have to write this exam on May 4th is a big motivator for me because with everything I have going on, that isn't tons of time.

I am insanely excited for my new Bamboo Tea box! Now, I have an obsession filling it up. :)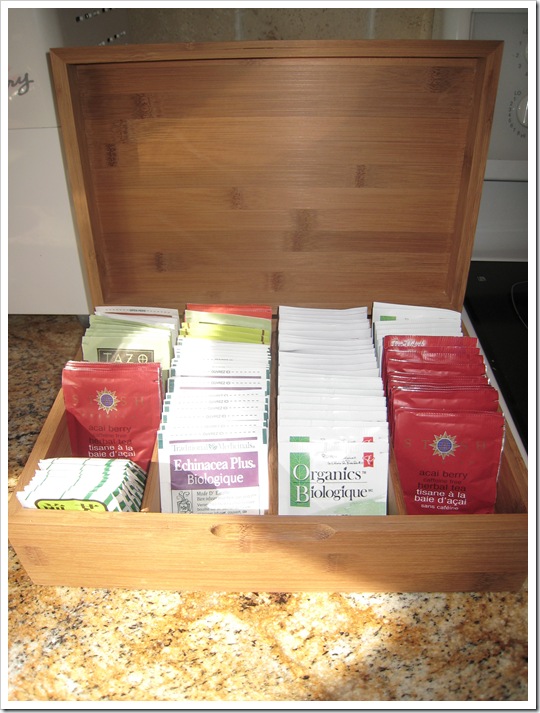 Some of my teas: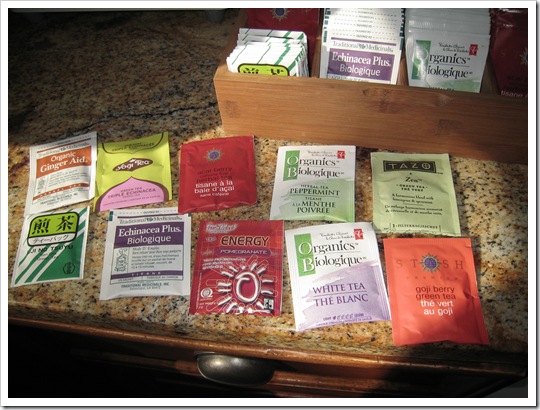 I am currently loving Echinacea Plus, goji berry green tea, and acai berry. I also love Yogi teas (this week was my first time having any). I checked out their website and they have a much bigger selection that my grocery store! I just may have to order some online. I would love to try their Detox tea!

So what is this surprise that I kept from you all yesterday?
Eric still doesn't know! Surprisingly, he didn't pester me about it too much yesterday.
I want to take us Indoor Rockclimbing! I am super excited and also quite nervous! I hope we can go today (depending on how much progress I make with my baking), but if not we'll go next week.
We've been saying for a long time that we've wanted to do it, so finally I decided to surprise him with it. We are doing a 2 hour intro session. I hope that it won't be too much strain post-injury. I will have to see how it goes!
If you have done indoor rockclimbing (and I know some of you have!) drop me a comment and let me know how it is!

Day 15 (April 10th): Is your cardio routine the same day in and day out? That ends today! Mix up your cardio routine. Do something totally different. The body responds well to change! Also, do 3 wall sits. Hold each one for as long as you can. I LOVE wall sits. I can do them for about 1.5-2 minutes each. It burns, but I love it!
The view I had the other night while making dinner– just gorgeous!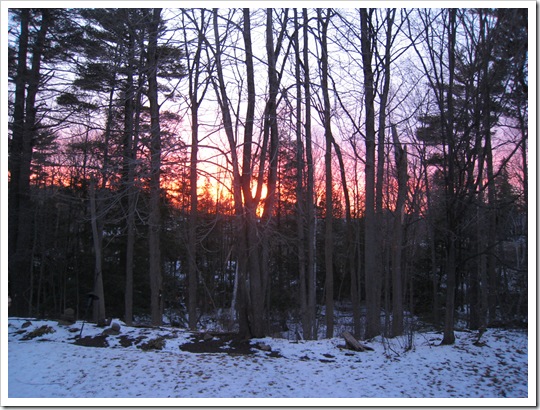 Note: I am happy to report the snow is now melted thanks to yesterday's warm temps!
Well, I am off to bake my little heart out! After that it is workout time.
See you this afternoon for the recap!
Hope you have a wonderful Good Friday!