You knew it was bound to happen. I love Japanese Sencha Green Tea. I love green monsters. I'm sure you never expected their two worlds to collide. I know I didn't. That is, until I received a fabulous tip from a lovely reader saying that she put tea leaves right into her green monster!
*Gasp* I know, I was taken a back by this wonderful idea.
Last night, I did some sophisticated and formal research (i.e., google) to find out if there were any benefits to putting tea leaves into a smoothie, or more importantly, if there were any risks.
There wasn't a plethora of information (no surprise there), however, I was able to conclude with some certainty that the benefits would be reaped the most if the tea was already steeped. You see, the hot water draws out the all of the wonderful antioxidants.
This excerpt was taken from Amazing Green Tea dot com:
"Many people say by eating the leaves whole you are getting all the health benefits. This is not true. This is because important tea compounds such as the catechins (antioxidants), caffeine and theanine (a relaxant that gives tea its characteristic taste) are all water soluble. So are many of the lesser compounds. What is not water soluble are some of the pesticides and other unknown compounds. Because they are not water soluble, they have greater chance of accumulation in the body. So it turns out that in green tea the safest way to consume it is the old trial and tested way – by steeping the leaves in hot water."
So rather than blending the sencha tea leaves directly into my monster, I decided to steep the tea ahead of time. I steeped a pot last night and chilled it in an air tight container to prevent oxidization.
This morning, I now had cold green tea waiting for me. I know, it didn't sound appealing to me either! But it was what I was going to make with it that sounded just lovely.
You can also brew the green tea and then chill it in the fridge on ice if you make it that morning.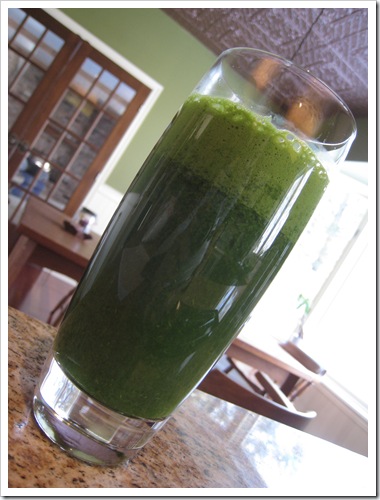 Here you have my Green Tea Monster:
3/4 cup chilled Japanese Sencha green tea (shown below)
1/2 cup Almond Breeze
1/2 banana
2 organic kale leaves (you can use spinach for a less 'green' taste)
1 T flax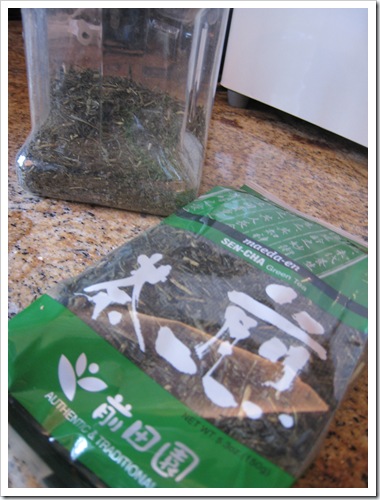 I loved it! It was such a fun change and the bit of caffeine from the tea gave me a noticeable energy boost.
Here is a recipe I found online that looks rather tasty!
Peach Green Tea Smoothie Recipe

 

1 large peach, sliced and pitted
1/2 a banana
1 Green Tea tea bag
1/2 cup ice cubes
1 tbsp honey


Directions:

Brew 1/2 cup of green tea and chill with ice cubes or Brew 1 cup of green tea and chill in refrigerator. Next blend the green tea, banana, and peaches until smooth while adding honey for sweetness. Enjoy a healthy green tea smoothie.
I already have LOTS of fun tea ideas.
I bought 3 new tea flavours yesterday to help fill up my new bamboo tea box. Stay tuned tonight to see the loot!

I had a great workout today. I decided that today I would try to run for a longer period of time on the old running beast and see how it goes.
Before my run, I was feeling goofy and excited: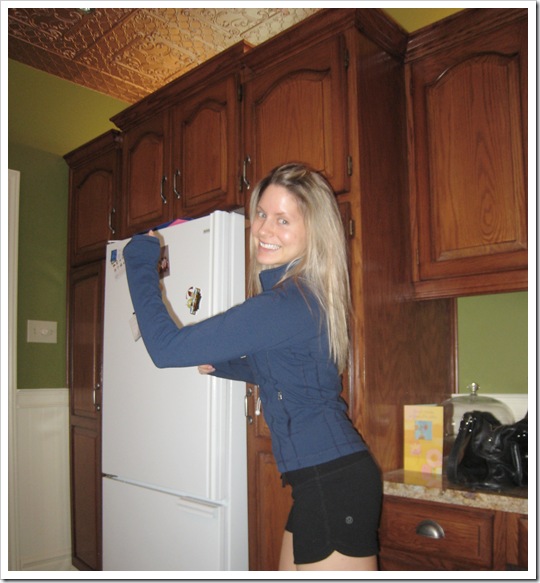 My workout:
Duration: 53 mins (includes yoga poses and a couple drink stops)
Walk/run intervals (walk = 4.0 mph; Run = 4.5 mph)
Max heart rate: 156 bpm
Avg heart rate: 134 bpm
Feel the burn: 382 kcals
Today I did a 2 min. warm-up walking 4.0 mph on incline 5%. Then I ran for- get this- 15 mins. straight (!!!) at 4.5 mph incline 7%. It was a breeze :) Then I got off the beast and did a downward facing dog pose for 1 minute. I got back on and ran for another 5 mins (4.5 mph, incline 7%). For the rest of the workout I walked at 4.0 mph at incline 12%. Twice more during the workout, I got off and did a 1 minute downward dog pose.
How's that for intervals?? :)
So I ran a total of 20 minutes today and that felt great. It was the longest I have run in a row since before my injury! As a cool down, I went outside and jogged on our deck just because it is such a beautiful, sunny day outside! I ended by doing a few stretches, including my new favourite Dead Bug Pose, of course.
One thing I notice more and more with the running is that my heart rate is much lower when I run as opposed to walking on an incline. Now truth be told, I was running quite slow, but even when I was at my peak in training last January my heart rate was much higher when walking fast at a high incline rather than running fast. Those hills are challenging!!

Well, it's time to have lunch and then hit the books!!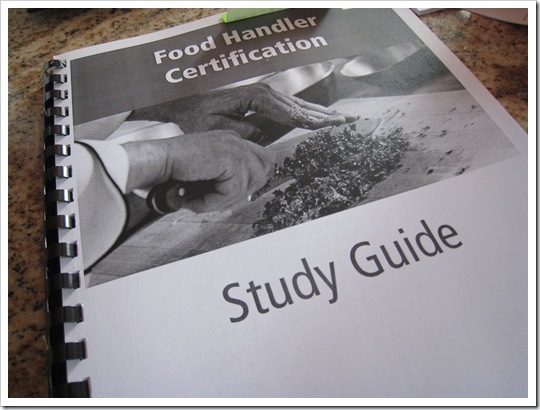 If all goes well I will be writing the exam on May 4th! Eek. Let's hope I am ready. I will be sharing with you all some great tips that I learn as I go along.
Quick fact: Did you know that your refrigerator should be 4 degrees celcius (40F) or lower?
I am going to test our fridge later!
See you tonight for fun healthy eats, my tea box, and my exciting and adventurous surprise for Eric and I tomorrow!
Today's Question: I saw Caitlin post this the other day and thought it was fun. What are your favourite websites that you visit daily that are NON-FOOD related??
Mine are the following:
Weather Network (obsessed)
Facebook