Remember about the special media-related review of Glo Bakery that I told you about last week?
Well, I can finally tell you all about it!
The witty and wonderfully written Karen Hawthorne from the National Post wrote me asking to review some of my Glo Bakery bars on the delightful Food + Drink blog called 'The Appetizer'. Of course I was thrilled and excited to take her up on her offer!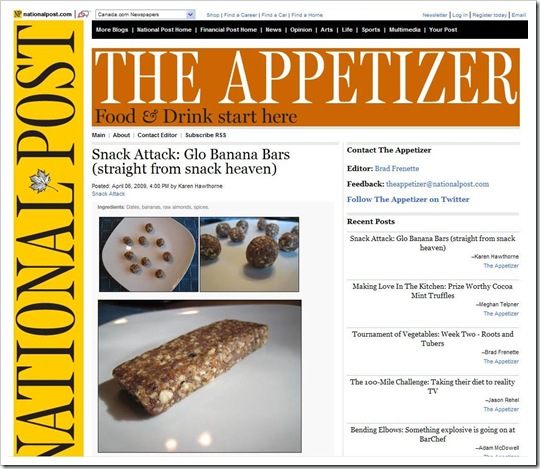 I sent her a Glo Bakery Bar Sampler pack for her to sample.
I was absolutely delighted to read her review when she posted it today!
Here is a snippet of her review:
"Want a simple, all-natural snack that's more interesting than a handful of almonds or sturdy carrot sticks in a Ziploc bag? Humdrum.

Something chewy with taste satisfaction that takes you from slumping at your keyboard to whistling while you mouse, planning for front row at a kick-boxing class or three-plus loads of laundry and ironing on the side.

But how do you get wholesome and wonderfully tasty together, in the same snack, without a lengthy list of additives and preservatives? Those 100-calorie portioned snack bags of Oreos and Cheetos don't make the grade…"
Read the rest of Karen's review (and mention of Oh She Glows!) here!
Thanks Karen! :)
Well guys, I've got a long list of things to tackle before slumber. We made some progress with the logo today (it's 99% complete!), as well as some research with respect to tax applications. I also purchased Quick Books to take care of my accounting/invoicing. I am going to try and teach myself that tonight!
Oh and bad news- there was an error in my video and it won't play. :( I hate when that happens. It was 14 minutes long so maybe that pushed it over the edge. One of these days I am going to have to invest in a video recorder instead of using the crappy one on my camera. Some day! :) I'll try to reshoot it soon.

"The successful always has a number of projects planned, to which he looks forward. Anyone of them could change the course of his life overnight."
–Mark Caine