Hey everyone!
I had such a great time at Leah's bridal shower today. :)
It was so nice seeing Leah. She was so happy the whole day and she really loved all of the decorations that we put up. Her mom rented this beautiful cafe for the shower and it was the PERFECT setting: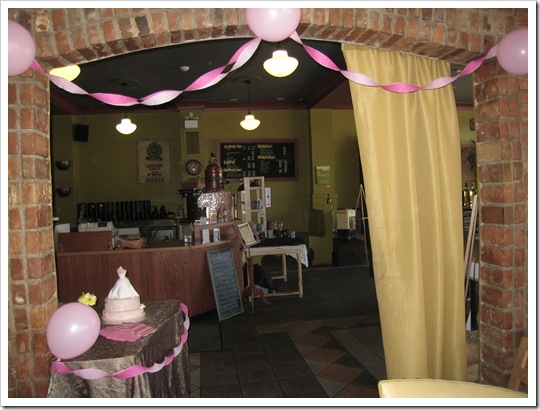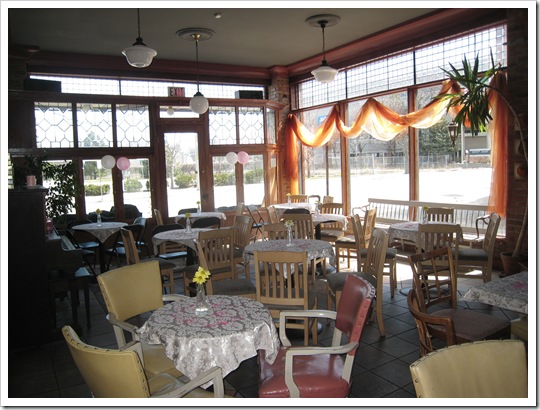 All the ladies playing a game: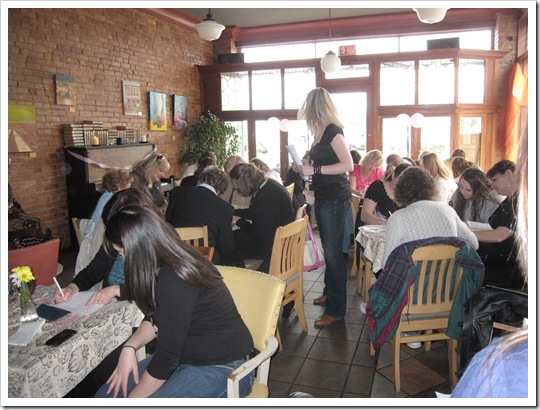 Leah and her sister's seats. Leah sat in front of the balloon tree. :)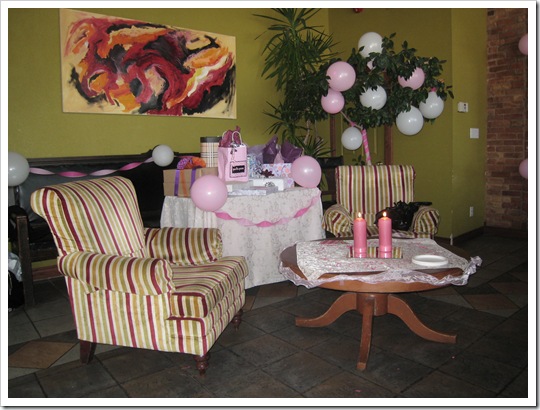 The food was AWESOME!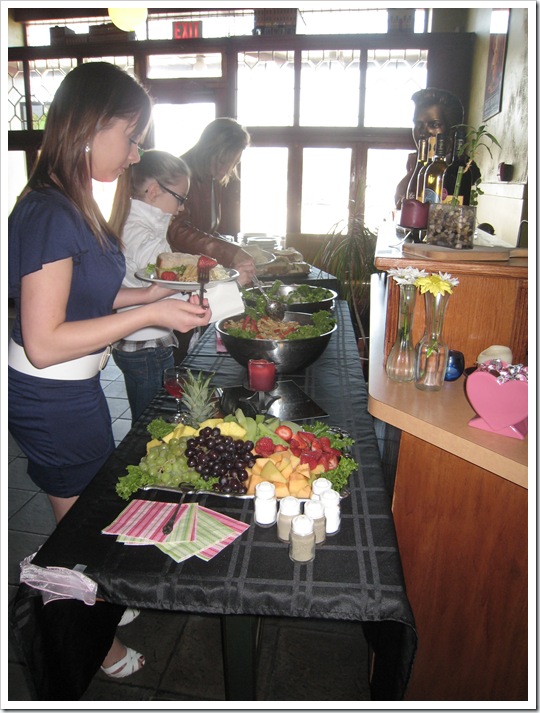 I had a veggie wrap, red pepper pasta salad, and mixed fruit: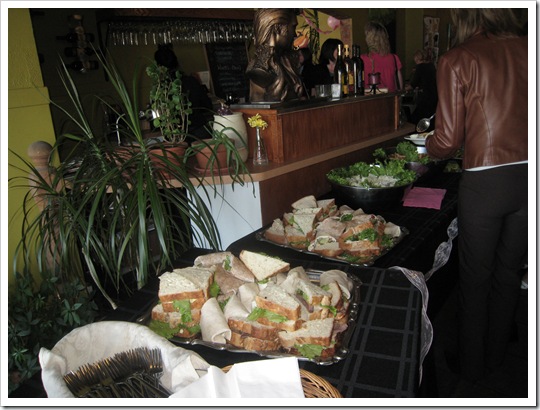 The best part was definitely her CAKE!!!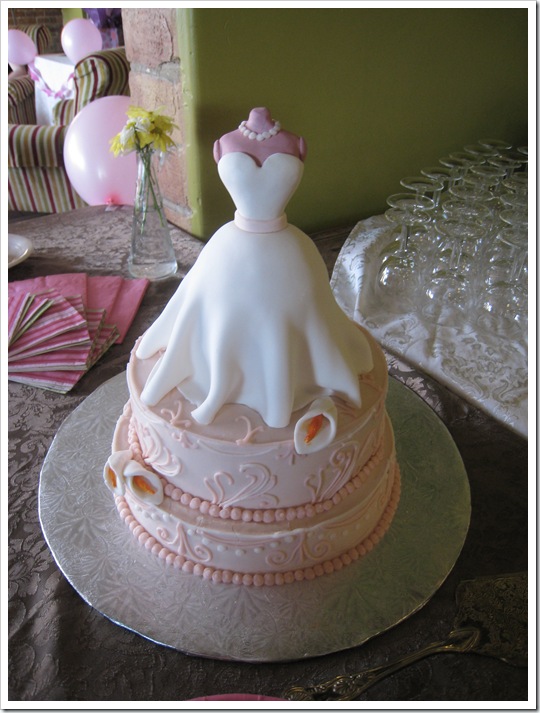 How cute is that??
Of course my first thought was….I wonder if I could make that?! lol.
I had to surgically remove the dress from the cake before we cut it.
It was a bit stressful! lol.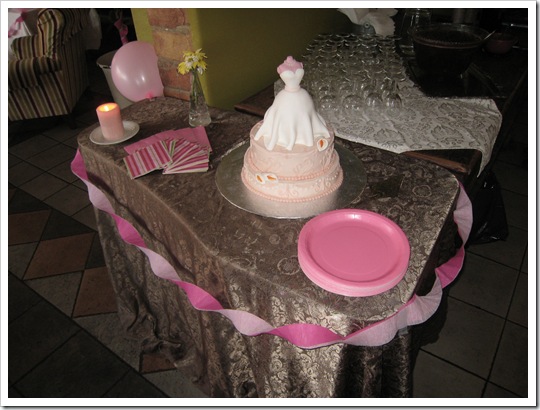 A game we played: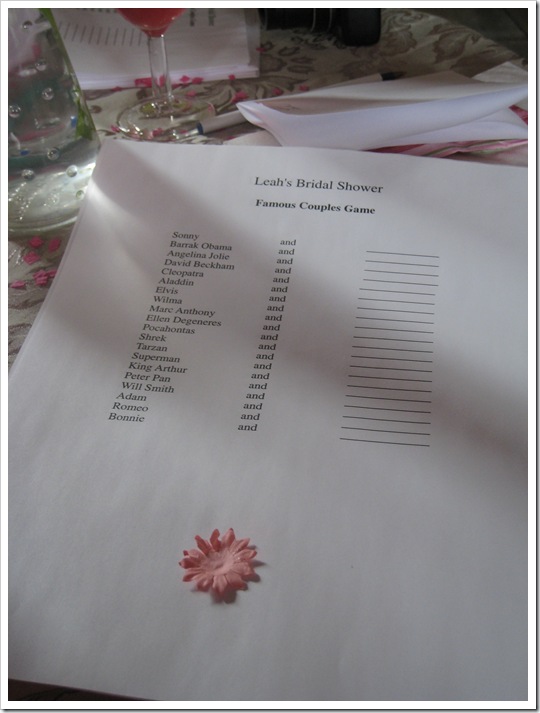 Can you get them all?
I must admit I could barely get half of these couples!
And now I can finally tell you what I got Leah for her gift!
The bridesmaids and I went in on a spa package for Leah and her mom a few days before the wedding! She seemed quite happy that we included her mom too. Now they get to go together and spend some mom + daughter time.
Oh and I met Leah's mom for the first time today and she is such a SWEETHEART! Honestly one of the nicest people I have ever met.
I also worked on a gift for Leah this week…I'm excited to show you it finally. :)
I got Leah a TEA BOX because she is a huge herbal tea lover (like myself!):
Of course, it had to have one of my favourite quotes engraved on the front of it: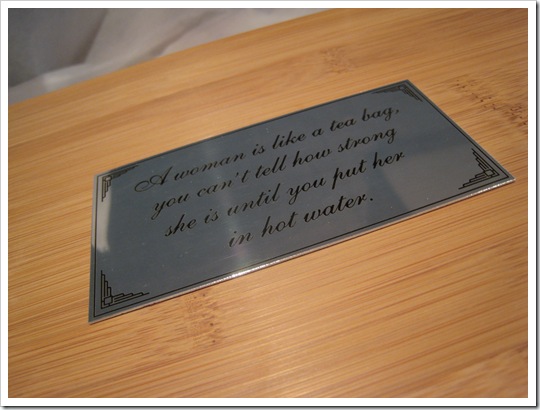 Cute, eh? The quote reminded me of Leah.
On the inside, I had inscribed To Leah and Steve, Love Angela.
I also included 100 tea bags in 20 different flavours. :D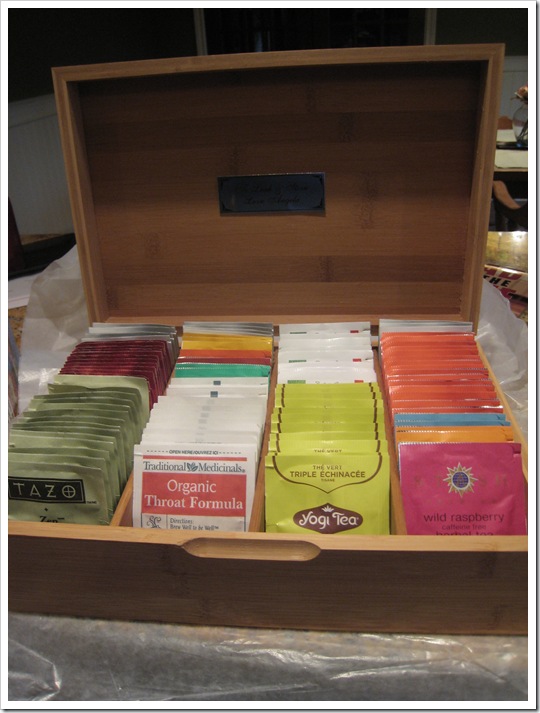 Leah's Pre-Bridal Glow Menu: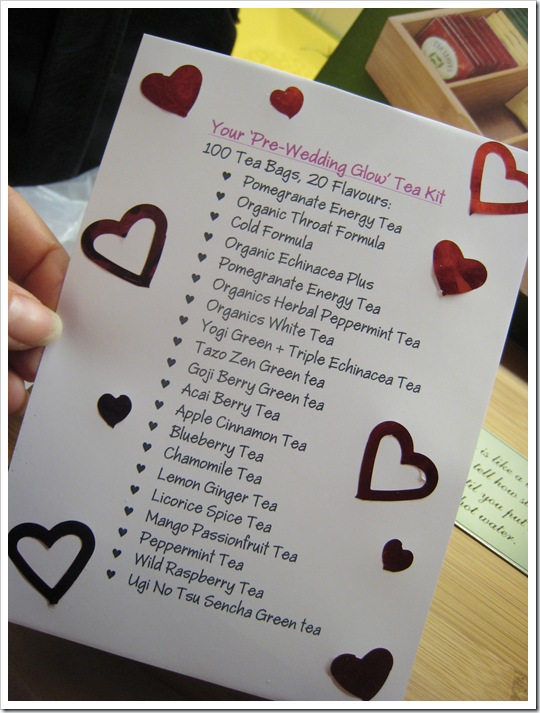 The best thing about this box is that it is made from 100% bamboo! Very eco-friendly, no?
Leah really liked the gift so I was very happy! :)
I must admit, I also bought myself a tea box! I am a huge tea fanatic and now I can organize my tea all in one spot. Now I just need to fill it….hmm…
The Beautiful Bride To Be and I: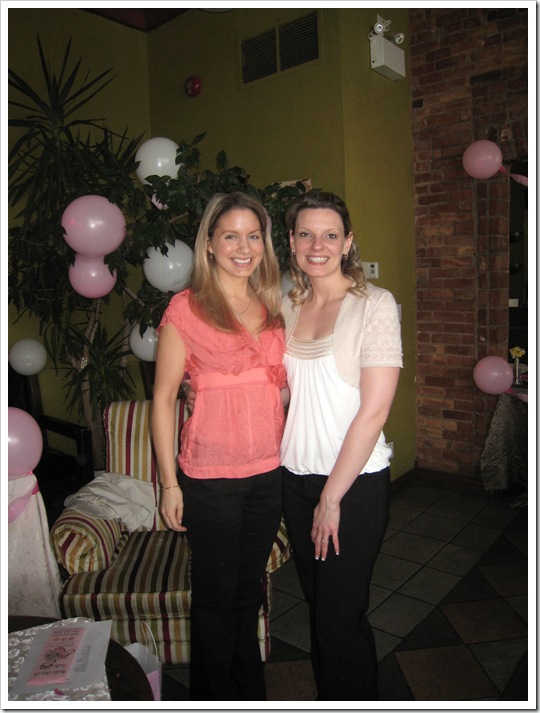 The Bride to Be and Her Bridesmaids (minus one that couldn't make it from the UK!):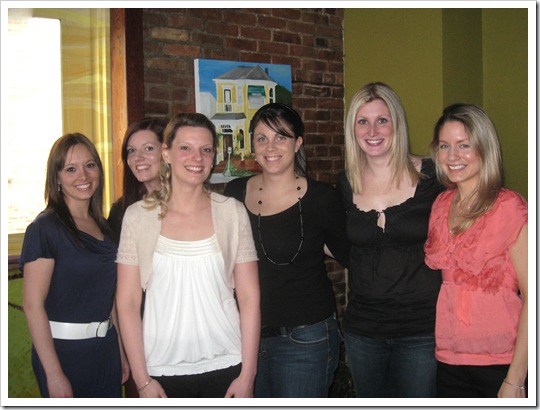 It was such a fun day! :)
I am pretty beat now! 4.5 hours of driving will do that to a girl. ;) I am going to unpack, clean up and then enjoy in some R+R.
My throat has been fairly sore today, but not quite as bad as yesterday so that is an improvement! I have been taking Cold FX and I swear that is helping. Placebo effect?? At any rate, it is good stuff.
Don't forget about the MONDAY MADNESS coming up tomorrow!
1) A Special Contest Giveaway right here on OSG!
2) The long anticipated Meghann's Bake Sale where you can bid on a Glo Bakery Bar Sampler (Sorry, Canadians ONLY as per Meghann's rules!) It starts at 11am sharp! See here for the Rules!
3) Tomorrow I will be revealing the exciting Media Related review on Glo Bakery!
See you for all the fun! :)
Tonight's Question: Are you in any weddings this summer or going to any?
Right now I am in Leah's wedding and Eric and I are also going to 3 more (that we know of!).
I am also making all of Leah's wedding favours for her wedding and possibly doing a couple other weddings too. Going to be a busy summer!
Night!