Good afternoon!
I am happy to report the sun came out of hiding! Just in time for Leah's arrival. :) I got a message from our friend who was supposed to pick me up today and she is sick. :( So she won't be coming down. I decided that I am going to drive up tomorrow morning.
Google Maps said that it will take me 2.5 hours to get to Leah's town, so I will leave by 9:30am to get there for noon. A couple of the other bridesmaids and I are setting up and decorating at noon. The shower starts at 2pm! It should be such a great day.
This morning I filled up on some Cold Banishers:
2 Cold FX Capsules (not sure if you have them in the US)?
1 Vitamin C pill (500 mg)
1 mug of Sore Throat Herbal Tea
1 mug of Breathe Easy herbal Tea
A super duper Kale green monster
My GM this morning was probably the grossest one I have ever had. But I knew it would be going into it. I had about 7-8 cups of kale, flax, and unsweetened Almond Breeze. Soooooo bitter. But I seriously think I felt so much better within 30 mins. It was quite amazing.
After a bowl of cereal, I felt good enough to workout.

 Some tunes I cranked:
"Breathe and Stop" by Qtip
"Buttons" by PCD
"Poison" By Bell Biv Devoe
"Pump It" by Black Eyed Peas
"Push It" Salt + Pepa
"Strong Enough" by Dixie Chicks
My workout stats:
Duration: 50 mins.
Walking (4.0 mph)/Running 4.3 mph, incline 12% (for whole workout, except 3 min cool down)
Max heart rate: 165 bpm
Avg heart rate: 146 bpm
Feel the burn: 400 kcals
I did walk/run intervals again. I also got to read my new issue of Runner's World so the time flew by! At minute 27 I got off the treadmill and did some yoga poses (down dog, bow pose) for about 1 min. At the end of my 50 minute workout I did 15 push-ups and some more yoga poses. I really love integrating yoga into my cardio intervals, I find it is so much more fun doing it this way rather than saying "I will do 20 mins of yoga each day".
I am enjoying yoga much more by simply looking at some pose guides online and then doing whatever looks fun! I think my problem in the past was timing my yoga workouts. I felt like I had to do 30 mins. (or more) to qualify as a good yoga workout. But that just isn't true!
My workouts are slowly adding more running (and faster) as I go along. If you have noticed, I started my runs out very slow (4.2 mph) and incline 8-9%. Now I have worked up to speed 4.3 mpg and incline 12%.
Eventually, as I increase my speed past 4.5-4.6 mph, I will be lowering the incline. Right now I am feeling quite good running my intervals for 1.5 minutes at a time. I think tomorrow or Monday I will increase the interval speed up to 4.4 mph. Slowly but surely I will reintegrate myself back into running, but I am doing it very cautiously so as to not get injured once again.

Lunch was simply delicious and included so many healthy and cold busting foods!
Leftover Lemon Dill Asparagus with homemade w/w Pumpkin Seed bread, avocado, tomato paste, and my homemade black bean hummus.
Talk about a nutrient packed lunch!
More Cold-busting foods: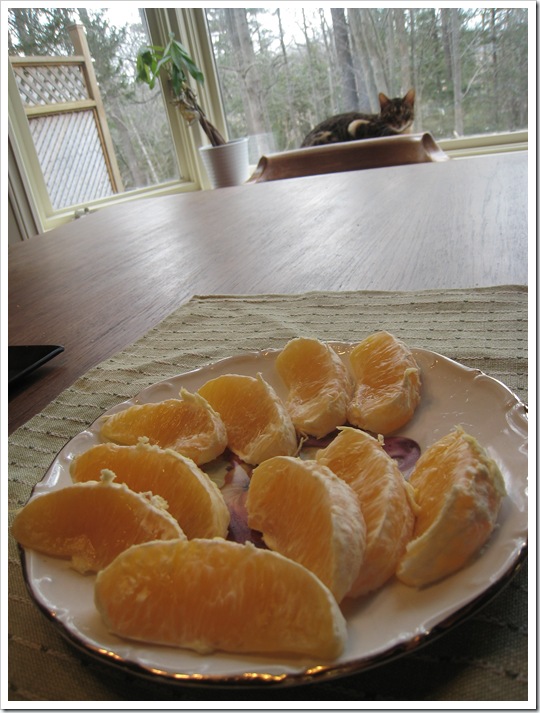 Hi Sketchie!
Want to know something funny? Whenever Sketchie smells an orange he scrunches up his face, squints his eyes, and backs away. He HATES oranges.
This cake was for Eric, but I had a few bites. :D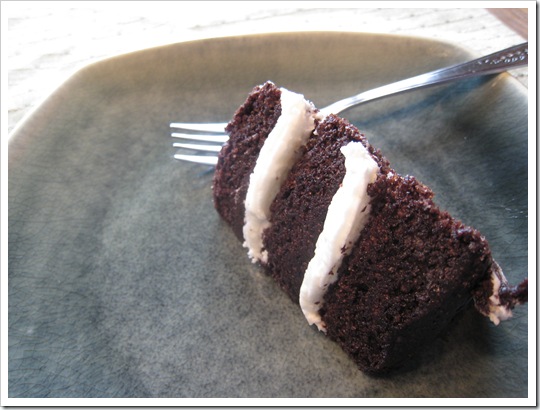 It is even better the next day! Eric loves this cake and he said he can't tastes the beets at all.
Want to see a teaser for Monday's fun giveaway contest?
This is one part of it: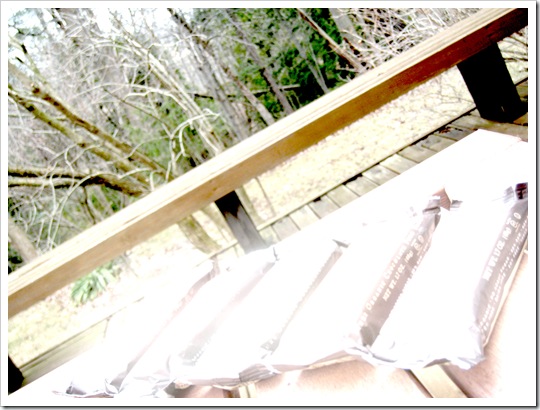 Hmmm what could it be??
And the other part is a complete secret!
Want an early start on the challenge?
Start thinking about a FUN way I could raise money for charity on Oh She Glows. I began to do so for my half marathon scheduled in May, however due to my injury I will not be running in that race, but a different race in the summer. The money my family donated will be simply transferred to the new race date.
If you recall, when I started raising money months back, it was for a great cause. The Canadian Cancer Society. Our family lost a dear friend last year to Cancer. He was only in his 20's. The cause has such a significance for myself and our family as obviously millions of people around the world.
I am sure many of you have seen the blogger cookbooks (just received mine from Jenna and it is HUGE!!!) to raise money as well as the bake auctions. I think these are great ideas, but I would love to do a new spin on them or something different entirely!
Remember the challenge doesn't start until Monday April 6th so hold off on your thoughts until then! But you can get the wheels turning this weekend. :)
Enjoy your Saturday. :) I need to start looking for a new race to train for this summer…ideally in July…
I am off to type up recipes…I have SO MANY to type out!! Where is my Baking Assistant when I need her? ;)