Hi there!
I baked some bread today in the bread machine from my mom. I just used the basic white flour recipe in the book and modified it to be healthier.
It turned into Whole Wheat Pumpkin Seed Bread:
It turned out fabulous!!
Imagine Eric's delight when he got home from work and I handed him this: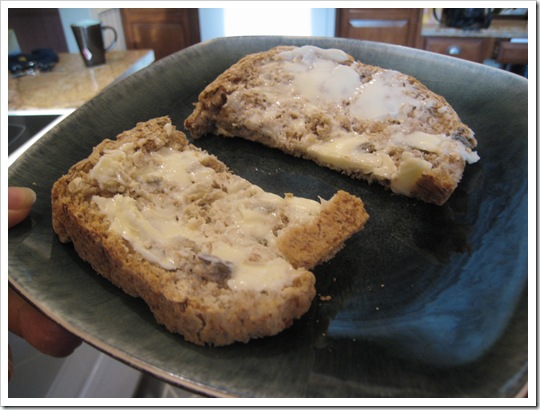 The house smells wonderful!
Here are the ingredients (in this order):
3/4 cup water
1 tsp bread machine yeast (finer than traditional yeast)
2 cup whole wheat bread flour
(I skipped the sugar)
1 tbsp Almond Breeze in original (a bit sweet so it works here!)
1 Tbsp Becel Olive Oil Margarine
1/2 tsp Half Salt
2/3 cup pumpkin seeds (I would use even more next time)
I enjoyed the crust with a bit of Becel Olive Oil Margarine spread on it: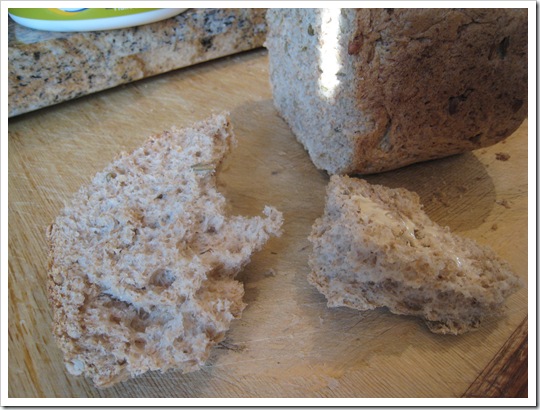 I had to put it away or I was seriously going to eat the whole loaf! :)
I centered dinner tonight around 1kg of Asparagus that I bought at Wal-Mart earlier today.
First I watched this funny video on trimming asparagus:
I thought that was a neat trick that the guy used, however there is no way I am going to tap every single one with my knife!
I created my own lemon dill sauce for the asparagus:
1 tsp dill paste (it is pureed dill I bought from the grocery store- very quick and easy)
Zest of 1 lemon
Ground Pepper
Sprinkle of half salt
1 Tbsp Becel Olive Oil Margarine
Heat margarine for 10 seconds then add the rest of the ingredients and mix well. Pour over asparagus and cool at 400F for about 15 mins.
We had a frozen dill salmon to use up (only 1) so I threw that on as well.
We are not fans of frozen salmon!! It is nothing compared to fresh, but sometimes you gotta do what you gotta do…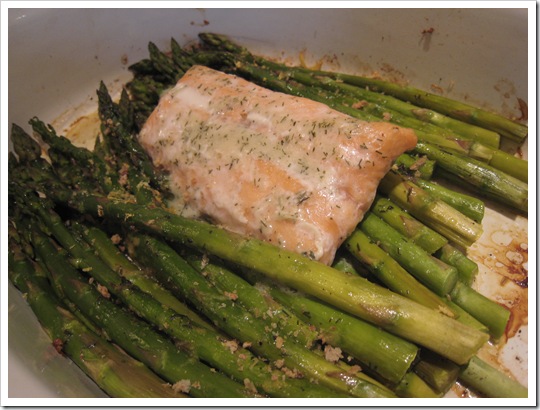 I also sprinkled some fresh bread crumbs over top for garnish.
My plate with a mini salmon piece and avocado thrown on the side at the last minute: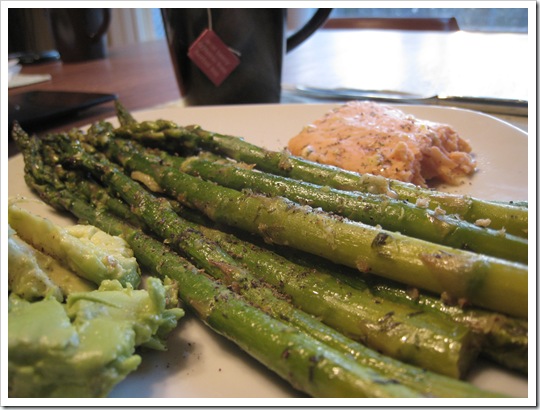 The Asparagus was so good! The dill and lemon zest gave it a fresh zing. Perfect for our Spring like (Summer like?) day today.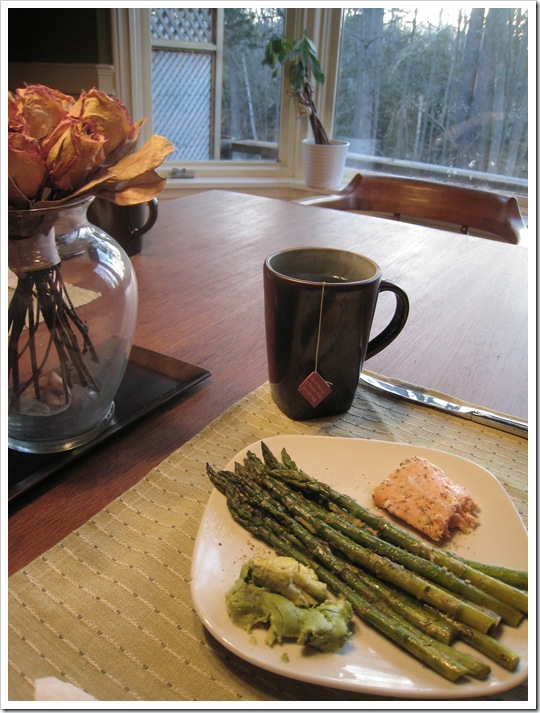 The frozen salmon was a rubbery disappointment. Thankfully there is none left to use up! Onward and Upward…

Look what came in the mail today!!
My Jocolat Prize package from Katie at Chocolate Covered Katie!
This was my first time having a Jocolat bar. To my utter delight this box was a Variety pack- which means I can sample ALL of the flavours!!!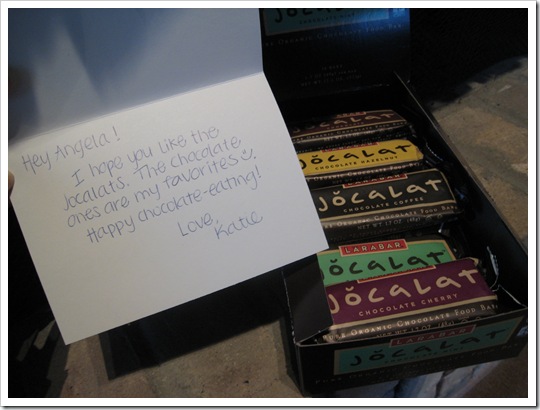 I went straight for the Chocolate Mint!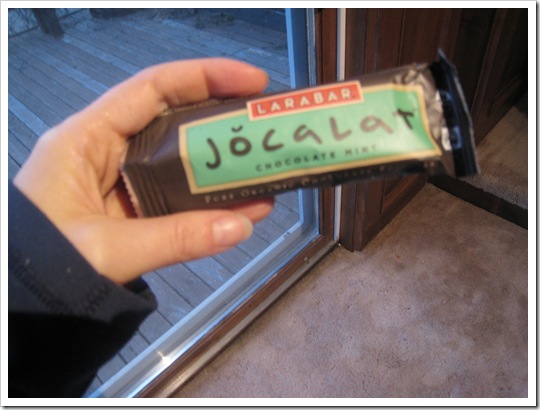 It was mind blowingly delicious and minty and chocolatey! I'm in love. Minty love.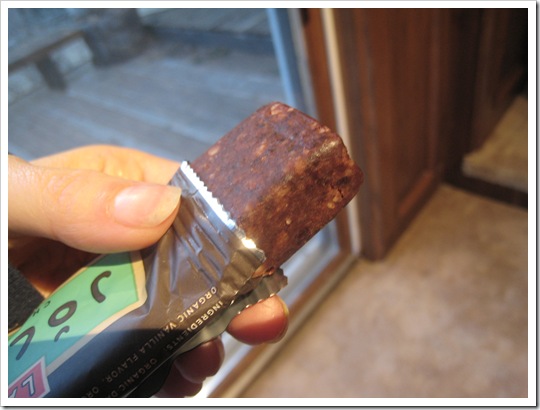 Thank you Katie!!!
I can't wait to try the rest.
My first thought when I had my Jocolat bar?
I COULD MAKE THESE!!!
Stay tuned tomorrow for my first attempt at making a Jocolat bar! :)

Reader email of the day:
"I am just writing to tell you how very much I LOVE your blog. I don't have a blog myself but have come quite an avid follower of your blog. You are really an inspiration to everybody and I love to read about your daily adventures. I think that your house is beautiful and you all are doing such a good job with your renovations.

I have really just started to focus on eating healthy in the past few months. My inspiration is that I am getting married June 5th and I wanted to fit into the dress that I bought. I have lost 10 pounds over the past 6 weeks, but I haven't started to exercise yet. I am one of those people that either does something all the way or not at all and right now, I am not at all when it comes to exercising. I am trying to do it, but haven't gotten into the habit yet. Your words are quite inspiring on a daily basis and I want to let you know that I appreciate your blog.

I do have one question. I have gone back and read some of your older posts, but I can't really seem to find your rationale for your vegan-like eating. I myself am working towards veganism and have been doing lots of reading on the topic so I was wondering what your motivation were for your choice of diet?"
I thought I would share my response with everyone:
"Congrats on your weight loss! I can relate to your all or one approach to healthy eating and exercise. I tend to be the same way, although it is a habit I am trying to break! Congratulations on your upcoming wedding. You must be so excited! I know about the pressure of looking good in the wedding gown…I think it was the most concerned I had ever been about my appearance! Try not to stress about it too much. You are going to be so happy + glowing on your big day, you will radiate beauty whether you are 5 lbs heavier or not.

Regarding the exercising, I think maybe if you tried to make it FUN, it may help you squeeze some in? It seems that you are seeing exercise as this evil thing (I can relate at times!) so why not try to make it more enjoyable? What do you like to do? Instead of calling it exercise, why not just call it movement or freedom? Sometimes these little things can help a lot.

About the veganism, that is a great question. It is somewhere buried in my FAQ's. My path toward veganism has been a slow and gradual change in myself, my thoughts, my ideals, and my growth. The biggest factor that has influenced my desire to live a mostly vegan lifestyle has been knowledge. Before, I didn't know much about health, veganism, environmental issues, and animal cruelty. As I read more on these topics, it all started to click for me and I found myself making small changes to reflect how I felt inside. It wasn't one big light bulb moment, but it was a series of changes that lead me to where I am today. I just take each day as it comes and follow my heart! What I do know is that I am interested in learning as much as I can about these topics. I have a real passion for it.
Tonight I will end off with a quote and a cute dog picture! Can you see the quote? It's cute.
I got this calendar FREE from my recent packaging order! How nice :)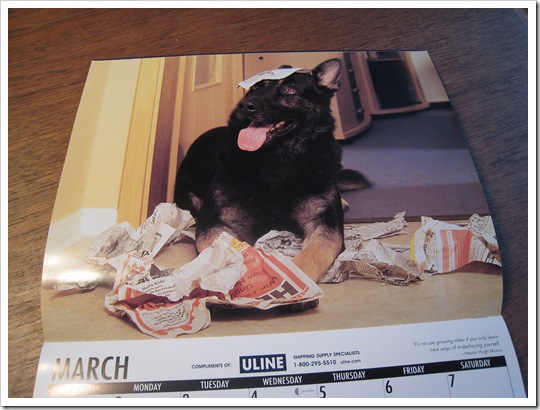 Oh! You HAVE to watch this Skateboarding dog video:
So cute!!! Think we can teach Sketchie to do this??
As you noticed I have no 'formal' exercise to report yet today! I haven't quite decided what I am going to do yet (if anything). I'm just going to see how I feel and go from there. I will report back tomorrow!
And yes I did get some dancing in today- anyone else? :)
Night guys!