Good afternoon!
I have been working on a secret mission for Leah's Bridal Shower that is this weekend! :) Of course, I can't blog about it because she reads my blog. I can't wait to see her this weekend and do a recap of all the fun! I've been looking forward to this for months!
I was super happy because I found exactly what I was looking for on my mission! Some days the stars are just in perfect alignment. I need to do a couple more things tomorrow and then it will be set.
One thing I can tell you all- I ordered my bridesmaid dress for Leah's wedding- and I LOVE it! Even though the one I tried on in the shop was a size 16..I still got the idea. :D
To make today even better it is sunny and 18C/64F outside! When I was on the highway I had my window down and the wind was blowing through my hair. It felt awesome!! SPRING!

FAQ Installment 23
190. Lisa asks, "Hey Angela! Would you be able to post all of the Bikini Body daily work-outs in one area for quick reference?"
I'm sure you have seen it already but here it is!
191. Lara asks, "I must add that you have gorgeous hair. How do you keep it so shiny? Is it the green monsters? :)"
Thanks Lara. I would definitely say that the green monsters along with healthy fats from flax, salmon, and avocado do wonders for my hair! It has been growing like a bad weed lately. Same with the nails.
192. Andrea asks, "Hi Angela. I very much admire your website and your commitment to healthy eating and living. One thought: I noticed the two sofas you posted are leather. Given your vegan eating and your dedication to being environmentally friendly, would you consider a more sustainable option?"
We have already spoken about this via email, but I wanted to post this question on here as well. I love the idea of buying environmentally friendly furniture. After doing some research, I did not find much in the GTA and what I did find within Canada was very costly. Does anyone know of any environmentally friendly furniture companies in the GTA?
193. Sarah asks, "My question is not really related to your post, but I was wondering what you thought about the health benefits of wheatgrass, have you ever thought of adding it to your green monsters? It's supposed to be quite good for you, but I haven't found any real scientific data supporting this claim yet. What are your thoughts?"
I too have heard that it is really healthy but I haven't ever had any myself. I did a quick read on Wiki here: http://en.wikipedia.org/wiki/Wheatgrass. I would like to find more research on it because like you said many of its' claims are not supported by research. At the same time that doesn't mean that it isn't a superfood! I know Kris Carr is a big proponent of it and uses it in her juices. I would like to grow my own some day. If anyone has any info on it, drop it my way!
194. April asks, "Hi! I was just wondering your thoughts on taking a day off from excercising. I often feel guilty about it! However, I take a kickboxing class on Saturdays and on Sundays my body is always sore, so I usually take the day off. I still feel like I should be working out though! Any thoughts or suggestions are greatly appreciated :)"
I always say listen to your body. If you are sore, you need rest so your body has the energy to rebuild and repair. Taking rest days makes you stronger, not weaker! That is important to keep in mind. After my injury, I learned a big lesson. If you are in any sort of discomfort- physically or mentally– listen to your body and take a rest. If you are feeling restless, maybe try some stretching or light yoga on your off days.
I think a good tip is to treat yourself to something you wouldn't normally have time for on your off days. Are you usually too busy to read a good book or watch a flick? Indulge in those things on your rest days and you will find that you start looking forward to them instead of feeling guilty about them.
195. Mariel asks, "Just curious–why do you buy two different types of Almond Breeze?"
For baking! In some of my recipes I use unsweetened Almond Milk in replacement of regular cow's milk. :)
196. April asks, "I just wanted to clear things up…are you trying to lose weight in the bikini body challenge? I was just wondering because your burning major calories! It doesn't seem like you eat that much either, so I was wondering if you get hungry. I burned about 470 yesterday and then ate dinner, but all day today I've been starving! I'm not trying to lose weight, just tone up. Do you find this happens to you?"
First off, I just want to clarify that OSG is not a food blog in which I blog every thing that I eat. I do blog some meals, but I by no means take pictures of everything I eat. I eat many things that are not shown on this blog so please keep that in mind when I show you snippets of what I eat. :) I don't count calories but on average I would estimate that I get about 2,000-2,200 calories a day. My goal is not to lose weight for the BBBC challenge, but to tone up. I have really lost a lot of muscle during my injury and I hope to build it back!
197. Annaliese asks, "Your experiments with Swiss Chard made me decide to also venture out of the spinach/kale territory with my green smoothies! At my farmer's market today I bought pea tendrils and Chinese broccoli (I've never heard of it, but it looks like spinach). I already tried the pea tendrils in a green monster and they're nice and mild, but very stringy! Do you think that in the future you'll keep trying different greens in your green monsters?"
Wow that's excellent! Good job!! Yes, I most certainly plan on trying more green veggies. I was always scared of them before. Just think, last year I would not even eat spinach! Spinach! Now it is a daily staple in my diet, among others. I am excited to try new greens and will continue to do so and blog about my experiences with them. :)
198. Lara asks, "I rarely see any protein sources in your meals. Are you concerned about that? Especially since you workout a lot, protein is key for building and maintaining muscles.
I used to eat very low on protien myself and upping it significantly has made a huge difference in my body, health, hair, skin, etc."
It is actually a big myth that most of us do not get enough protein- even in vegetarian diets. Did you know that the average person consumes 50% more protein than the recommended daily amount? Many of the legumes and grains I eat are very high in protein. I did a quick calculation of what I ate yesterday and I clocked in at around 69 grams of protein.
Let's take a look at basic recommendations for myself:
0.80 grams of protein per kg of body weight: Approx. 42 grams a day
For athletes the recommendations are a bit more stringent:
1.2-1.8 grams of protein per kg of body weight: Approx 62-93 grams a day
It is also interesting to note that many researchers believe that the standard guidelines for protein consumption are too high!
199. Eileen asks, "Good morning ~Your blog always gives me something to think about.  It is truly enjoyable and informative. A couple of questions when you exfoliate are you working in any order.  Toes ->head or vica versa? Before shower like a dry brushing or do you do it wet?  As to the green monsters what is your feeling of lactaid milk (o%)?  Last topic ~ your kitchen that you showed in a prior post did you and DH do it or did you buy it that way?   I was wondering what the sage green color paint is actually called and by what paint company.  Also is that metal tin on your ceiling?  Same questions.  Thanks again."
Thanks for your comments Eileen! No, I must say I don't exfoliate in any order! I'm all over the place, crazy if you will. ;) I exfoliate in the shower with an exfoliation glove- those work great! I've had lactaid milk in the past and I think it is a viable option for those who are lactose intolerant. I am sure it would be good in a Green Monster. No, Eric and I didn't paint the kitchen, but I can try to find out the name of the paint for you. The ceiling is a faux finish. :) Shhhhh…
200. E asks, "I was wondering about your green monsters too. What is your favorite combination w/spinach? Have you gradually added more greens since your first green drink? Has your mom kept to her promise to drink green drinks? Does your flax settle to the bottom of the drink? Can't wait to try your tomato and avocado sauce."
My first green monster drink was quite horrific! It didn't include any fruit or any milk. All veggies. It was a thick schlop! Luckily with all of your help, I refined my skills! My favourite mixture with spinach is 2 handfuls of spinach, 1 small banana, ¼ cup blueberries, 1 Tbsp flax, and 1-1.25 Almond Breeze in Original. My flax doesn't settle to the bottom. :) I thought it would too but it doesn't!
Yes, my mom has kept her promise to drinking a daily green monster!
Here are a couple of her emails below:
Hi Ange,
You would be proud of me as I had a monster for breakfast this morning.  I would call it more of a smoothie though.
Handful of spinach
1/3 cup of Vanilla Yogurt
4 Large Strawberries
8 Blackberries
1/3 cup Bran Buds
1 cup skim milk
1 tsp flax
3 capsule contents of Kyolic Odourless Garlic powder
I am going to start drinking these every morning and my second goal is to keep up my walking on the treadmill.
Hi Ange,

I modified my recipe just slightly this morning.
Large handful of washed spinach
1/4 cup Kellogg's Bran Buds
1 tsp milled flax
3 capsules of Kyolic Odourless Aged Garlic powder
1/2 cup chopped strawberries
10 blackberries
1/3 cup Activa Vanilla Fat Free Yogurt
1 cup skim milk
Voila, there you have it.  It goes down really well after a 30 minute workout on the treadmill.
Her Green Monster: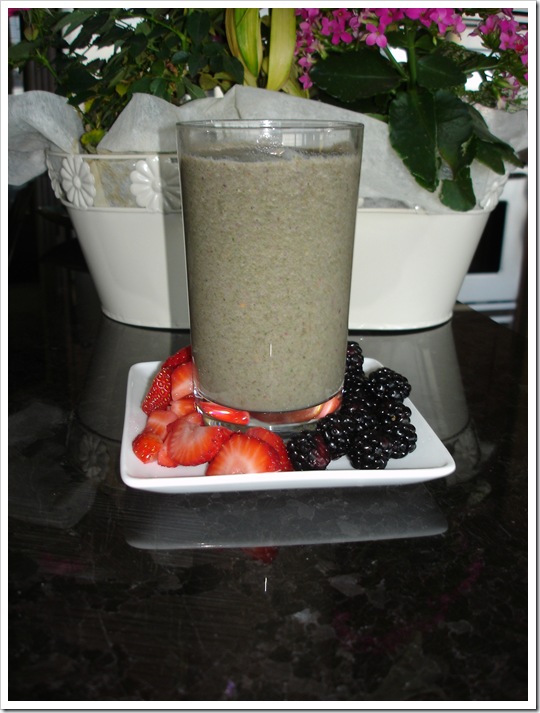 I'm so proud of her!! :D
I love that she puts odorless garlic in her smoothies! I am so going to do this! Great idea.
Also see my new Green Monster page for a collection of reader's green monster recipes!
Who hoo for 200 FAQ's answered!
I'm off to go pick up a package that arrived for me today! Wonder what it is?