FAQ Installment 22
179. Lara asks, "You look just as pretty this morning without the makeup and lashes! What's YOUR #1 beauty trick?! :)"
Thanks Lara! My #1 beauty trick? That is a tough question! This sounds cheesy, but it's true- a smile! I love the saying 'you are never fully dressed without a smile on'. I truly think that happy people are beautiful inside and out. Other beauty tricks are exfoliation! I exfoliate gently once a day (St Ives Gentle Scrub is awesome). I also apply moisturizer to slightly damp skin; it helps it soak in. I've been doing this for years. I also use pure vitamin E on the skin around my eyes before bed every night. It is much cheaper than expensive eye creams and it doesn't wear off by morning.
180. Brooke asks, "Did you count calories when you were initially losing weight? i have lost weight and now i have no idea how many calories i should be consuming to continue the weight loss….hmmmm….questions questions."
Yes I did and it was effective up to a certain point. After a while it became obsessive and made me unhappy; that is why I had to stop counting calories. I was amazed at how free my mind was when I stopped. I could think! I could dream!
With respect to how many calories you should be consuming now, it is an extremely variable thing. Even if you are the exact same size as one of your friends you will need a different amount based on you muscle mass, activity level, metabolism, age, etc. If you want an estimate I would try one of the online calculators, but please keep in mind it is just an estimate. I always say go by how you feel and listen to your body.
181. Jess asks, "Hi Angela- You have kind of become my go-to person in this new blog world I've found, I hope that is ok. I found your blog a few weeks ago and I've been following religiously ever since. And it has also led me to so many other wonderful sites. How do you keep them all straight? Organized? How do you keep up? I wish I could get paid to be a professional blog reader, I'd be rich! :-) In all seriousness – any suggestions on keeping my blog world organized?"
I believed I replied to your comment a while back, but I thought I would address it on here as well! Your question made me smile because I am not organized at all when it comes to the blog world. What I know is this: There are tons of blogs I love and just not enough time in the day! For this reason, I usually don't have time to comment on the blogs I love reading. I try to the best I can though! I would suggest adding your favourite blogs to a new folder in your bookmarks, then they are all in one spot. I have separate folders in my favourites list for fashion, beauty, fitness/health, celebrity, etc.
182. Sara asks, "Those bars look so good!! Once you have your business up and running, are you going to be local only or will you ship your products to people? I would love to try them! Have you ever done a giveaway with any of your treats?kristine Are you starting a new glo bakery website or are you just going to add to it?! I am dying to try your delicious looking baked goods! Hehe!"
Thanks Sara! I will be shipping certain products with Glo Bakery. Right now I am still ironing out the details of the business so I am not shipping internationally at this time. I will post information and updates on OSG! Thanks for your support. :) You can find my new website here: www.globakery.com there is still lots of work to be done, but I am happy with how it is coming along.
183. Gabriela asks, "Hey Angela! We don't know each other, but I have been reading your blog for a while, and I absolutely love it! I think you and Eric are such a cute couple, and I was wondering how you two met? I think it would be a great idea for a post, as I'm sure a lot of people wonder how it happened. In the beginning I thought you were Canadian too, but now I see you are actually American!
keep up the good work!"
Hey Gabriela! I am actually Canadian although I have lived in various states when I was young (Florida, Georgia, North Carolina). You can read all about how Eric and I got engaged and I think it tells a bit about how we met too. Thanks for your comment! :)
184. Em asks, "What do you use to decorate the cookies? Also, when I paint details, and I can't have a shaky hand, I find it useful to have a two-level table: I rest my arm on the upper ledge, and put the item on the lower ledge a few inches down, and avoid the shaky "freehand". Maybe that would work for you?"
That is a great suggestion about the two tiered table! I will have to try this out next time. For the icing I use royal icing– powdered sugar, meringue powder, water, and vanilla.
185. Anou asks, "Hey Angie, I am actually going to Vegas at the end of April with my boyfriend ! Do you or any of the readers have any good restaurant suggestions? Did you go clubbing over there ? If so how was it… I read that its crazy expensive so we wont go if we cant manage to get passes or something… I would love any insight! Thanks"
How exciting! What I liked about Vegas the most was the people watching, energy, sun, shopping, and night life! You will never be bored as there is something for everyone. We didn't go clubbing, we mostly went to low key bars/Irish pubs and they were a great time. You might be able to get a free cover with your hotel. It doesn't hurt to ask. I would also check online for deals or special promos. Some clubs offer free cover before 10/11pm. Have fun! Remember what happens in Vegas… ;)
186. Allison asks, "Hi Angela, I started reading your blog about a week ago and I've gotten really intrigued by your green monsters. BUT, I can't find Almond Breeze *anywhere* in my local grocery stores. Would you recommend anything else (soy milk, regular milk, yogurt) to replace that with? And would it be better to start with, say, small amounts of baby spinach and gradually increase it or switch to kale to let my system get used to the extra leafy veggies?"
If you can't find almond milk, soy milk will do just fine. I know others that use rice milk too! For your first few green monsters' I suggest using spinach instead of kale. Spinach is the super blending veggie and you won't taste it at all! Kale has a much chewier texture so start off small and work your way up.
187. Jodi asks, "Hi Angela, I was wondering if you ever substitute maple syrup for sugar in your "personal/home" baking. Last year we collected sap and made our own maple syrup, and this year we have done the same (20L+ of the finished product so far). And, since maple syrup contains potassium, calcium, iron and thiamin – seems like a good substitute for sugar. Anyway, I was just wondering if you had tried and what your results were.
Love your blog! :)"
Maple syrup is a wonderful substitute for sugar in many recipes! I use it frequently in my Glo Bakery products. I also love honey and agave nectar as substitutes.
188. Liz asks, "Hi Angela, I just started reading your blog recently. Since you travel a lot and I like your clothes, I wondered if you have any favorite items that you always wear on your trips? My mom is taking me on a trip to celebrate my graduation from law school, and I have no idea what to buy or take!"
I am not the best person to ask seeing as I am known for being the biggest overpacker in my family! Hehe. The items I bring on various trips (from weekend trips to actual vacations) are the following:
My Lululemon stuff (Groove pants, Shape jackets, workout tanks)
Shoes for every occasion that I will encounter (sandals, heels, casual sneakers, running sneakers)
Baseball cap + sunglasses + sunscreen
Purple floral dress by Miss Sixty I wore on my honeymoon (See Venice pics)
Pashminas that I have been given as gifts or bought on my honeymoon.  These are a must for bringing to chilly restaurants!
2 purses (I bring my large black purse and a small dressy clutch)
Depending on the time of year- a few bikinis
189. Melissa asks, "In your mind how bad is it that the incline on my treadmill doesn't work (hasn't since I bought it…lots of problems there). Will it affect my workouts? I can walk, jog, run (maybe). Just not at an incline like you do…"
Walking or running at an incline certainly mixes up the workout and offers new challenges that you don't get while walking on a flat surface, but I wouldn't stress about it too much. There are other things you can do in replacement of the incline on your treadmill. I would suggest walking/running the stairs in your home or simply take it outside and do some natural hills! Both of these options are just as good. Remember to keep your focus positive- exercise is exercise…it is all a step in the right direction! Maybe use your treadmill for inspiration to try new activities that you haven't done before.

I decided to fully humiliate myself in the honour of a fun challenge!
After watching Kris Carr's video on Oprah, it reminded me of a very healthy form of exercise that I love to do.
It's freeing, energizing, and spiritual.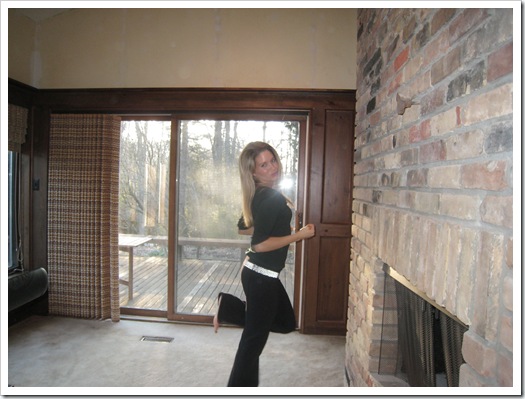 Dancing of course!
I relived the early 90's with a little Roger Rabbit and some head thrashing on the side. I've also been known to do a lil MC Hammer now and then. lol.
Eric had a field day taking these shots. He pretty much thinks I am the coolest wife on the planet.
Ok, I made up one of the above.
I was rocking out to none other than Mariah Carey's 'Heartbreaker'!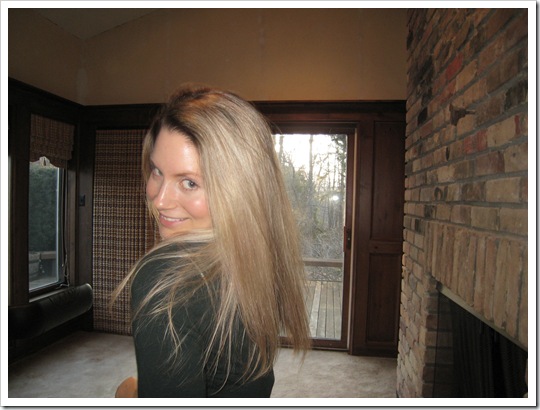 Then I listened to Britney's version of "I Love Rock and Roll".
It felt great to dance! I love nothing more than being with my girlfriends and dancing the night away.
In case you haven't guessed, your challenge today for Bikini Body Boot Camp is to rock out to your favourite music! Crank it up loud and dance like nobody's watching. I tell myself I will just listen to one song, but that usually turns into a few! I love dancing. It is good for the soul.
This morning's question: Do you like to dance? How often do you do it? What are your favourite dance moves from the 80's and 90's?
See you this afternoon for Part 2 of the FAQ's!