Good evening!
I hope you all had a great start to the month! :) Did anyone have any tricks played on them? Besides the one I played on you all this morning that is. muhaha.
I finished my secret order this afternoon with some Glo Banana bars + Bites:
Bars:
I will be able to tell you this week who the lucky recipient of these bars is!
Dinner:
After I saw Kath's recipe featured on The Mushroom Channel I knew I had to make this!
Of course, I had to put my own spin on things! I am not one to follow a recipe, so I improvised and made it vegan.
I must say, the idea of a green pizza appealed to me for obvious reasons!
Ingredients:
Homemade Honey Wheat Pizza Dough (Easiest dough you will ever make)
4 oz of mixed mushrooms, cremini, sliced (Eric didn't have any)
6 oz baby organic spinach 
1 tsp basil
1 tsp oregano
1/3 cup Light Cream cheese (For Eric's pizza, it was all we had for cheese!)
1/3 cup Soy Yogurt
2 Tbsp Almonds
Cooking spray
I decided to make a his and hers version since Eric doesn't like mushrooms.
Eric got a deep dish version, mine on a flat round pan:
Next came the spinach mixture:
6 oz spinach, sauteed
1/3 cup (or a bit less) Soy yogurt
2 Tbsp Almonds
Process the green sauce in a food processor until mixed. Almonds add some crunch!
Spread on dough: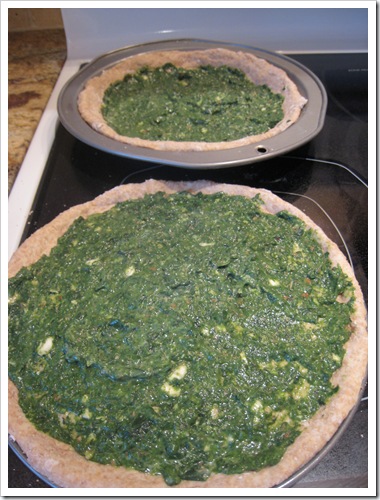 Then add the ingredients on top: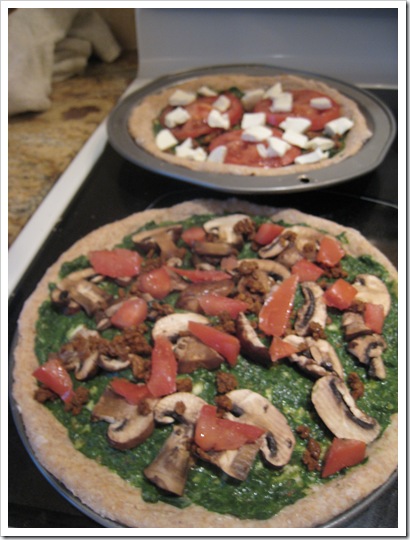 On mine:
tomato
mushrooms
St Ives Mexican Ground Round (so good!)
Eric's:
Cream cheese
St Ives Mexican Ground Round
Tomatoes
Cook in the oven at 350 for about 15-20 mins.
Eric's Deep Dish:
Mine:
We both agreed that the pizza was better with some tomato sauce drizzled on top. I think because the pizza didn't have the sharpness of the feta, it needed a little something extra. Next time for this vegan version, I would mix in some pizza sauce to add some kick and maybe a few chili pepper flakes. :)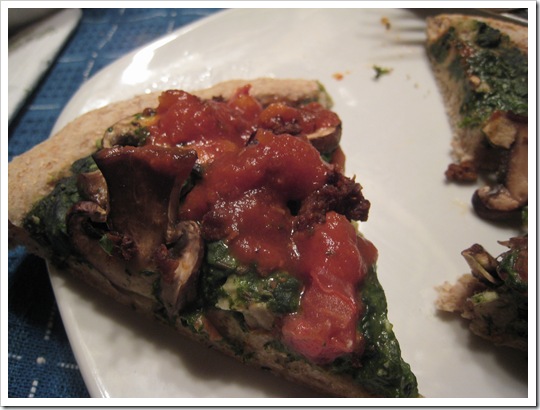 See Kath's original version for the feta and mozzarella recipe!
All and all this pizza was a delicious and healthy twist on the traditional pizza. In the green sauce was about 5 cups of baby spinach- we sure got in our greens tonight! :)
And yes, I love the white dollarstore plates so much I washed it from lunch and used it again. Eric got the regular ol' Debbie Travis ones. lol.
I said to Eric, "I think I am going to buy a whole set of these white plates at the Dollarstore!! You know, I think they are better quality than many of our own plates."

To which he replied, "Good, we can take back all of our china from the wedding."

*sigh…… :)
Oh and just for the record, I had a 4th tiny slice after those three! I ate about 2/3's of my pizza. Eric had 3/4 of his.
Eric said that was his favourite pizza dough crust out of any crust he has ever had in his life! I must say I think I agree! It was so fluffy!
Have a great night!
I'm off to do some paperwork. :) See you tomorrow for FAQ's!!! There are Soooo many! eek.