Good afternoon!
I just had the most energizing workout and lunch! :)
My workout was the same intervals as yesterday, only today I didn't get off the treadmill to do any resistance stuff. I decided I would do my squats tonight.
My workout:
Walk/run intervals (4.0-4.2 mph) incline 12%
Duration: 50 mins.
Max heart rate: 167 bpm
Avg heart rate: 152 bpm
Feel the burn: 444 kcals
I did nine 1.5 minute run intervals at speed 4.2 mph, incline 12.
This workout kicks my butt! I was sweaty, out of breath, and grooving to my Britney music. :) I even sang some of the lyrics from time to time. Thank God no one was home to witness it!
After the cardio, I did about 10 mins. of yoga poses. I was under a beam of sunlight coming into the window and it felt so warm and lovely!

My lunch was fantastic!!
I had some produce to use up today so I decided the quickest thing to do was to throw everything into a skillet, throw some seasonings and dressing on it, and I would have a healthy lunch.
The contents:
1 small zucchini
3 mushrooms
4 slices of tomato (thrown in at the end of cooking, just to warm)
Italian salt free seasoning
Black pepper
Kraft Light Sun Dried Tomato Dressing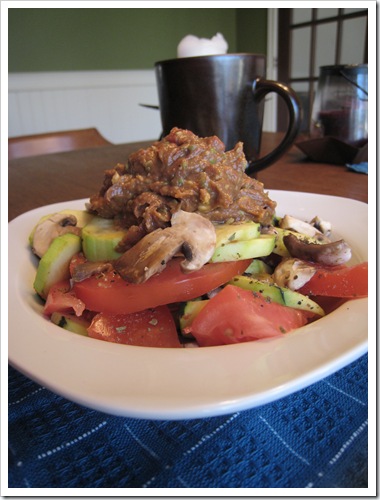 The sauce was my special tomato + Avocado sauce that I am addicted to!
2 Tbsp tomato paste
1/2 avocado
couple splashes of Almond milk
pepper
The sauce doesn't look pretty but it tastes amazing and packs tons of antioxidants.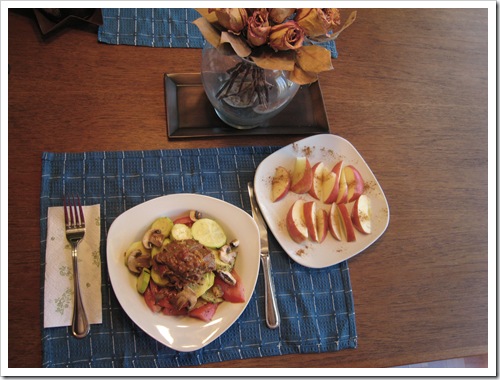 With the $1 placemat. :D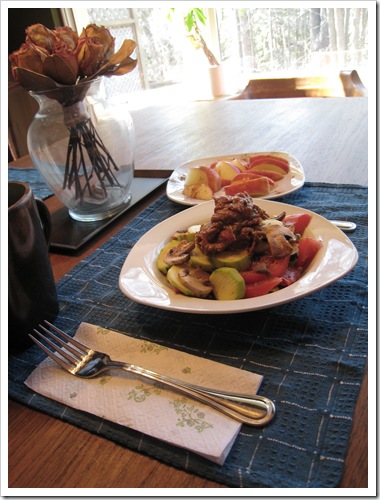 This morning was a 1 Swiss Chard leaf + 2 Kale leaves + 1/2 Banana + Flax Green Monster. Mid morning snack was a big 'ol orange.
I must say even after cutting off half the stem of the swiss chard (the bottom portion- not the stem around the leaf), it still tastes quite bitter to me in the smoothie. I think tomorrow I am going to remove the entire stem and see if that helps!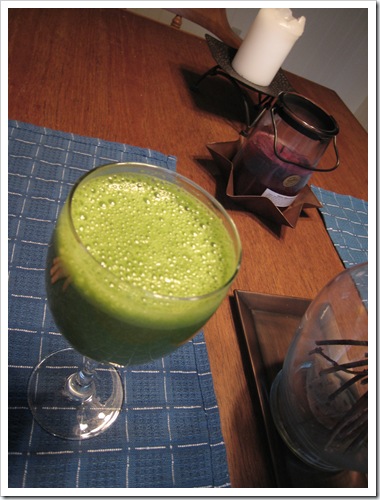 I'm off to finish my secret order. Then I have a bunch of errands to run for the rest of the day.

1) Check out my Fav blogroll page. I updated it to include my favourite beauty, fashion, and home reno websites!
2) Tell everyone what your billboard would say with this fun contest over at Live Well 360!
3) Want to know what supplements Kris Carr takes? Check em out here!
Ciao!

"When there are no answers you have to find your own." ~Kris Carr