Happy April Fool's Day!
Did anyone get a prank pulled on them yet? I still can't believe it is APRIL!
I am a tired girl this morning.
I was up until about 1:30am working on the Glo Bakery Website. I worked on it from 8pm-1:30am without so much as taking a break.
I love when I get into work like that! Sometimes I can be very productive at night. There aren't many distractions around. Our TV in the office still isn't working, so I am also going on day 3 of no TV. I am sure that has helped!
Here are a couple screen shots of the Glo Bakery website:
I changed the header and gave it a new funky looking wordart. I also did the same with all the sidebar pictures and I also updated some pictures on the Bar page. I am getting more skilled with Adobe Photoshop. Actually as I use it more I am finding that it isn't as hard as I thought! The toughest part was learning what all the tools can do for me.

Todoist Questions
I have been getting lots of emails from people who have signed up for Todoist but can't figure it out.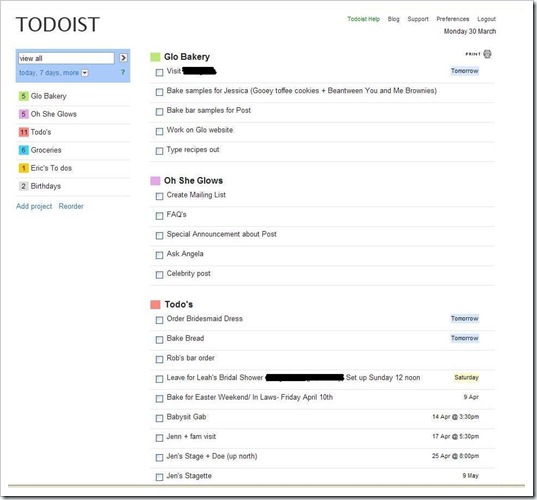 I can really relate because that was how I felt for so long.
They really need to create a nice and easy tutorial when you sign up!
Here is a tip that will help you out tremendously:
When you first log into your account the first thing you need to do is create your PROJECTS on the left hand side. These are your categories. I wish they would have called them that because it would probably have made it easier for me.
My categories/projects are the following:
Glo Bakery
Oh She Glows
Todos
Eric's To dos
Groceries
Birthdays
Once you make a project/category single click on one of the categories and it will bring this category up (or active) on the right hand side. Now you can see 'Add Task'. This lets you add a Task (or to  do) for this category. You can also add a date for the task. Click the question mark beside the date field for more info. That one was tricky for me to figure out, but once I got it it was fine.
All and all I am in love with Todoist! I can't believe I lived so long without it!
I must admit, it also feels really good not to be wasting tons of paper with my paper notes scattered all over the place. I finally have a clear desk now. Well, except for my recipes which I am slowly typing out! :)
I hope this helps those of you who are scratching your head with it!

Day 6: (April 1st): Many of you told me what is your least favourite resistance exercise the other day. Many of you said push ups. Some said lunges, some said squats. Whatever it is, do three sets of it today. Practice makes perfect right? I will be doing squats with a 26 pound weight bar today!
Also, today's challenge is to stretch after your workout. Whether you want to stretch with yoga or some basic stretches, it is up to you. Stretching helps with flexibility and posture, both of which are going to give you one mean and lean bikini body come summer! :) I am going to aim for about 15mins. of yoga today after my cardio workout.
Lululemon Goes Online!
I was so excited when I heard about this yesterday! Lululemon (my favourite store for fitness gear) is going online! That means you can now shop from home for your favourite Lulu products.
When do they go online? TODAY!
Check it out!!! www.lululemon.com/shop You WON'T be disappointed! :)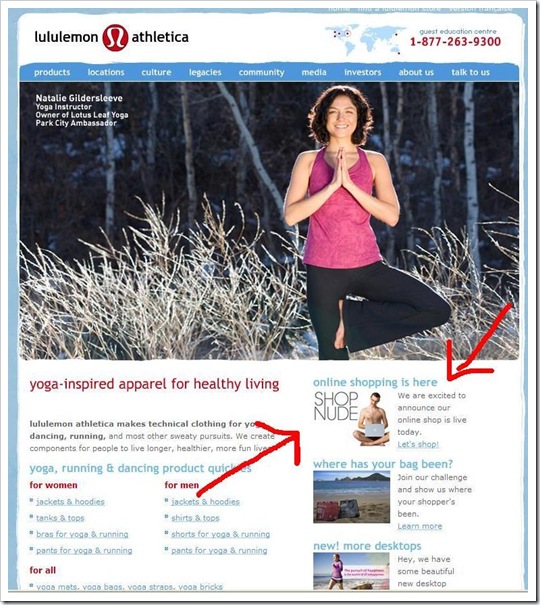 *Evil Cackle*
Leave me your thoughts on their website below!