Good evening!
I had a very green grocery trip today!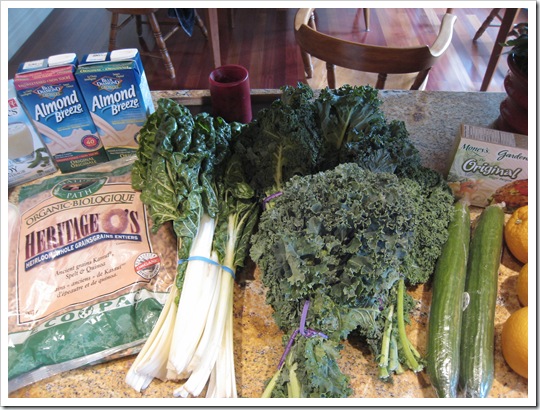 4 organic kale (I stock up because our grocery store is often out of organic kale for days)
Swiss Chard (first time ever buying this!)
2 cukes (on sale- 89 cents each)
Nature's Path Heritage O's (on sale for $6.99)
Almond Breeze in Original
Almond Breeze in Unsweetened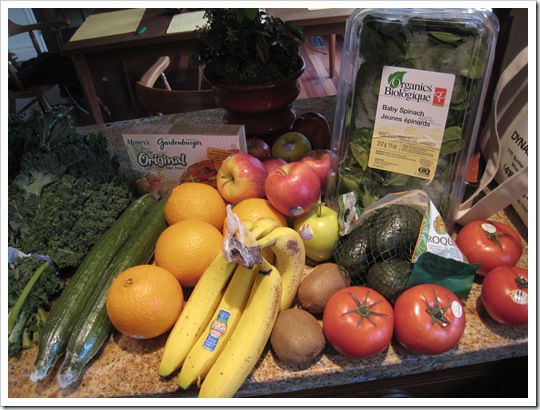 4 oranges
Bunch of bananas
9 organic Gala/Golden Delicious apples
4 tomatoes
1 bag of avocados
2 kiwi
1 oversized box organic baby spinach
Money's Garden burgers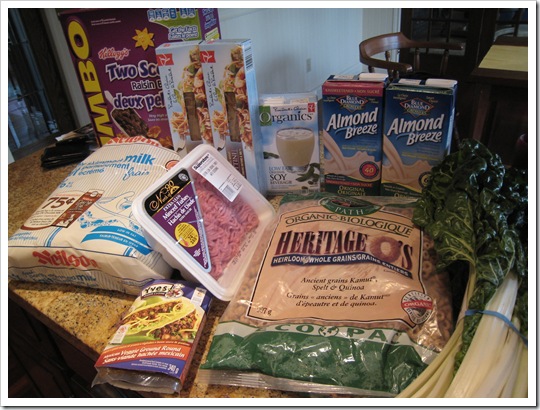 Cow's Milk 1% (Eric only)
Raisin Bran (Eric only)
Ground lean turkey (Eric only)
2 boxes whole wheat spaghetti noodles
Organic Low-fat soy milk
St. Ives Veggie Ground Round (Mexican- never had this flavor! I was surprised to see it had LESS sodium than the original flavour)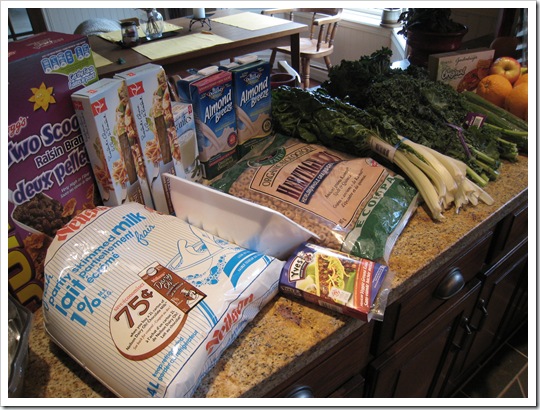 This grocery bill set us back about $70. Not bad for the whole week. When we buy a big order like this we don't need to make any trips during the week to 'top up' which is always nice.
It was my first time buying the Nature's Path Heritage O's and I LOVE them! They are super crunchy and made with spelt, kamut, oats, and quinoa! Very healthy. Only 4 grams of sugar per serving. Eric even liked it straight out of the box and he is a sugar coated raisin kinda guy. ;)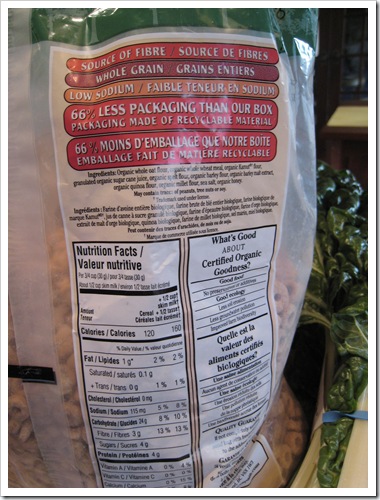 I love that these bags have 66% less packaging! I don't know if I will ever buy regular boxed cereal again after seeing this! It feels so good doing something for the environment when buying food. Every little bit helps.

My workout today was filled with interval fun!
The details:
50 mins.
Speed 4.0-4.2 mph, incline 10% (I ran 1 min. on every 5 min. interval)
Max heart rate: 158 bpm
Avg heart rate: 139 bpm
Feel the burn: 369 kcals
For example, I walked the first 5 mins at speed 4.0 and at minute 5-6 I ran at 4.2 mph. Then from minutes 6-10 I walked at 4.0 and then at minute 10-11 I ran at 4.2. I did this all the way until 46 mins and then cooled down. The entire workout I walked at incline 10% from start to finish.
I admit at the beginning of my workout I did NOT want to workout. I left my workout until 3pm and I was getting that late afternoon slump feeling.
What did I do?
I asked Eric to bring me my BBBC before picture and he put it on my treadmill! :)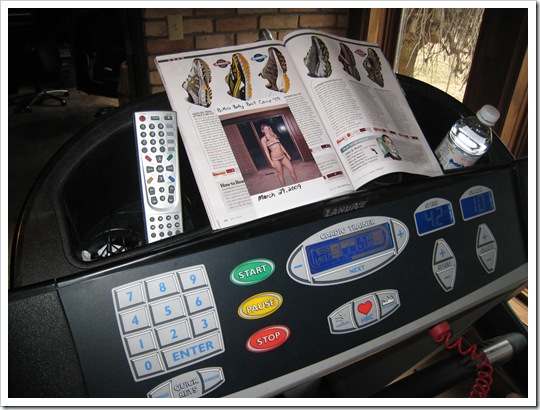 It served as a reminder of my goals and it prevented me from getting off and quitting! You gotta keep your eye on the prize sometimes.
Sometimes a little visual reminder is all we need, right?
I often find the first 10 mins. of my workout to be the hardest. Once I get into the swing of things I get into a better groove.
But wait, there's more! I had to fit in my 3 planks for the OSG BBBC Challenge today!
At minutes 8, 18, and 28 I paused my treadmill and got on the floor to do a 60 second plank. 3 planks complete! :)
It mixed my workout up even more and really broke it up. I find that time FLYS when I do intervals. I keep thinking "Ok, only 4 minutes until the planks, only 10 mins. until my next run intervals, etc etc." It works!
Anyone else find this?
I have a lot of work left tonight before bed:
Organizing Glo Orders
Create BBBC page
Clean up Desktop on PC
Organize Glo Bakery and OSG website folders
Switch to Todoist (more on this tomorrow!!!)
Reply to a couple emails

Coming Up this week on OSG:
FAQ's (there are a TON of good questions to answer and I can't wait to do so!)
Healthy Baking
An exciting announcement
and much more!
Nighty night!
Tonight's question: Help! I've never had Swiss Chard before and I have no idea how to eat it! Does anyone have any easy recipes? Can I put it in green monsters? What does it taste like? It looks scaaaary!

Want to win the Fit From Within book plus a yummy health bar? Enter Leah's contest!