Good morning!
I am sorry I didn't get to post last night after dinner…the truth is I'd rather be spending time with our parents than on the computer! :)
We had a lovely dinner out last night! The food exceeded our expectations.
We started off with a Bruchetta to split. I only ended up having 1-2 bites because I ordered a Mixed green salad with balsamic vinagrette on the side (not shown).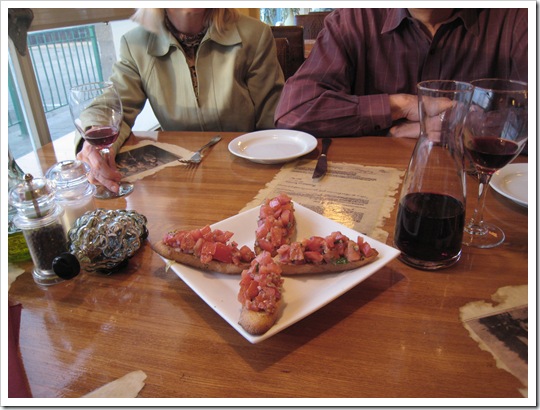 My mom and step dad had wine, but I wasn't in a wine kinda mood so I just had water. Eric had coke. :) We are simple people! lol.
I ordered a thin crust pizza of course!
On the 12" pizza:
tomatoes
Dried roasted tomatoes
Artichokes
Extra sauce
Pepperoni (!!!!) This was a mistake! Instead of complaining I just gave my pepperoni to Eric. He was quite happy to add it to his pizza! :)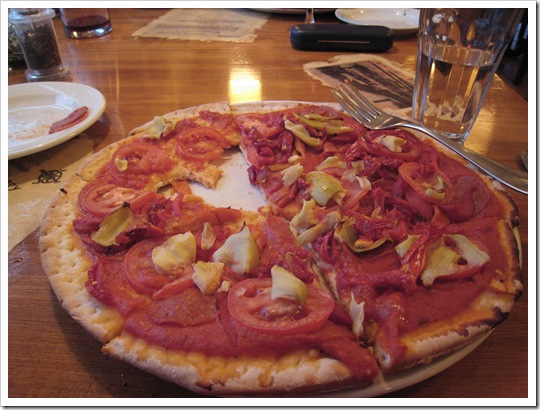 I had 4 slices and probably could have eaten the whole thing but I stopped myself! I was starving all day yesterday. I don't think I was feeling as full as I usually do because I didn't have much protein and had lots of flour (12" sub and 12" pizza!).
I skipped dessert at the restaurant and had 2 small Sweet Wheat Cookies when I got home. :) Quite a flour-filled day! lol.
Yesterday was definitely not one of my normal days, but we all need to have special days right?
Here is where I saved calories:
Thin crust
No meat
No cheese
No wine
Modified dessert (my dessert instead of the restaurants very decadent desserts!)
I figure it was a good compromise!
After dinner, we watched 'Taken'…my parents hadn't seen it but Eric and I had. It is quite a riveting movie so I didn't mind watching it again. It is really sad though and leaves me feeling quite disturbed after it is over. It has actually prompted me to do more research into the sex slave trade, but more on that later.

Yesterday was my off day from exercise since we were out of the house all day.
Although, I still feel like I had a pretty active day.
When we were looking for furniture, we were walking for a good 2 hours. While we watched the movie I did some abs (leg lifts = 25 and about 30 secs. of side planks) and some pushups (approx 30).
I still have yesterday's challenge to catch up on (legs!). I will do that today.
Before Pictures:
I finally had time to take my before pictures this morning after my mom and stepdad left for the airport around 7:30. I had planned on going back to sleep, but Sketchie had other plans for me!
I came out of the bathroom and Eric (sleepy) says, "Are you in your bikini?? I think I am dreaming.." lol. It was really funny. He dozed off and missed out on all the fun!
So I took the pictures. Then I proceeded to photoshop the hell out of them. Only joking. I printed them on photopaper and put one on my fridge and one on my desk for motivation!
On the fridge: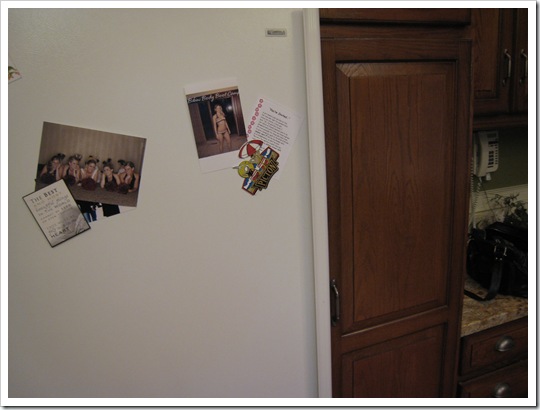 And on my desk: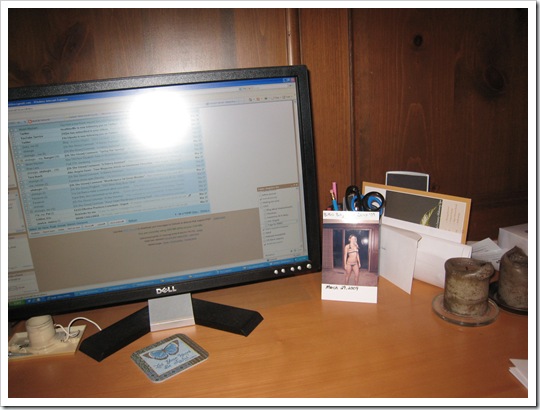 On the first one I added some text! I typed up "Bikini Body Boot Camp" and on the bottom one I just wrote it out and added "March 29, 2009". On the back I am going to write out my measurements!
Speaking of which…I had a question about measurements- How do you take them? I thought this photo would be helpful for some: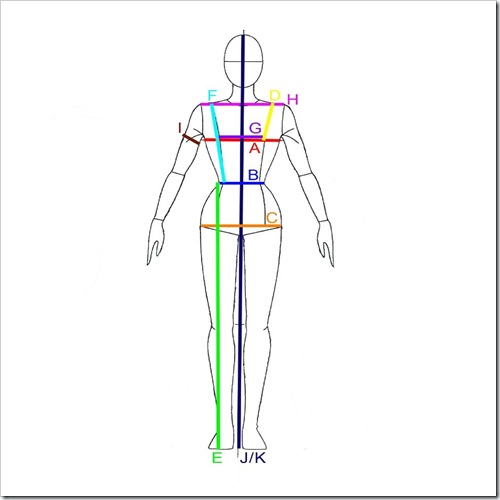 No, you don't need to take all of these!
The only letters I measured were the following: A, B, C, I. I also measured the thickest part of my thigh. It takes 3 minutes!
Note for the bust I measured at the widest part, but you can also measure underneath your bust (top of rib cage or where your heart rate monitor strap would go!).
Hope this helps!
Today's challenge is to take a before picture of yourself and either print it off and put it in a highly visible spot OR save it to the desktop of your computer.
Trust me there is no motivation better than seeing a picture of yourself in a bikini after a long winter!
Exercise Challenges: For your cardio today, try interval training (alternating high intensity bursts with low intensity bursts). This could be hill running, running/walking intervals, speed walking + recovery, hill walking, swimming, biking, anything where you can alter your intensity!
My goal today is to do about 45-60 mins. since I missed yesterday's challenge.
Also, do 3 planks and hold them for as long as you can!
Drop me a quick comment and let me know how your Bikini Body Boot Camp is going! I LOVE hearing from you guys!
Spam Issues:
I have been getting tons of spam comments lately! Argh. So what I have had to do is change my settings so that your first comment needs to be approved by me before it appears. Any comments after that will automatically be approved. Sorry about this, I really didn't want to have to do this but this spam forced me to!
Well, I am off to get caught up on some Glo Bakery work (I need to do a logo for the business), down a Green Monster, and then hit the treadmill!
I hope your weather is better than ours today! See you this afternoon for the WINNERS of the POM contest!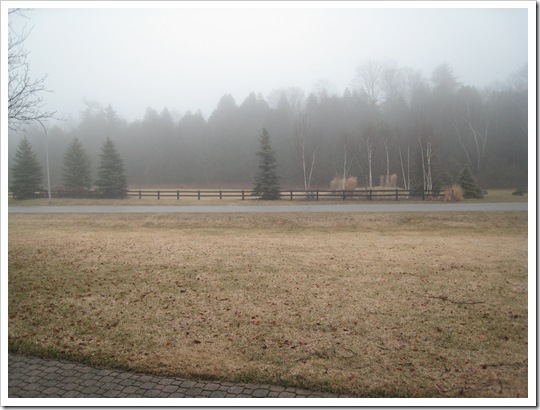 "There are as many nights as days, and the one is just as long as the other in the year's course. Even a happy life cannot be without a measure of darkness, and the word 'happy' would lose its meaning if it were not balanced by sadness." Carl Jung