Good afternoon!
Hope your day is going along swimmingly. :)
Thanks for all of your interest in the OSG Bikini Body Boot Camp Challenge! My inbox is flooding with emails. I guess I hit on a popular subject? :) Many of you have told me that this is the worst time of the year for you in terms of your fitness. I couldn't agree more.
After my injury + a long winter, I am surely feeling it. I think Spring is a great time to start making healthy changes and to try new fitness routines. Shake it up! Or like my dear friend Leah says, "Shake what your mama gave you!!" lol. :)
I took my measurements this morning, but no before picture yet. A girl can only take so much! I will do that tomorrow probably. And if you think I am going to take it now after a HUGE lunch you are nuts!
Also, I wanted to clarify something. You do not need to have a weight loss goal to participate in this challenge. I know many of you are already at your ideal weight and you do not desire to lose anymore. And that is awesome! My goal is pretty much to just tone my body.
I'm making lots of progress so far today. I'm like a little tornado spinning around gobbling up the mess. lol. And some food of course.
I was inspired by K's Bites and Bowls post on using up leftover pumpkin! So I decided to make some Black Bean + Pumpkin Hummus!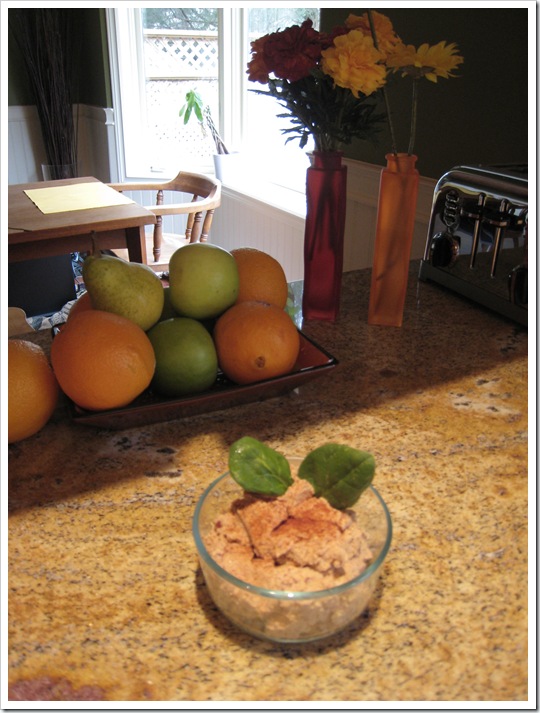 Of course, being the daredevil chef like I am, K's no recipe cooking method was appealing to me. I never use a recipe for hummus- just whatever strikes me as a good amount of ingredients!
I did approximate my ingredients for all of you though. :)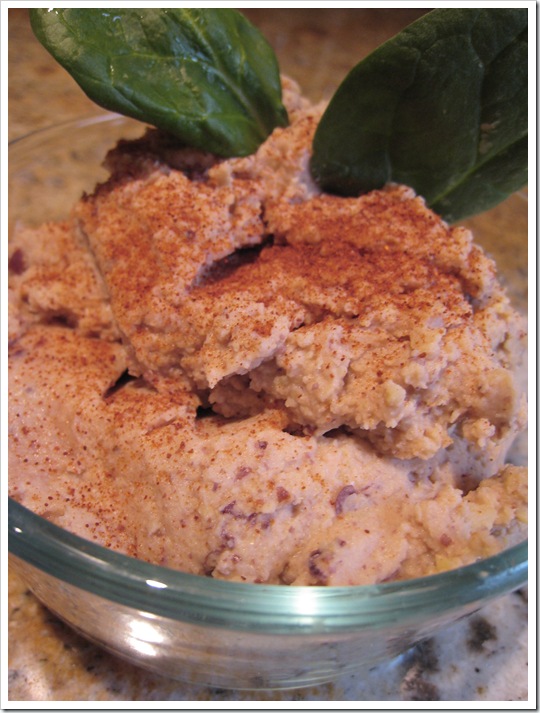 Ingredients:
1.5 cups cooked chickpeas
1/2 cup black beans (I would use more next time)
1-2 Tbsp pumpkin
1 tsp garlic puree or 1 garlic clove
Paprika
1 tsp EVOO
Black pepper
1-2 tsp Tamari
1 Tbsp lemon juice
3 Tbsp vinegar
a bit of water to achieve desired consistency
I think that was it. :) It turned out good. Next time I think I will use more black beans and maybe throw in a dollop of Tipsy Whiskey BBQ sauce for some kick!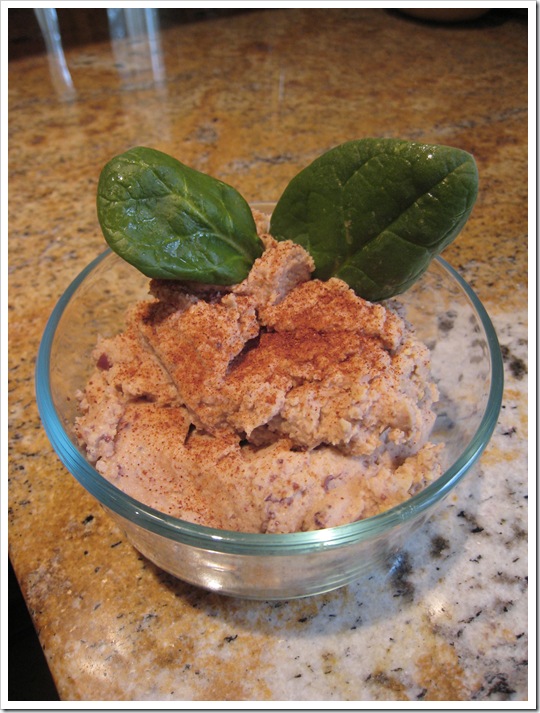 How cute it has a little twinge of orange to it! :)
The rest of my lunch eats:
The hummus is hiding underneath:
YUM!
The salad put my stomach over the limit! It included 1 whole head of romaine! Yowza!
Back to cleaning + Glo Bakery. I can't wait to update you on some exciting developments!