Good afternoon!
EDIT:
I'm hoping that you will fill out these 2 very short surveys for my Glo Bakery research. Each survey (10 questions) takes less than a few minutes of your time and is greatly appreciated! I am trying to do some consumer research on price points. :)
Part 1- http://www.surveymonkey.com/s.aspx?sm=uUxkOWFLNkk_2bU5Ejviy1wg_3d_3d
Part 2- http://www.surveymonkey.com/s.aspx?sm=MbBk0x3O_2bBiVoKwO1b1eWA_3d_3d
Thanks so much!
Angela
I decided today's post would centre around our home Fix-ups! That is another 'F' theme I thought of today.
I also wanted to mention, I am aiming to do an earlier lunch post from now on. I'd like to ideally post around 1pm for my lunch post. Of course this will vary, but I just thought I'd let everyone know my goal.
Eric has been a busy bee with the family room and sunroom so I thought it was time to show some progress. :)
I think he is now done sanding (I hope to God!) so now I can start cleaning like a mad woman before my mom and Stepdad come to visit us for the weekend (Thurs-Sunday). The house is a wreck right now!
The family room:
This is after stripping the wall paper, washing the walls a million times, patching the walls, scraping off the popcorn off the ceiling, sanding, more patching, more sanding!
The beams used to be the color of the wainscoting.
We still need to strip the wainscoting and then stain all of the wood.
I think we are going to stain it a deep walnut stain. I think that will look really classic. My brother is going to install about 9-10 pot lights for us too. Then it is painting and flooring! I think for flooring we are going with laminate for its' durability. We will go with a deep walnut color or we will go with a cherry similar to the kitchen.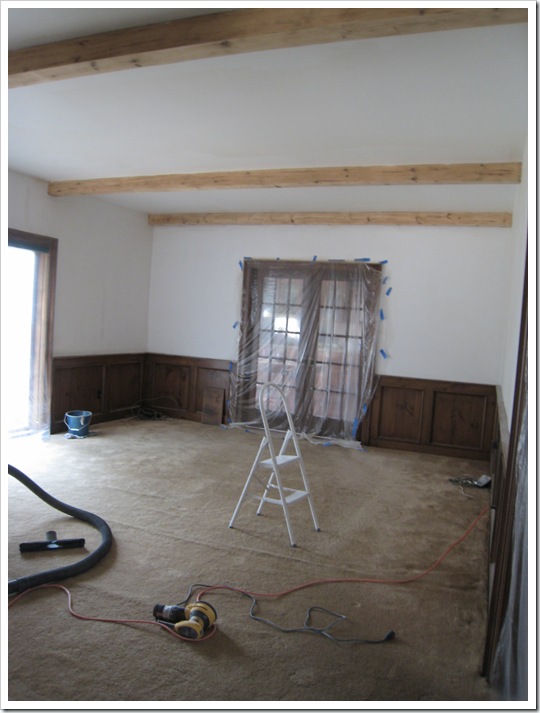 Poor hubby!
He aged about 50 years in 2 days!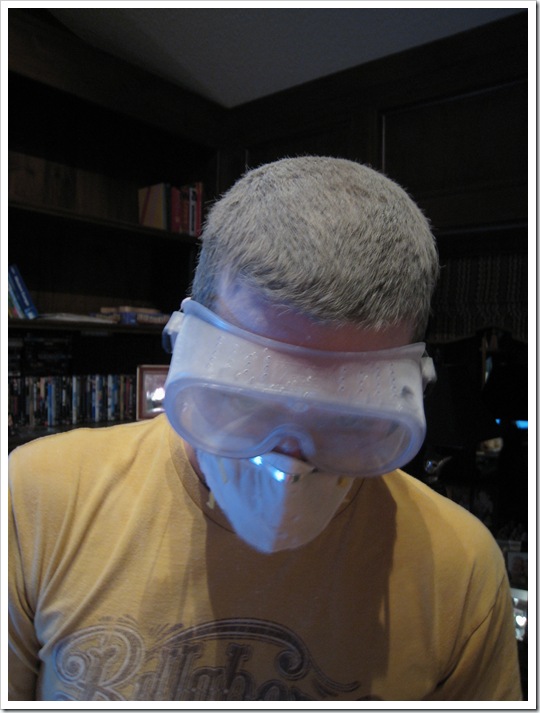 Our kitchen floors :(
Didn't stop Sketchie from walking on them!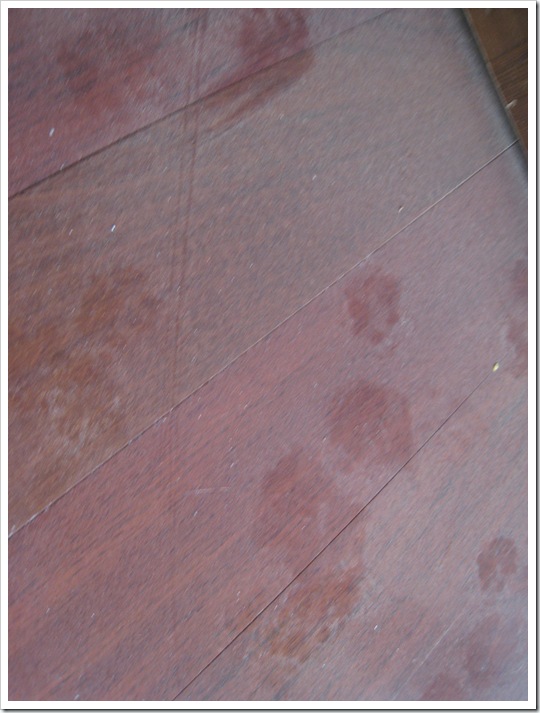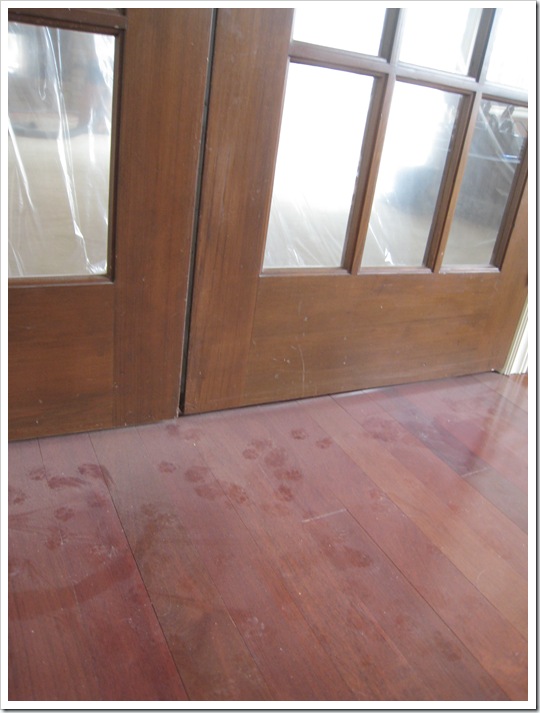 This is what I have to uncover each time I want to workout!!! Talk about unmotivating!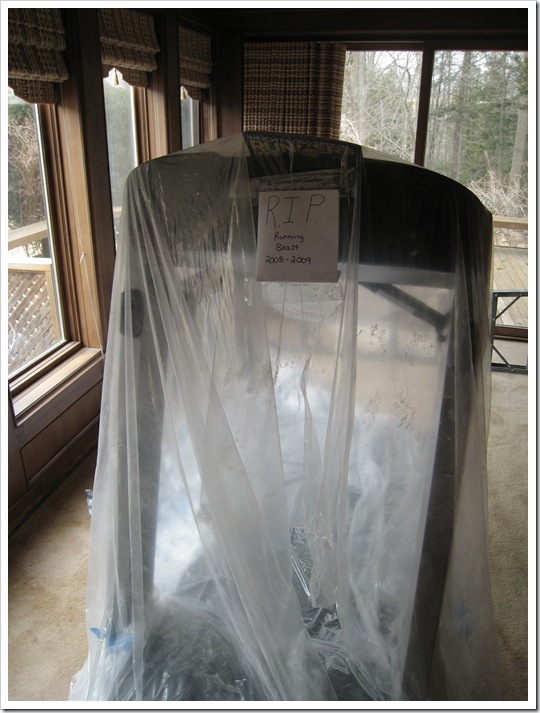 Another view:
For the wall colour we are going to go with a tan, pulling from the brick. I think the sunroom will be some shade of deep brick red, but I'm not sure.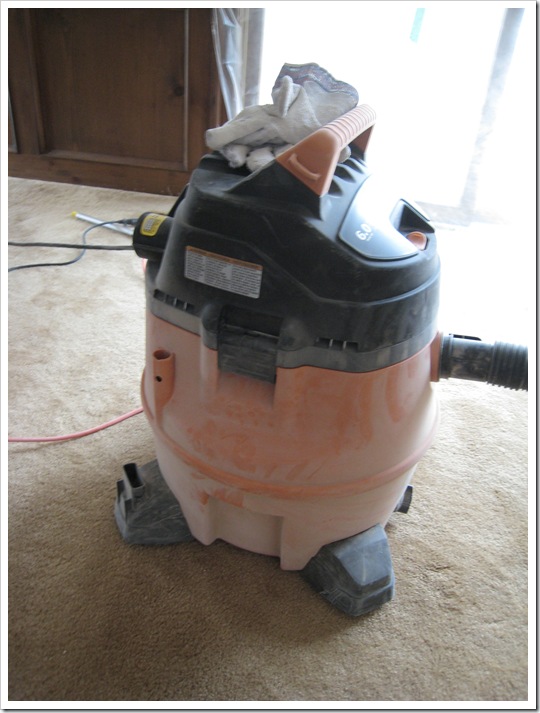 That is one tired looking shop vac!! lol. I think he has a cold. Hopefully he doesn't sneeze!
Food:
Today I made 3 batches of my Pumpkin Ginger Powerbars for Eric's coworker. He is ordering a dozen of them each week! Sweet :)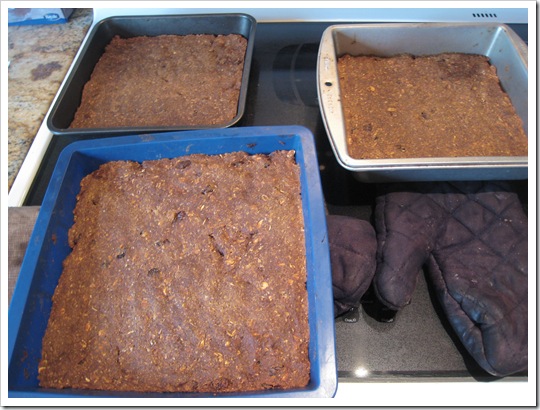 I also had a quick yet voluminous lunch!
Contents:
Sweet Potato with pepper
2 pieces of whole wheat toast
2 slices of Tofurkey
2 slices of tomato
homade hummus
Romaine Salad
I think I overdid it with this sweet potato- it was HUGE! I was a bit uncomfortable after eating all this food. :)
Ok, back to work!
Today's question: Are you currently doing any painting or renos? What are they? Are you planning on painting this spring or summer?
I am itching to paint our master bathroom, but Eric says we have more important rooms to work on first! I might just have to do it one day while he is at work….muhauha.