Good evening!
I have been working on the Glo biz + OSG website today. I have added a new honeymoon page where I will be adding more honeymoon pictures. I also updated the She page as well as a few others!
My awesome friend Laura also gave me an awesome place to buy all of my bakery packaging! Uline.ca is the website. I browsed their online catalogue last night and they have EVERYTHING! I'm so pumped. They are in the GTA as well so I make make a trip over there one day to check out the showroom (if they have one?).
Would anyone be interested in joining an Oh She Glows fan group on Facebook? I'm wondering if it would get any response??
Groceries: Part 2
As I said earlier, I bought a ton of bulk foods for Glo Bakery today. Much to my delight almost everything on my list was on SALE!
Here is what I bought:
1.825 kg of WWPF (Whole wheat pastry flour)
2.6 kg of Brown Flax Seeds
0.6 kg Dried Blueberries
.64 kg Turbinado Brown Sugar
1.020 kg walnut pieces
1 kg Amber Liquid Honey
2.215 kg Organic Cane sugar
0.61 kg Aluminum-free baking powder
Dark Amber Honey: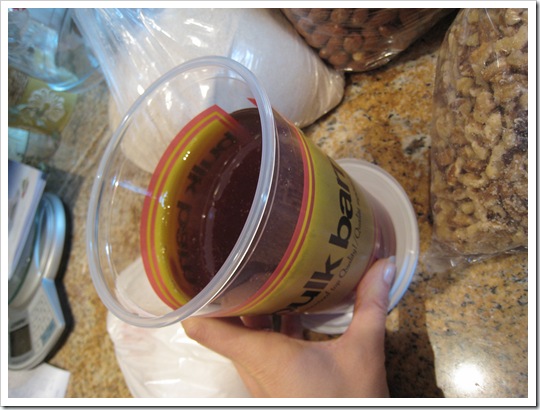 HUGE bags!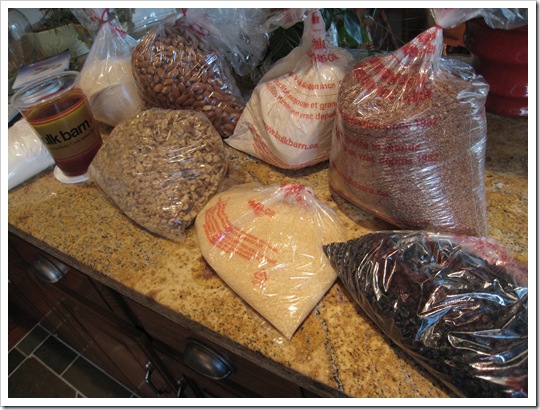 Pretty much everything I bought was on sale except for the dried blueberries and WWPF!
Look at all that flax!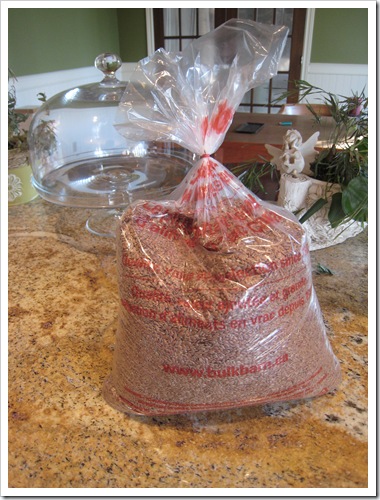 This was a BIG bill at Bulk Barn today! It cost me about $75. But I had to think in terms of how long this stuff would last me. For example, the huge bulk bags of almonds I bought last fall lasted me almost 5 months!! This bag of flax could last me even longer, but likely won't since I will be baking with it! :)
Late afternoon (around 6pm) I made a Green Monster to tie me over until dinner: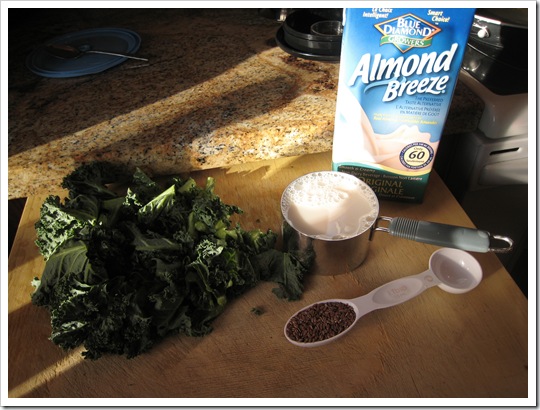 I added pumpkin that was on its last legs, lol:
See you tomorrow morning for what ORANGE Baked good I made tonight!! Ohhhh it is good! :D
Tonight's Question:
Do you buy bulk foods? Why or why not? What do you buy in bulk?
I find with some food products like nuts it definitely cheaper to buy in bulk. I try to buy what is on sale as well. Buying in bulk also reduces the amount of packaging which is always good for the environment.
Psssst…Stroll on over to Julie Go Lean's fabulous blog for a chance to win some awesome food!