Hey guys!
Wow…what a WEIRD day it has been!? Is anyone else having a Monday that feels like you are in a time warp? I sure am. lol. I'm trying to just roll with it though!
So much to my horror when I went to make a green monster this morning, I was out of Almond Breeze and Soy milk! *gasp*- My first morning in ages without a green monster! I admit I was a bit sad. Ok, a lot sad. I'm not sure how we let our kitchen go so grocery-less this weekend, but it just happened! I meant to hit up the grocery store yesterday but I was too busy with the Glo Bakery website.
So this morning the only things I could eat were 2 apples- that was ALL we had in the kitchen, except for some random non breakfast things. I ate my two apples and then hit the treadmill for a workout.
The Workout:
Stats:
Duration: 47 mins.
Walking @ speed: 4.0 mph, incline 5-9%
Max heart rate: 154 bpm
Avg heart rate: 140 bpm
Feel the burn: 358 kcals
I watched TV and read my Runner's World– the time went by fairly quick. Today I decreased the incline and increased the speed for a mix-up.
I admit I am getting bored of these walking workouts! I have such a desire to run, but I know it is too soon. I have been thinking of trying something totally different- such as a spinning class or something, but after looking at the prices I just can't afford it right now. So the treadmill will have to do until it gets warmer outside!
Does anyone have any fun treadmill workouts to share?
After my workout I had a quick shower and knew that I had to get into town to get my groceries- FAST! My fuel was running out quickly and by this time it was 1:30pm- and still no lunch in sight! I had a couple handfuls of raw almonds to tie me over (or so I thought).
My grocery trip ended up taking me about 2 hours there and back!!! I had to go to two different places- the grocery store and Bulk Barn to get baking supplies. We also live 15 mins. out of town so that adds on an extra 25-30 mins to the trip.
Store #1: Groceries:
I love that our grocery store is bagless! They don't carry plastic bags at all so you have to bring your own reusable bags or buy theirs. It took some time to get used to this (and many forgotten bags in the car!!) but now I love it. I feel good knowing that I am not contributing to the waste any more than I need to.
Shown below- 4 bags- all of them were FREE!
Left to right: Neil Brother's Reusable Bag, 2 Yellow Tail bags (free from the home show!) and another reusable bag from my Brother in Law.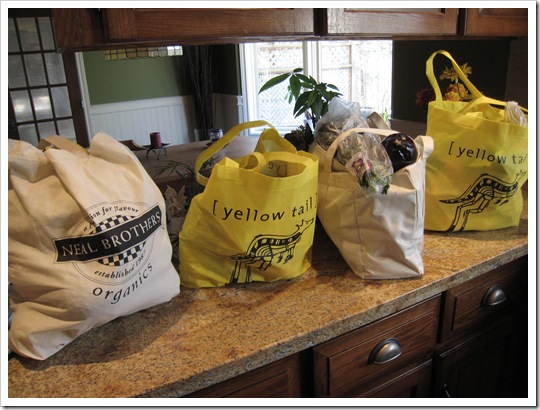 The groceries: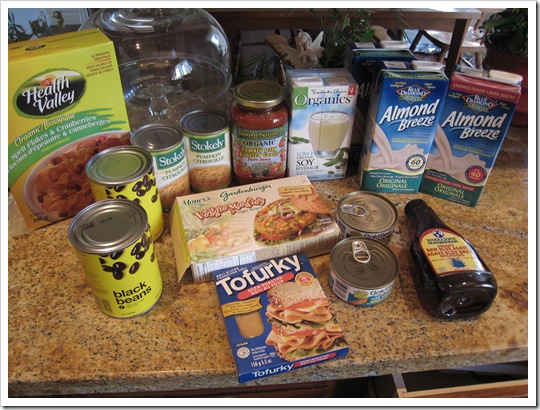 You can click these pictures to enlarge.
Produce…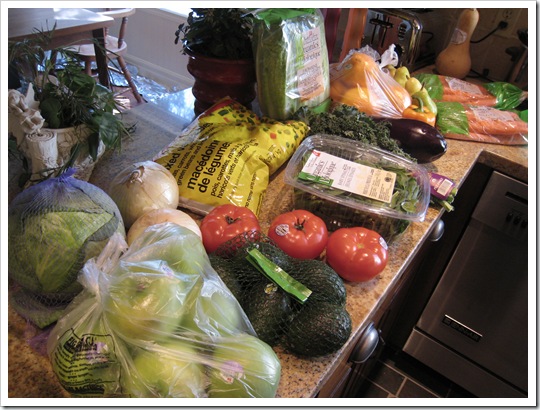 More produce…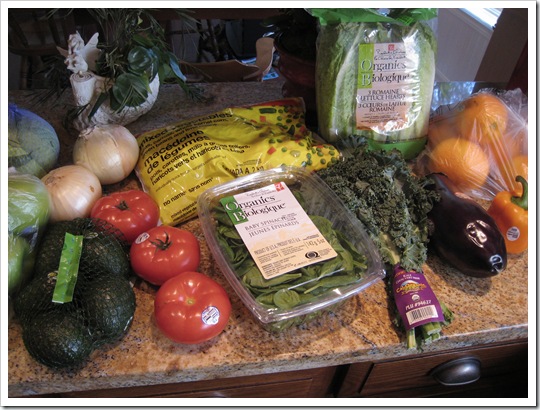 And more produce…
Today I bought all of my fruit based around what was on sale. For example, the pears were 99 cents a lb. and the Naval oranges were 79 cents a pound, so I stocked up!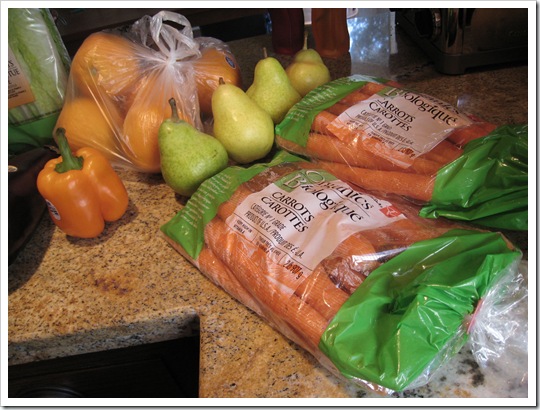 I also have stopped buying organic for certain things since we are saving money. I didn't buy organic pears, peppers, or tomatoes, which is a big thing for me because I hate buying non-organic for the Dirty Dozen!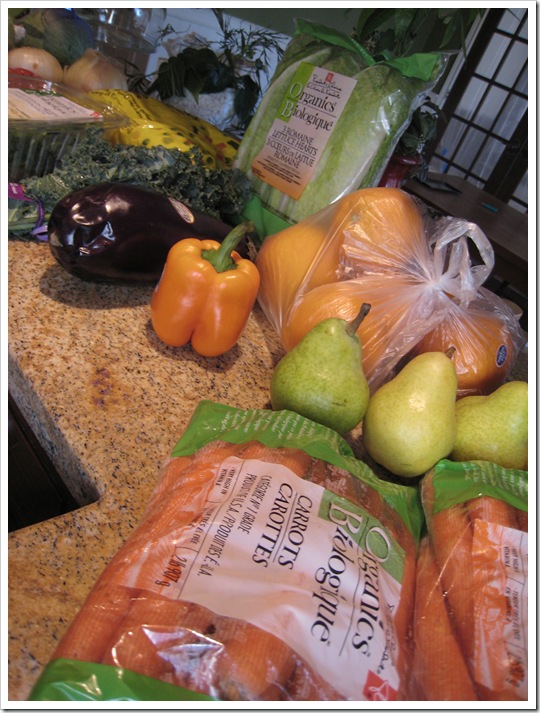 So back to my hunger. By the time I got home (3:15pm) I was hungrier than any person should let themselves get! It was an awful feeling! lol. I threw tomatoes, spinach, and a veggie burger on the skillet for 5 mins. and then had avocado and hummus with it. I also had an orange and several handfuls of Spelt cereal. I couldn't get the food in my belly fast enough! haha. My brain still hasn't clued in that I ate, so I am going to have a tea and wait 10 mins. If I am still hungry I will go get something else. I have a feeling it is just slow today. ;)
Renos:
A reno picture from yesterday- Eric is sanding down the wood in the family room. We are going to stain the wood a deep walnut color. It should look awesome when it is done!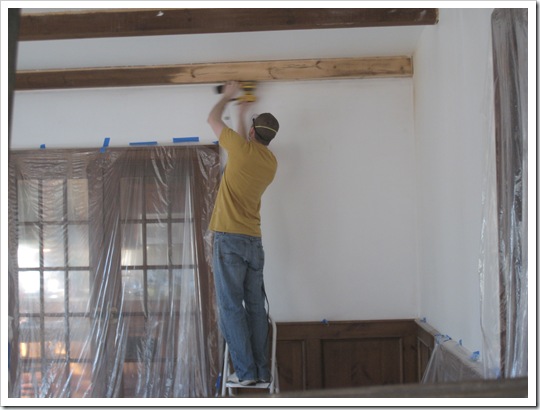 It is soooo dusty in the house! I can't keep up with all of the cleaning. It drives me nuts! I also have to workout in a 'dusty feeling' room. I opened the back sliding door, but it still has a heavy dusty smell! yuk!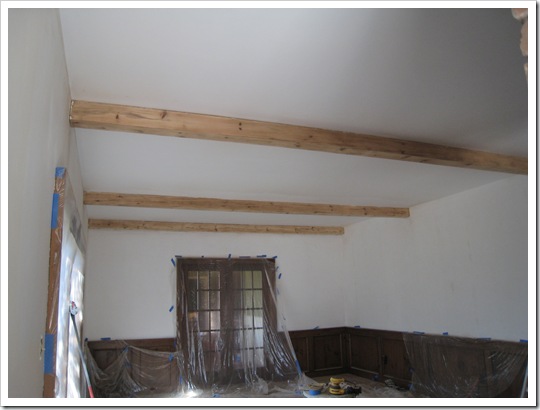 Well, I have tons left to do today- I feel like the grocery trip ate up most of my afternoon. I am going to work straight til about 8pm tonight so that should put me back on track.
This afternoon's question: What would you rather- a 1 hour massage or a manicure + pedicure?
That's a tough one…right now I would say a mani + pedi because my feet are raggedy after this winter!
See you tonight for Part 2 of my bakery purchases!
Enjoy the rest of your day!