Hey there!
I have had a really productive day despite my lack of sleep last night!
I also caught up with phone calls with my mom and dad (both live on opposite ends of Canada!) and chatted with each of them for a good 45 mins.
Hopefully tomorrow I will chat with my sis about her exciting cruise that she just got back from (call me)! :)
I successfully created a new Glo Bakery product today! It was love at first bite.
Crunchy Banana Coffee Cake: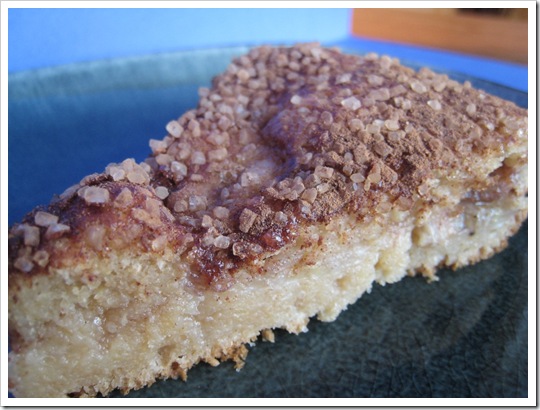 Ummm, can we say crunchy Turbinado sugar? Crunch, crunch, crunch. This cake was fun to eat- soft and gooey in the middle and crisp and crunchy on the outside.
This coffee cake is free of any butter or oil, yet super moist. Thank you BANANAS!
I finished updating the baked goods on my Glo Bakery website so far. Check it out! This week I will be adding nutritional info.
Beauty Product Review:
After hearing Wigg's mention her Benefit Bad Gal brightening blue mascara, I knew I had to try it. My mascara has been dried out and tired for a few weeks now, so I knew I needed to splurge.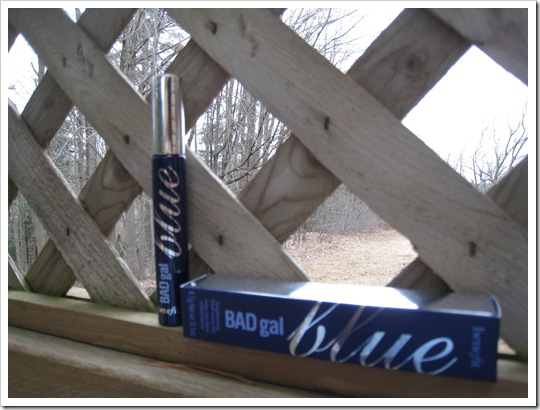 The goal of this Blue mascara is to brighten the white of your eyes as well as brighten the intensity of your eye colour. Sounds pretty sweet right? But does it work?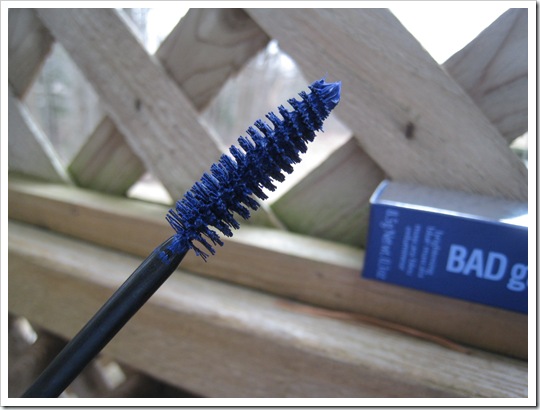 I admit, it looks a bit scary and downright clownish. But trust me, it doesn't look blue at all once it is on the eyelashes. And my eye lashes are really fair too.
Sur Mes Yeux:
I would like to think that I noticed a difference with this mascara, but I really am not sure! I think my eyes did appear a bit brighter than normal, but not earth shatteringly different and probably not worth spending the extra money on this mid-range product.
However, the placebo effect for this product was pretty strong. Because I thought my eyes looked brighter, I believed it and I think this product gave me an extra sparkle in my eye (or extra confidence boost!). Moral of the story? Believe you are beautiful and you will look beautiful.
The mascara itself was a bit drier than I hoped and a few clumps persisted on my lashes despite rubbing off the wand with a tissue.
Overall, it was a fun change and I will certainly be using the rest of this tube up, but I don't think it is worth it when comparing it to other drug store, low-range mascaras.
Overall Glow: 3.5/5 stars
Yoga:
Today I attempted Yoga outside.
I printed off a pose guide from Yoga Downloads.com and away I went.
Me attempting a Triangle pose…I am not perfectly aligned because I am being careful with my groin. :)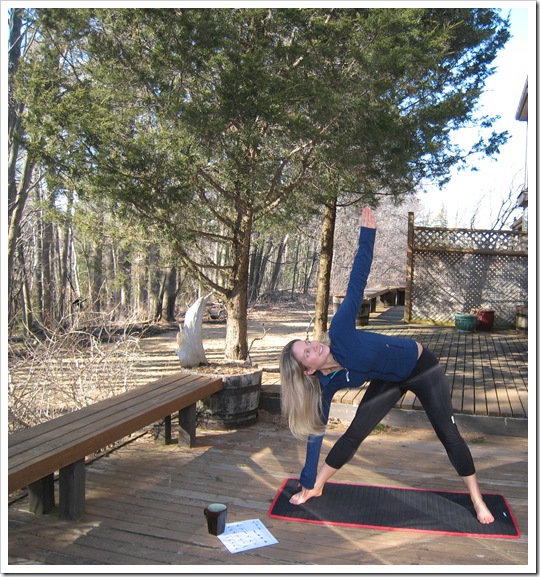 The only snag?
I thought it was a warm summer day and it only happened to be about 7C, which isn't exactly outdoor yogi material. I was cold and did three quick poses and booted it back inside to the warmth of my glowing computer screen. lol.
I want to say that I came inside and did more yoga, but I'd be lying.
All and all it was a total rest day today! Those can be good though. :) I may do some abs tonight when watching 24.
Tonight's Question: Do you enjoy your rest days? Do you look forward to them or do you feel guilt and like something is missing from your day?
Generally I don't mind them when I am sick or really tired, but if I am otherwise feeling fine and I skip a workout I do feel 'off' the rest of the day.

Peace out health lovers!