Good morning!
Last night was FUN! I saw some girlfriends that I hadn't seen in a long time. It was so much fun catching up. I didn't get home until very late, so you can understand why I didn't want to post a recap at 1:30 in the morning. :)
So….many of you guessed right with respect to what shirt I decided to buy! However there was a little trick. Click 'continue reading' to see what shirt I wore!
Many of you guessed that I got the white top featured in the first picture. Well that is half true! I did get that style of top, but I got it in the beautiful sunset orange colour- my favourite!!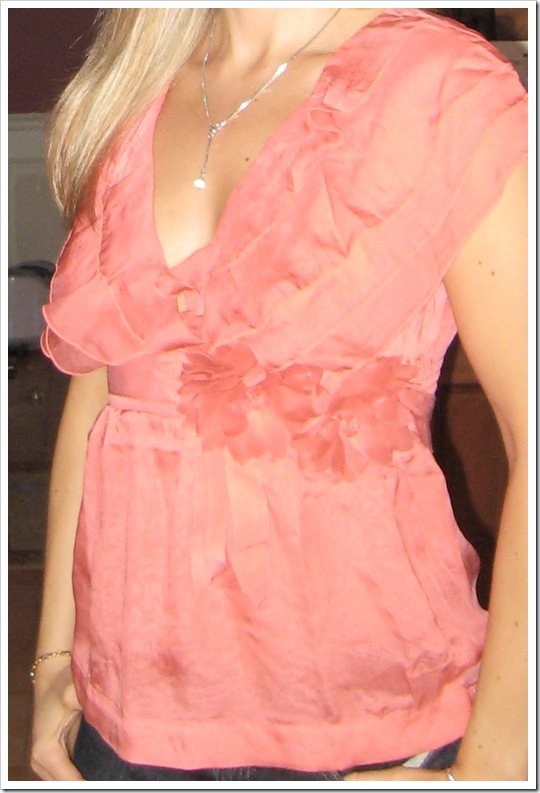 I love this shirt. :)
We went to this wonderful little restaurant uptown called Terroni. They feature Traditional Southern Italian Food. And was it ever good!
 The girls around the table: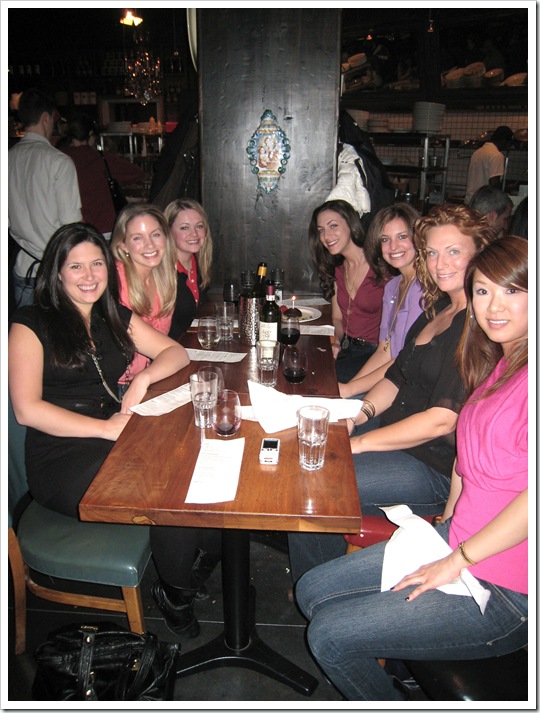 Starting clockwise with Sarah in Black, me, Laura, Jen, Shelley, Melissa, and Jane. I went to high school (well, my last year of highschool when I loved to Ontario!) with all of these girls except for Jane. I met Jane in my grad program. :)
Laura and I: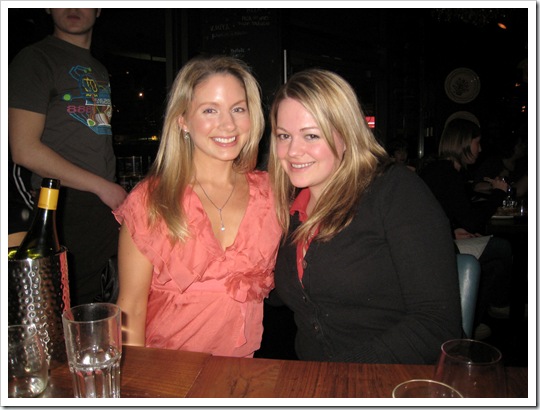 Laura and Jen are getting married this summer (not to one another, hehe)! I am going to Jen's Bachlorette party on May 9th and possibly her Stag and Doe end of April. This is going to be the summer of weddings I tell ya!
Sarah and I: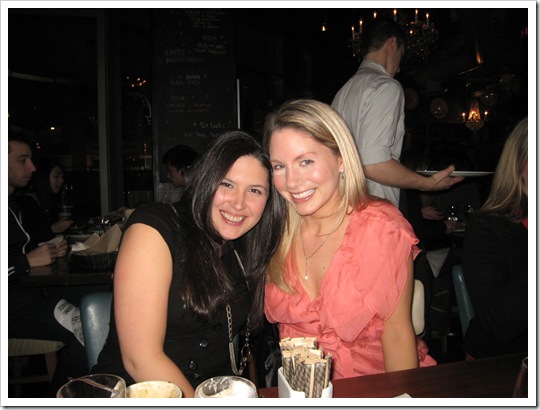 Jane and I: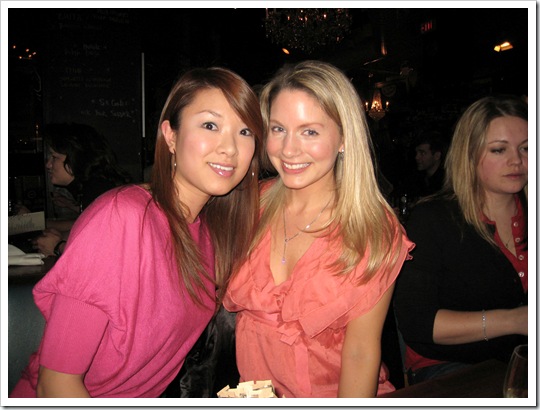 For dinner most of us had pizza! I asked the waitress if they had any vegetarian pizzas and she said you HAVE to try this one. It has eggplant, zucchini, tomatoes, garlic, peppers, etc. No Cheese :D It was probably the best pizza I have ever had at a restaurant! SO authentic!!! It was the thinnest crust I have ever seen too. I love thin crusts. :) Eric and I will definitely be going there at some point!
We ordered two bottles of wine for the table and I had about a 4 oz. pour of white wine.
After dinner, we decided to walk over to a nearby bar called Fionn MacCools which is an Irish Pub. They had a wonderful live band playing and it was really fun!!
At the bar: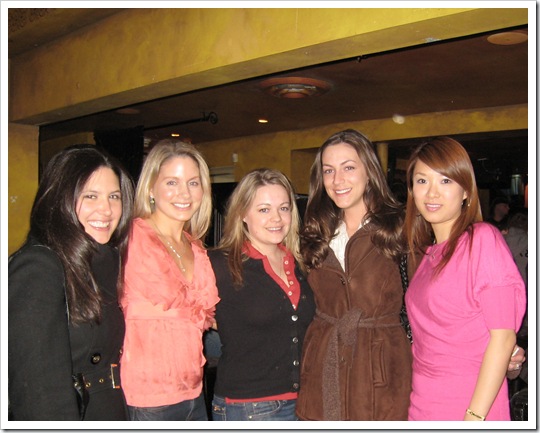 At the bar I only had about 1/3 of a Coors Light. I was driving home so I obviously couldn't drink. I'm not much of a drinker anymore so I don't know if I would have even drank had I not been driving home!
I left Toronto around midnight and got home just before 1am. I was pretty tired on the drive home but I cranked some club music on the radio to keep me going! Eric got home from Zac's place around the same time and we chatted for a bit about our night before hitting the hay.
I was wide awake early this morning and only got about 6.5 hours of sleep…I made a Green Monster to try and revive my tired self: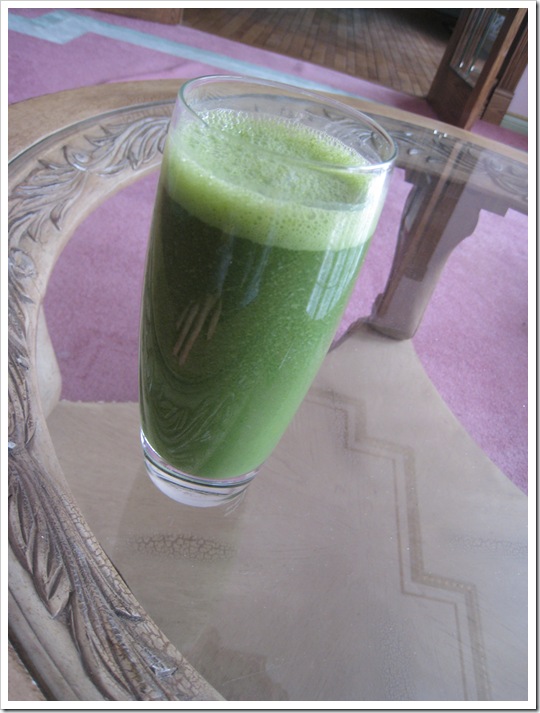 The Contents:
2 organic Kale leaves
1 shot of POM
1 handful baby organic spinach
1/2 Banana
1 Tbsp Flax
1 Cup Almond Breeze
Ice
After drinking this I felt much more awake! I'm also going to reintroduce Green tea back into my life. I cut it out after I became severely addicted to the caffeine in green tea. I was drinking about 8 cups a day at one point! I think if I have just a couple cups of day I should be fine! :)
See you guys later for Yesterday (and hopefully today's) workouts! Also up on the agenda today- a Beauty Product Review and what arrived in my mailbox! Don't forget to enter the POM Wonderful contest if you haven't already!
Today's Question: Do you have a favourite 'go-to' bar or pub in your neighbourhood? What is it like? What is your signature drink?

"Being happy doesn't mean that everything is perfect. It means that you have decided to look past the imperfections."