Good afternoon!
I've been working on the Glo Bakery website non stop since I posted this AM. I am updating it and adding all of my new products! I have so much more to do on it:
Add more Baked goods, pictures, descriptions
Add nutritional benefits
Add nutritional information
Transfer Website, pick new template, transfer www.globakery.com domain
I'm going to continue working on this today! I also am forgoing my workout today and just going to do some yoga and abs. Today is the perfect rest day from cardio- I am feeling pretty drained from last night so I am going to take it easy. I rarely push myself to workout when I REALLY don't feel like it. Plus, Eric is sanding in the sunroom and my running beast is covered up! :)
Saturday's workout:
Treadmill, hill workout
Duration: 40 mins.
Speed 3.6 mph, incline 10-15%
Max heart rate: 166 bpm
Avg heart rate: 150 bpm
Feel the burn: 338 kcals
Yesterday's workout was good, but very challenging and tiring. I watched What Not To Wear on TLC to make the time go by faster!
Lunch Break:
Around 2pm, I finally broke for lunch today.
I had a huge spinach salad with my Flax + Poppy Seed crackers and homemade 50 cent hummus: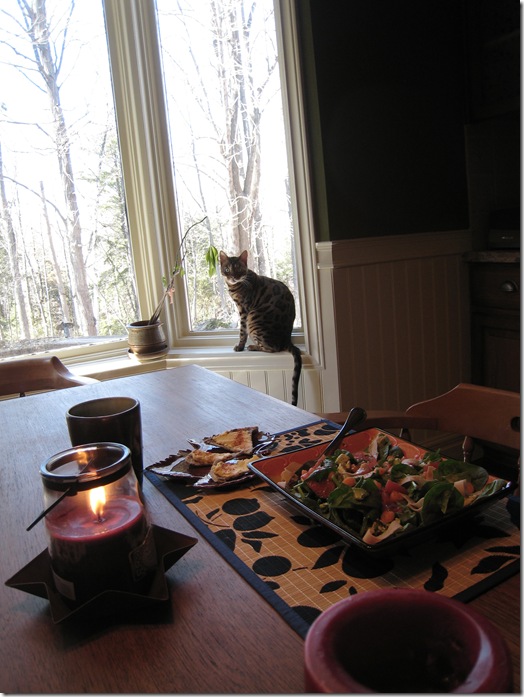 I haven't had a salad in AGES! I have been on such a sauté kick. Now that Spring is here I will probably be eating much more cold foods!
It feels so good eating homemade products and saving so much money!!! I haven't bought store bought hummus for weeks now. :)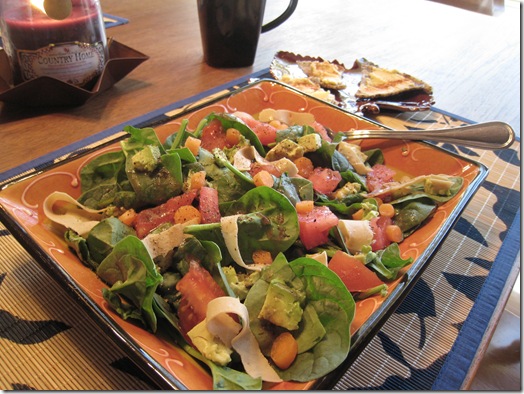 In the salad:
3 handfuls baby organic spinach
1 Tofurkey slice
1/2 avocado
1/4 large tomato
1 tiny organic carrot
black pepper
Kraft Light Balsamic VInagrette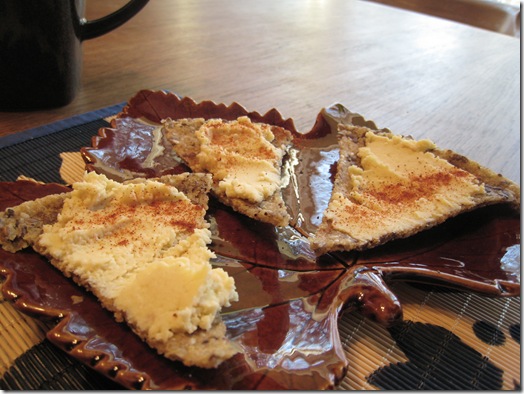 I made these crackers into 'tortilla' chips- they were so fun!
From a bird's eye view: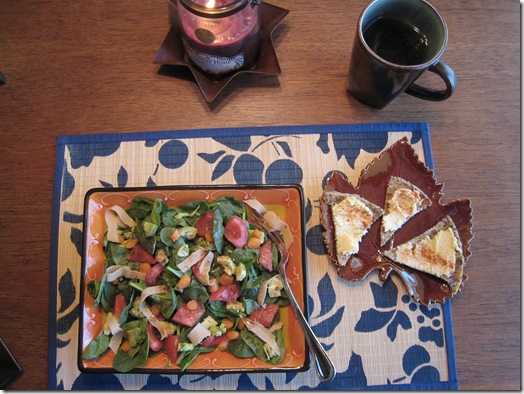 With a English Toffee Celestial Seasonings tea!
I had 2 cups of Japanese Sencha green tea late this morning and I REALLY felt it! I haven't had any form of caffeine in months. Not sure I liked the feeling to be honest! My body felt a bit 'anxious' and strange. I will probably stick to a cup every day or two at most.
I would drink decaf green tea, but the antioxidants are much more plentiful in caffeinated green tea, so it kind of defeats the purpose drinking decaf for the health benefits.
Mail Delivery:
The contest I won over at Blue Plate Special arrived on Friday!
I was so excited to get the loot.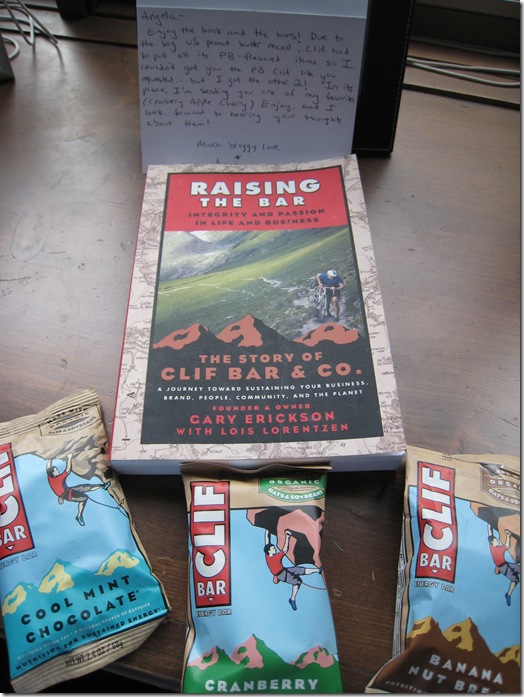 I can't wait to read this book! I hope I will be able to apply it to my Glo Bakery venture.
Of course I had to try my very first Cliff bar. I tried Banana Nut Bread bar:
Stats: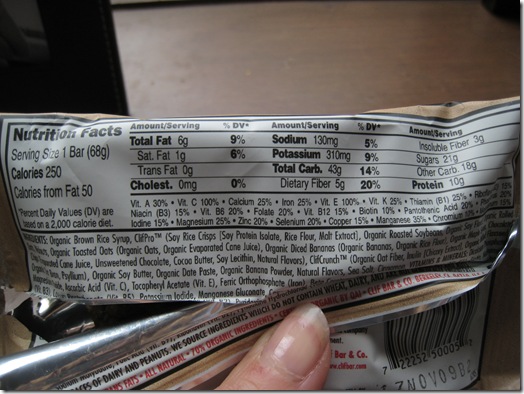 Taste test?
This bar tastes amazing! I really could have downed the whole thing right then and there. However, it was before lunch so I just had one big bite. :) My only quip with these bars is the high sugar content. Ever since I have been reducing my overall sugar intake, I find I am much more sensitive to really sweet foods. This bar has 21 grams of sugar, so I would be pleased if they lowered the sugar in their bars to under 12 grams or so. It was a bit too sweet to eat the whole thing in one sitting…but perhaps for a dessert!
Thanks SO much Anna! I can't wait to try the rest! :)
Well I am off to work on the website once again! See you tonight for a BLUE Beauty product review.
The weather is sunny and warm again today so I might take my yoga outside! :) Yippee.
PS- Is anyone else noticing an abundance of creepy crawlies in the house lately? I love Spring and all, but I just can't take all the spiders cropping up around our house!!! BLECH! Hubby is removing one right now.
Today's Question:
What is your LEAST favourite creepy crawly?
Mine are roaches!! We used to have Palmetto Bugs in Florida and they would fly at our heads at night time! GAG!
Enjoy your Sunday!