Hey everyone!
Thanks for stopping by. :) I hope you are having a great day!
I will start off by showing some of my wholesome + delicious eats today:
Lunch was 3 large carrots + 1/2 cup Homemade 50 cent Hummus with toast + 1/2 avocado + 2 slices of Tofurkey.
It. was. so. good. Every taste just seemed heightened today! Does this every happen to anyone else? Maybe it was because it was 2 pm and I was starving! Everything tastes better when you are hungry right? :)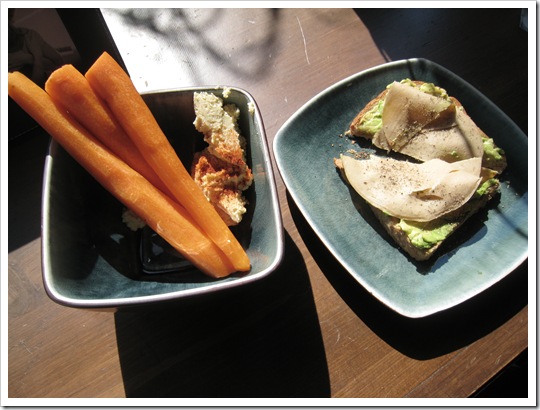 I also had a Pumpkin Ginger Powerbar that I made yesterday. Delicious!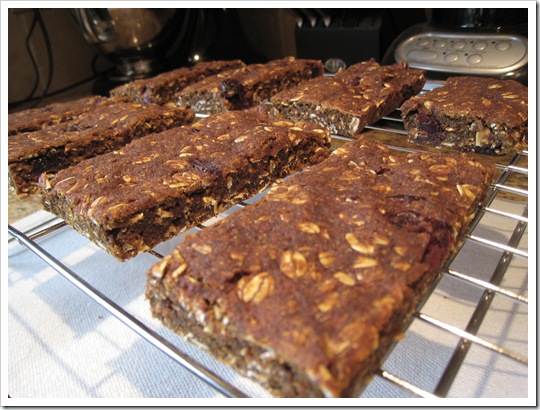 Dinner was a delicious Carrot + Corriander Soup inspired by Leah's Dinner!
Cooking in the pot: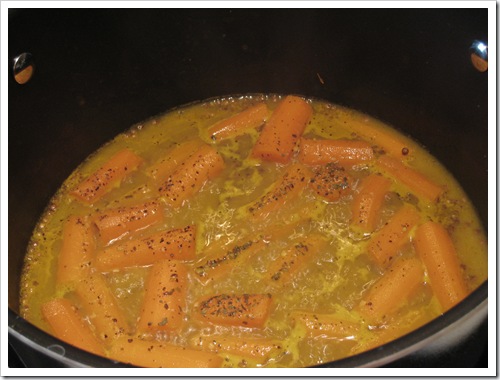 My Adapted Ingredients for a single serving (Eric worked late):
1 medium onion, chopped (didn't have one so I omitted)
1 clove garlic (I used 1 tsp minced organic garlic puree)
1 tbsp olive oil (I used 1/2 Tbsp)
700g carrots, peeled and chopped (350 grams carrots- approx 4-5 medium)
1 tbsp ground coriander (1 Tbsp whole corriander)
900ml light vegetable stock  (375 ml Organic Vegetable Juice-see below)
I also added chili pepper, basil/parsley, black pepper, Italian Seasonings, Paprika
Toppings: fresh basil, parsley, Soy yogurt
Directions:
Sauté the onion and garlic in the oil for 5 minutes to cook slightly.
Add the carrots, vegetable stock and coriander, stir well.
Bring to a boil, then simmer for 15 minutes (I cooked 10 mins) or until carrots are soft.
Puree the mixture in a blender or mash manually.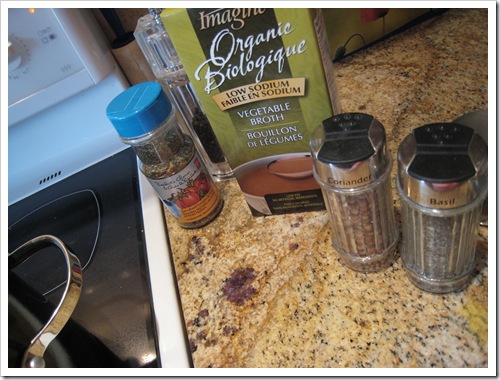 Let's just say I went a little overboard on the spices tonight! I think my insides are still on fire. lol. I blame those bland chick pea burgers from the other night!
The Organic Veggie Juice: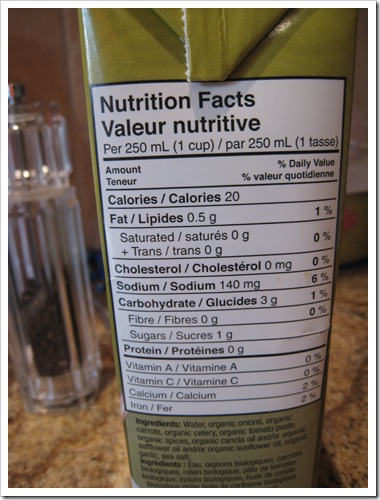 I was freezing in this house all day long and I craved something HOT. lol.
The soup tasted SO good. I will be making this again for sure! The best part was the total prep + cook time was UNDER 20 mins! How is that for a quick and easy dinner?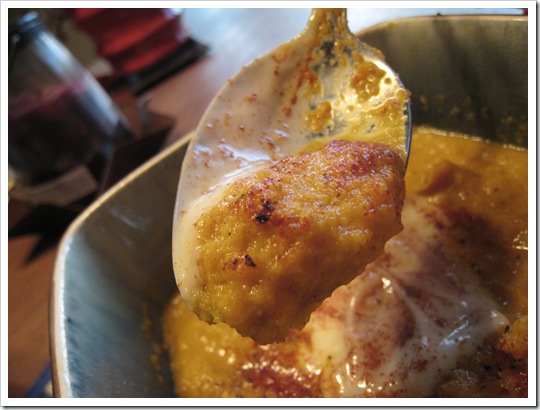 It was delicious and super filling!
I also had a Sweet Wheat Sugar Cookie (not iced) and an apple for dessert. The perfect ending to a perfect day!
Sweat:
My workout this afternoon was SWEATY! I can't say I loved how I felt during the workout, but I sure loved how I felt AFTER the workout. I had to keep my eye on the prize today!
Stats:
Treadmill Hill workout
Speed: 3.6 mph, incline 13-15
Duration: 45 mins.
Max heart rate: 162 bpm
Avg heart rate: 147 bpm
Feel the burn: 366 kcals
I did some yoga poses again after my workout. I am really liking adding 5 mins of yoga at the end of a sweaty workout. My body is already nice and warm and I find I can get deeper into the poses! Does anyone else do yoga at the end of their cardio sessions?
My back is feeling really stiff tonight so I think I am going to do some more yoga after I hit 'publish' on this post. :)
I wrapped up a cake for one of Eric's coworkers tomorrow. She will LOVE this! :)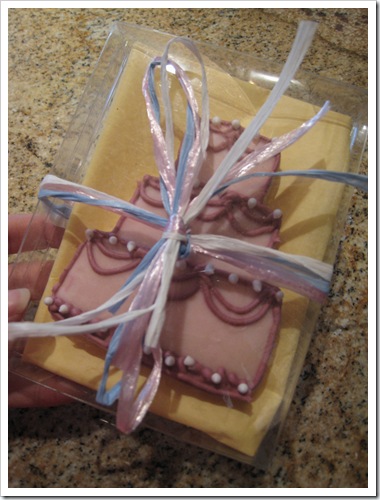 I also wrapped up a cake to test out how I want to wrap my wedding favours. I like this below but I would add more ribbon and make it look nicer. But you get the idea :)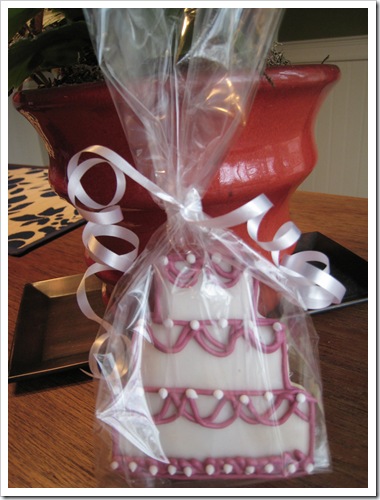 I wish I would have done these instead of the ginger cookies for our wedding! Ah well! :)
Question of the Day (week!?):
Angela, What do you do with all of your baked goods?
I eat every last bite!
What? Wouldn't you?
Ok, ok, I have lots of help. Eric is the official taste tester and so are his coworkers. I am a big hit at his office.
Today he brought my Power Bars to the office and about 10 people tasted them and gave feedback! :) Someone even wants to order from me on a weekly basis!! So tomorrow I am going to do up a 'product list' and he is going to send it around the office. Hopefully I will get some regulars. :)
Well guys, I'm off to do some yoga and watch ANTM (I missed it last night)…I'm kinda liking doing poses on my own as opposed to following an instructor. It is a nice change! I need to download a pose guide though so I can keep mixing it up.
Anyone know if the Office is on tonight?
Don't forget to enter my POM giveaway for your chance to win 4 free POM juices!
Have a GREAT night!