Good morning!
Does anyone have writer's block when they sit down to write posts sometimes?
I've been sitting here kind of like 'Duh……" for about 15 mins. and I haven't a clue what to write about! lol. Duhhhhh.
Wedding Dress Photoshoot: Part 4
I still waiting on some professional pictures to show you all! I am so anxious to see them. Hopefully by today I will have some to post!
My photographers know about my website. At the workshop Dave actually asked me, "Is that your website that has been giving me so many hits a day!?!?!" LOL. It was pretty funny. I happen to think they are amazing people- and photographers- so I will do everything I can to spread the word about their work. Check out my wedding page to see many of our wedding pictures!
Dave actually has a really cool idea for a contest giveaway on Oh She Glows. Nothing is confirmed yet, but he wants to do a FREE PHOTOSHOOT giveaway for one lucky Oh She Glows reader. Naturally I was so excited about the idea. It could be any type of shoot (except wedding obviously) such as a boudoir shoot (in lingerie- Charlotte does these shoots), children, Engagement, personal shots, etc. Dave was thinking it would be fun to challenge Oh She Glows readers to take before and after pictures of their weight loss. While I think that is a cool idea, I'm not sure it would work for those readers who are already at the perfect weight. If anyone has any cool ideas of what we could make the challenge be- please email me at [email protected] ! I think it is going to be a really fun contest. You would have a chance to work with some of the best photographers in the industry!
The Running Beast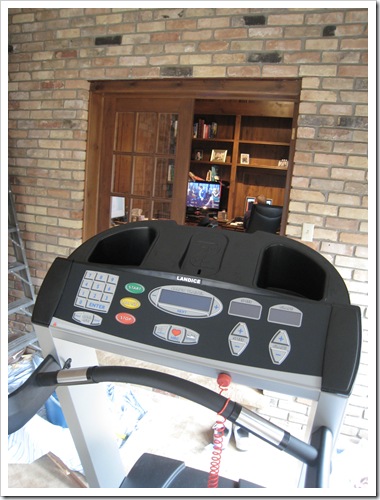 Look what Eric moved for me!! I was wishing that I could watch TV while on the treadmill the other day so Eric rotated my running beast to face the TV in the office now. :D Yippee!
The Green Continues
I woke up so hungry this morning so I had a hefty Green Monster and one of my wonderful Sweet + Spicy Zucchini Breakfast Muffins:
I didn't think it was possible but these muffins are even better the next day!!!! They are so moist they don't require any butter.
Yum!
Morning Brain Stimulator:
What is your proudest fitness moment?
One of mine was finally getting to the point in my training where I could run without taking any walking breaks. I never would have thought that would be possible before.
Another was being a fast pitch softball picther and pitching in the winning game of the championships.
Also, learning how to snowboard and making it down a black diamond without killing myself! :)

"There are two things to aim at in life: first, to get what you want; and after that, to enjoy it. Only the wisest of mankind achieve the second." ~Logan Pearsall Smith