Good morning!
Happy St. Patty's Day everyone!
Eric is half Irish (His mom's side) so the celebration has special meaning for us! I also have some Irish blood in me, but not as much as Eric. :)
Does anyone else have Irish in them?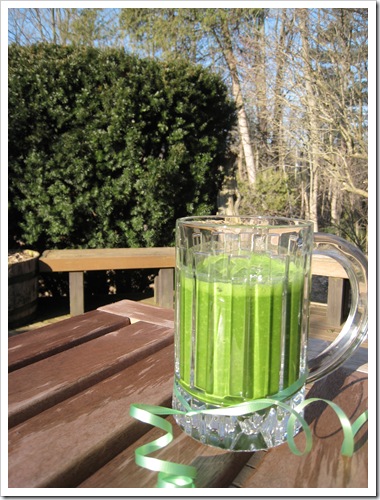 Of course I just had to start off today with the GREENEST Monster possible in our beautiful Beer Mugs!
Contents:
2 huge organic kale leaves
1 cup Almond Breeze
1 Tbsp flax
The weather is supposed to be even better than yesterday- today we will reach a high of 14C/57F and sunny!! Now that's what I'm talking about! :)
Today I am definitely planning on getting outside for some exercise…whether that be yoga or cardio-I'm not sure yet! We shall see.
Want Great Abs for Summer? I sure do.
I meant to post about this awesome kick-butt ab workout that I came across on Wigg's website, The Beholder.
She is a swimmer and let's face it. Swimmers have amazing physiques! Sleek, toned abs that power them forward.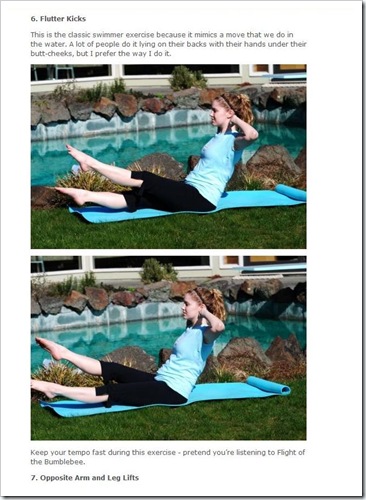 As you may know, I have been consistently working on my CORE muscles ever since my Sports Medicine Doctor told me that weak core muscles are one of the main reasons that runner's get injured!
So everyday I have been doing some ab/core work and some yoga in an effort to make my core as strong as Iron Man. Well, maybe a bit stronger. hehe. :D
What am I doing you ask?
Well yesterday for instance, I did about:
10 mins of Crunch Yoga
10 mins of ab work (lying down with leg lifts, stability ball stuff, and planks)
I also measured my waist circumference BEFORE I started my core work to see if my stomach actually gets smaller!
Smallest part of my waist, BEFORE: 24.5"
Widest part of my hips, BEFORE: 34 1/4"
I will be measuring each week and seeing if there are any changes!
I hope that by getting a stronger core, it will make my runs more powerful once I start back up again. :)
Who would like to do this challenge with me? Leave a comment below! Don't forget to check out Wigg's amazing ab moves!
Glo Bakery Experimentation:
Well I am off to do those ab moves and then to Bake…! A healthy dessert with chickpeas. Yes you heard right!
Have a GREAT ST. Patty's Day everyone!
Is anyone doing anything fun for it?
I might make a special dinner…:)  And not sure what else!

"I spent 90% of my money on women and drink. The rest I wasted."
– Soccer superstar George Best