Good afternoon!
I hope everyone is enjoying their St Patty's Day so far! :)
I had another hit and a miss in the test kitchen today!
The miss:
Chocolate Chickpea Cupcakes
I adapted the recipe found here. Apparently it came from 'Veggie Life' Magazine. One would assume that it would taste great, but I was not a fan. It could have been my modifications which included Orange extract and cane sugar, but I am not so sure.
These tasted fairly good, but I just couldn't get over the texture of the cake! It was so dense, but it wasn't just that…it was a weird and foreign texture that I am just not sure any cake or cupcake should have.
Sure, they looked pretty normal…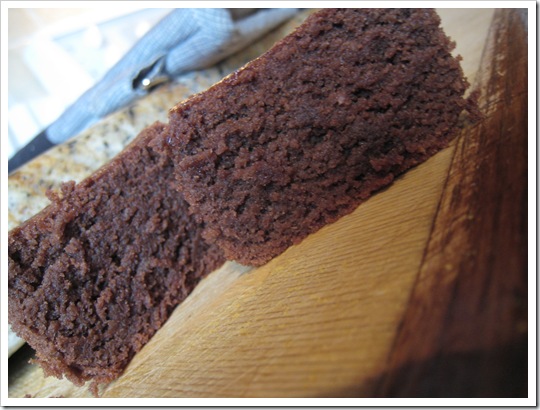 Way. Too. Dense.
And if I had a problem with it, I can assure you that other non-health fanatics might. So I thought this was grounds for a MISS.
So I clicked my fingers and a little BAD BAKING FAIRY arrived and cleaned up the whole mess for me! *Poof*
I wish! :D
NEXT!
After doing some of Wiggs fabulous ab moves (I did about 4 mins worth of the first 3 variations- OUCH!), I decided it was time to use up my GREEN zucchini and make muffins.
Perfect for St Patty's Day!
Sweet + Spicy Zucchini Breakfast Muffins
I call them breakfast muffins because that's exactly what I thought of when I had my first (of many!) bites. They were sweet yet wholesome and savoury. I imagined myself eating one outside on a warm morning reading the paper with a huge mug of green tea.
I adapted the recipe found here over at Fat Free Vegan (GREAT website- I highly recommend it!).
My modifications included: more and different spices, egg, cane sugar, almond breeze, turbinado sugar, etc.
The finished product blew my mind!
Talk about the PERFECT breakfast muffin:
She is a genius, that Susan!
The Zucchini bits blended right in and adapted the taste of the muffin. Fabulous!
Suggestion: Do not even think about making these muffins without the topping! They made the muffin. I actually doubled my topping and still thought it could use more. :)
These muffins only have about 150 cals each. They also have 4 grams of protein and 3 grams of fibre. Oh yes.
I felt so festive as I ate two of these for lunch today!
Well guys, it is time to exercise. It is SO warm and sunny out—weeeee! :)
I am hitting up a different Conservation Park today for some hiking. The intensity will be much higher today as it is mostly hills at this park. I am having so much fun mixing up my workouts lately. I can't believe that I used to run day in and day out- there are so many other activities that I enjoy! It is fun to explore them. :)
Cheers!
Today's question: What is your favourite GREEN Vegetable?