Evening!
I hope everyone's Monday went well!
Tonight I decided to make an interesting sounding burger I read about on Fun Foods On A Budget! 
Pumpkin Chickpea Burgers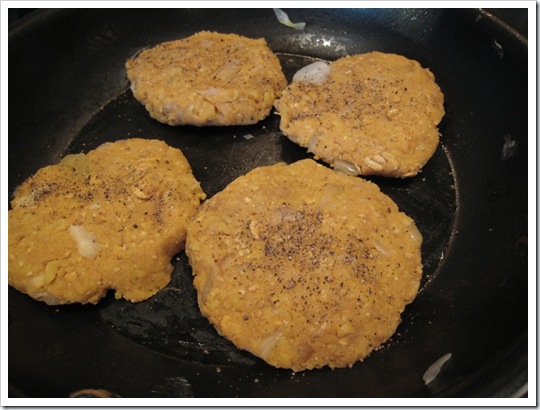 Here is my take on the recipe:
2 cups chick peas, cooked
2 cloves garlic
1 Tbsp water
black pepper
1/3 cup Spelt flakes
1 Sweet onion, cooked (I only used half in the burgers though and ate the rest) :)
1/2 tsp cinnamon
1/2 tsp nutmeg
1/2 cup pumpkin
I cooked the onion and garlic and then threw everything into my food processor to mix. Then I handshaped 8 patties and placed them on the skillet.
These burgers turned out quite bland for our taste so we added some Tipsy Whiskey BBQ Sauce on top and that added a great kick to them. Something was definitely missing in these burgers (maybe hot sauce???), but I am not quite sure what it is.
All and all they were ok with all my toppings (Spinach, avocado, BBQ sauce, pepper, tomato)….but so are a lot of things loaded with good toppings. :) I much more preferred my version of Black Bean Burgers that I made last month.
Anyone know how to improve these burgers and give them some kick??
With the sauteed sweet onion on the side: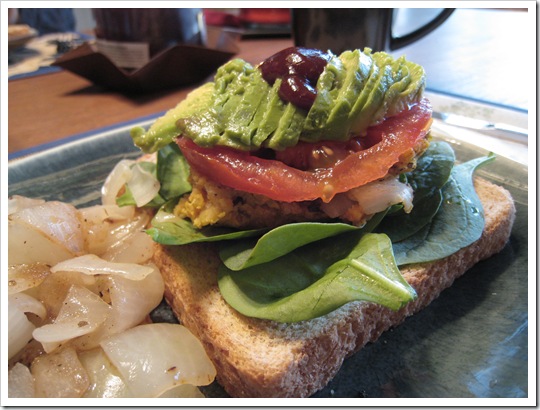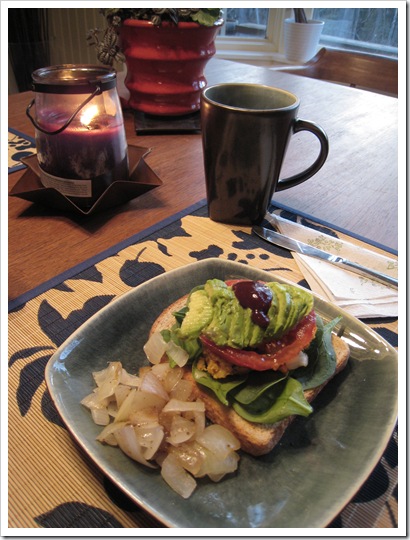 Notice that I have re-introduced my toast since the photoshoot is over! :) I didn't really miss it too much. What I need to do is make another batch of my organic spelt tortillas!!! Those rock.
The Wedding Photoshoot: Part 3
So what happened to my dress, you ask?
Well, it was finally time for the other two models and I to put our gowns on after lunch. I was pumped and a teeny weeny bit nervous that it may not fit. I reassured myself that it would since I had just tried it on the other day with Eric.
I knew that I needed Eric to hook the clasp for me, but he was no where to be found because he was in the changeroom putting on his suit.
So I asked the girls to hook the clasp but none of them could do it- they were scared of hurting me or breaking it. I was starting to get a bit worried that no one could clasp it up for me! Finally Eric showed up and I asked him to hook it.
Well, wouldn't you know it he BROKE the clasp! hahaha.
It was like slow motion, I heard that dreaded 's-n-a-p' sound and then the faint clicking of a tiny piece of metal hitting the tile floor.
My mouth gaped in horror. The girls tried to reassure me and one went to get a safety pin, but it wouldn't go through the thick fabric of my dress.
Luckily my dress has a gazillion buttons that go over the zipper so once those were up the zipper held in place….all day long. It didn't come down on me once. I was so relieved.
He is just too strong and powerful for his own good. ;)