I love this saying because it really is true. Sometimes it is hard not to get discouraged by what we perceive to be a failed experience in our lives.
Sometimes I get defeated when I spend hours in the kitchen and at the end of the day I have nothing to show for it except some 'crumby' (pun intended!) baked goods.
Today I was successful at one attempt (vegan Chocolate Chip Cookies) and unsuccessful at another (Healthy Oreos)- or at least I so thought!
I was going to throw the towel in after trying my first batch of Healthy Oreos, but I decided to try to modify a different recipe all together and start from….ahem…scratch. :)
Let's start with my success, shall we?
Vegan Chocolate Chip Cookies
Adapted from Dreena Burton's recipe found here.
My healthy additions included Whole Wheat Pastry Flour, EVOO, Carob, Organic Maple Syrup, and Organic Molasses.
I had a small bite and to my delight they turned out so fabulous- and vegan to boot! :D I was a happy girl.
They are also aesthetically pleasing to the eye, I would say, no?
Second Baking Experiment:
Whoopie Pies
Adapted from My Sweet Vegan's recipe found here.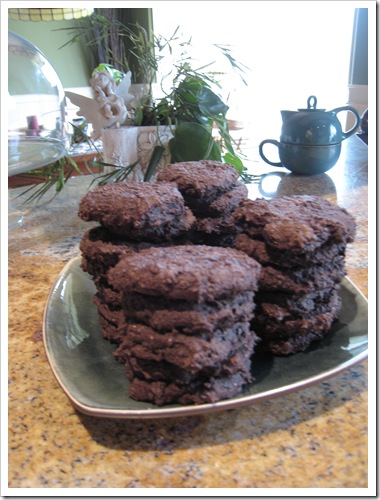 After making a few healthier modifications to the recipe, it was a HUGE fail. They turned out really gross tasting and too thick.
Next!!
I needed a break from the kitchen at this point! I was feeling worn out and defeated! I decided it was time to do my first at home workout in a looong time. :)
I had to unwrap the running beast!!! Eric had it covered due to renos. But no longer!
And off I went!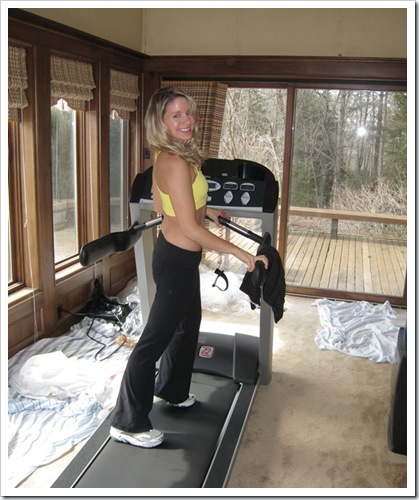 I did 25 mins. at speed 3.5 mph at incline 10%. I rocked out to some Britney and Girlicious. :) It felt so good to be using the treadmill again!
After the cardio, I did some Yoga…outside!!!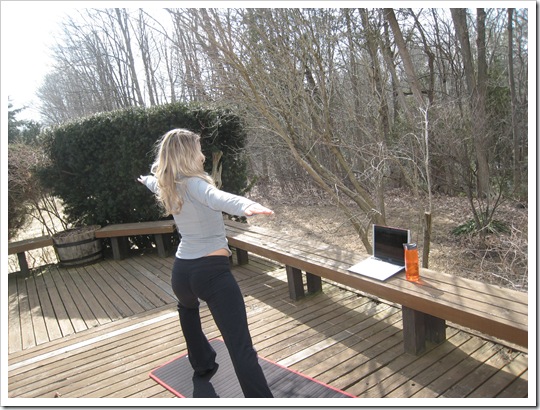 I put Crunch Fat Burning Yoga on my Laptop and took it outside. It was so relaxing! I did find it a bit harder to stay balanced outside though because there were lots of moving leaves and trees! :)
I did about 10 mins or so. And then was revived to get back to baking!
Next up: Peppermint Healthy Oreos
I adapted my recipe from Deb from Smitten Kitchen.
I made some healthy modifications that included Whole Wheat Pastry Flour, Organic cocoa, Natural cane sugar, non-hydrogenated margarine, peppermint, and a couple other secret ingredients!
I hit the jackpot with these modifications! They tasted heavenly…I can't even describe how delicious they were. The peppermint was a huge hit. I can't wait til Eric trys them out.
Comparison:
The good ones are on the left…much thinner and more Oreo like: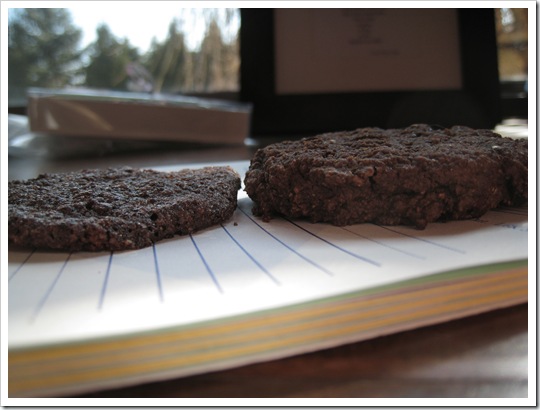 The finished product:
They were AMAZING! Eeeee I am so excited!! :D
Many of you were asking where to buy Coconut Oil. I found some in Bulk Barn so try your local bulk foods store. Many organic stores would have it and possibly the natural food section in your local grocery store!
I need to pick some up- apparently it is a miracle food…great for baking too! :)
See you tonight for Part 3 of the Wedding Photoshoot and some pumpkin chickpea burgers.