Good morning!
Wow the CRAZY dreams I had last night! It must have been from the 24 we watched just before bed because I had a dream that I was being held captive by hostels. LOL. Oh man. At 5am I didn't think I was going to be able to get back to sleep because my stomach was growling and my head was spinning with ideas (as usual!). Luckily I did manage to get some more sleep though!
I think I either slept on my neck in a strange way last night or it is sore from doing weird back and neck bends from modeling yesterday. All I know is that the left side of my neck is SORE! I hate that feeling.
Does anyone know any good stretches for the neck? Or massages? Reflexology? :)
Too bad my sister Kristi isn't on a cruise right now or she would be able to tell me about the reflexology neck spots. She took a reflexologist course years back!
Breakfast this morning was Green POWER baby: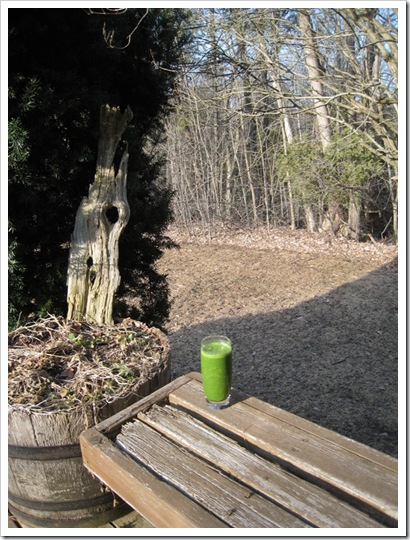 I just could not be cooped up inside on a gorgeous day like today! So I took it to the deck for a calming experience. I watched the birds at the feeder– so beautiful and serene. :)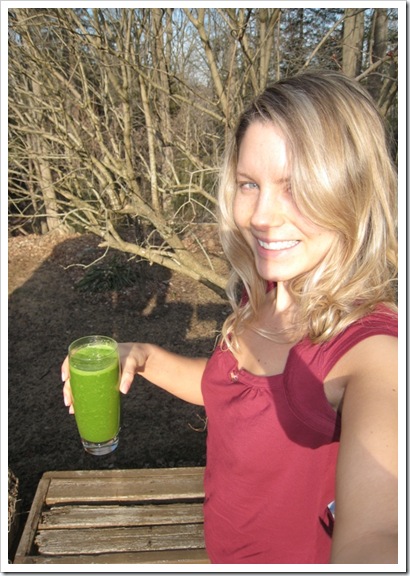 Yes I was able to get the fake eyelashes off last night! It was a bit painful so I used make up remover and they came off easily. Whew. I am enjoying going make-up free, and probably will for a day or two to give my skin a breather. :)
The Wedding Photoshoot: Part 2
So I have lots of fun little things to tell you about the workshop yesterday! See last night's post if you missed all the pictures from my camera.
I got my make-up done by an amazing make up artist named Sherry. I have honestly never had my make-up done so well by an artist before. Sherry did it perfect and I was so happy with it. She is a super beautiful girl and so fun and upbeat!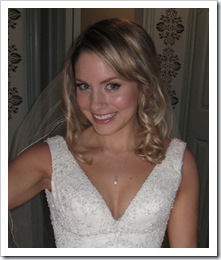 We really hit it off and it turns out that she is a vegan as well (I told her I haven't come out of the vegan closet yet, but I eat like one, heh) and she also is a healthy baker! We talked about lots of cool health foods to use for baking and it was so fun to be talking with someone who shares my same passions!
I told her about Oh She Glows and she actually has a blog too- a make up blog! She said that she actually ends up writing about health topics 90% of the time and how healthy eating affects the quality and appearance of your skin. Awesome. I gave her my website URL (Hi Sherry!), so hopefully she swings by. :) We were so busy though I didn't get a chance to get her website URL so hopefully I will soon. :)
She also told me her #1 BEAUTY TRICK!
Of course I was dying to know!
She said it is Coconut Oil!
If you have never used or seen this type of oil before it is super awesome. It is solid at room temperature so you can slather it on your skin like a thick lotion.
She said she rubs it all over her body before showering, and then in the shower it comes off a bit, but once she is out of the shower the coconut oil is left on her skin leaving it super smooth and soft to the touch. I touched her elbow and it was probably the softest skin I have ever touched!! I am definitely going to try this trick out!
Stay tuned for Part 3 of The Wedding Photoshoot where I will be telling you about what happened to my dress as well as a possible PHOTOGRAPHY related giveaway coming up on Oh She Glows! I also hope to have some pictures shortly!
Check out Every Gym's Nightmare for your chance to win a Fitness Magazine subscription!!
I'm off to do some experimenting in the kitchen!
Question of the Day: If you could put make up on only ONE part of your face, what would it be and why? For example, cheeks, eyes, lips, eyebrows, skin, etc.
Mine would have to be my skin- my skin tends to be very red and uneven and I would always choose a bit of light foundation over the red areas if I could only pick one thing! Next would be the eyes- Mascara makes my eyes pop and cleans up my whole look.

Picture of the day: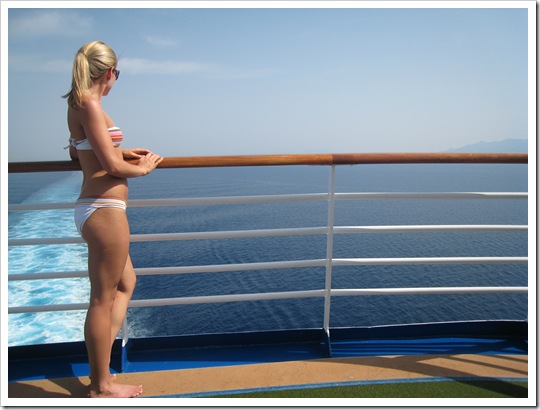 Me on our Princess Cruise ship during our honeymoon!
"Those who can laugh without cause have either found the true meaning of happiness or have gone stark raving mad."  ~Norm Papernick