Hey guys!
You know the song Glamorous by Fergie?? That song pretty much sums up our day!
Wow what a day it was!!!
Eric and I are both exhausted. It was such a fabulous day and such a great opportunity! We met so many cool people and had such a blast modeling for everyone.
It was truly a glamorous day!!!
I am really tired- it is 9:30pm and we just got home…I have been up since 6:30am and haven't sat down except for dinner!
All of the following pictures were just from our point and click camera…professional ones coming soon!
As I said my hair turned out better than I expected. It took me 1.5 hours this morning to curl it all!!!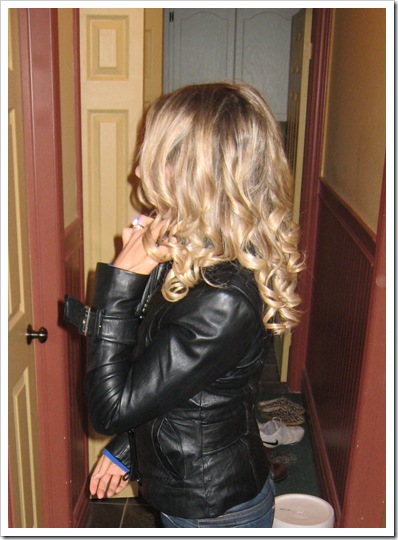 I was happy with the outcome!
Luckily most of the curls stayed in fairly well (with the exception of a few curls) for most of the day (until 6:30-7pm!). So that was all I could ask for. I used tons of hairspray this morning!
Sans make-up because I was having my make up done for me there: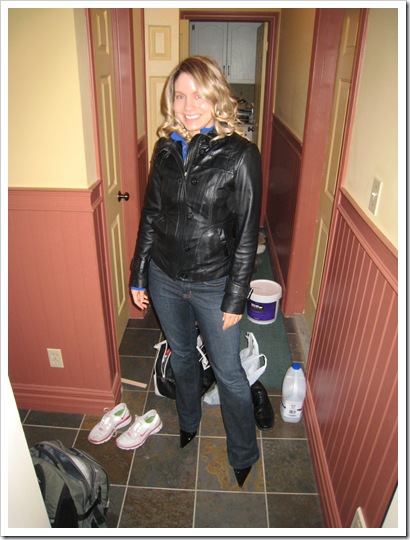 Doing some Charlie's Angels before we left…lol:
Little did I know I would be doing some Charlie's Angels poses with the other two models! Pics to come…
The weather was GORGEOUS as promised and the drive into Toronto was beautiful: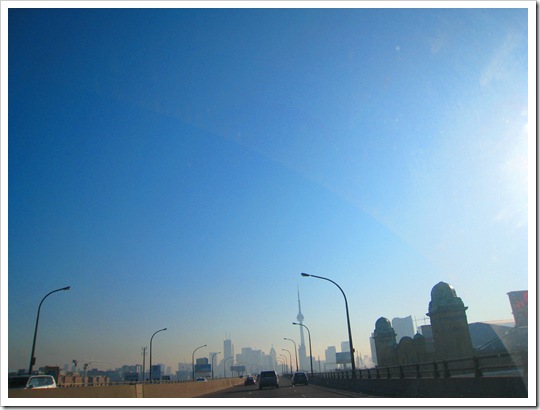 The CN Tower: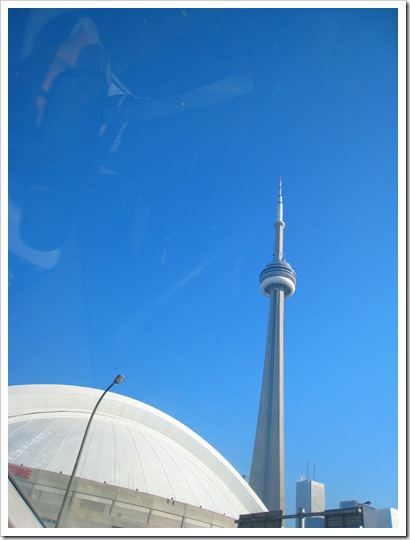 We were pumped on the drive there! :D
After make-up, Waiting to put my dress on…
Why hello there Mr. Husband…
After putting the dress on…
It FIT…but there is a funny story to go along with it…(stay tuned for that tomorrow!)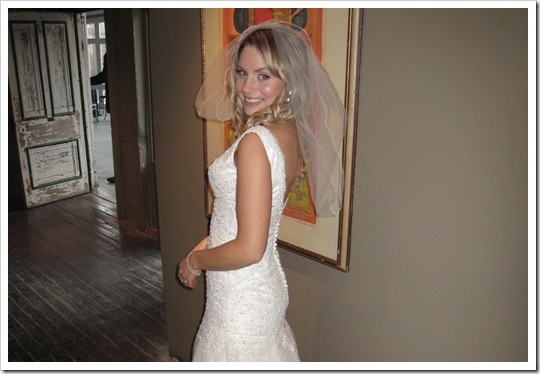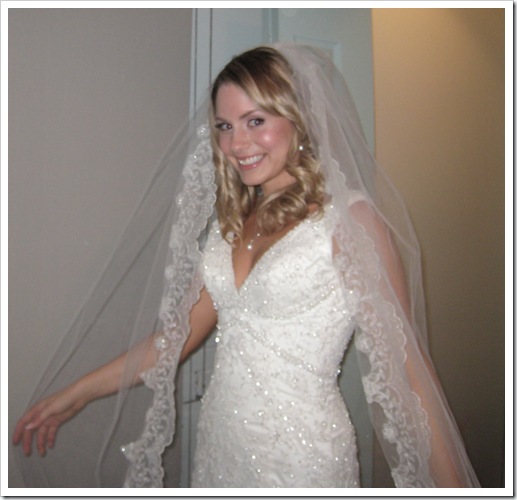 That is the Italian Handmade cathedral length veil I originally purchased for my wedding but didn't end up wearing!
Our photographers got some BRILLANT shots with me and this veil…I can't wait to show them to you!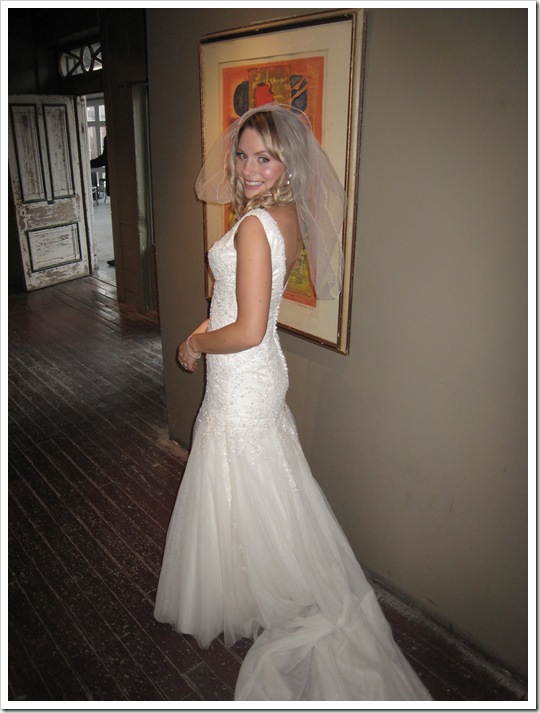 In these shots I am wearing the veil that I wore in my actual wedding. It was actually longer than it looks here because in my wedding I had it placed underneath my up-do so it was much lower on my head.
We didn't stop most of the day- all I had for lunch was a small salad and 1/2 a baked potato (plain) because I didn't want to be busting out of my dress!
Needless to say I was starving come 7pm! Same with hubby.
We decided what a better time than to use our Keg gift card (It is a super good restaurant). Our real estate agents had given use a $100 gift card for The Keg so we decided to go!
So we went out for a fabulous + romantic + relaxing dinner. It was the perfect ending to a perfect day!
Me with a 6oz pour of Wolf Blass Chardonnay (my fav white wine):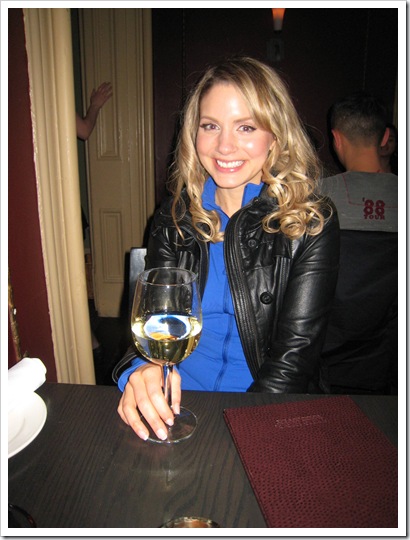 Our meals plus lovely Eric: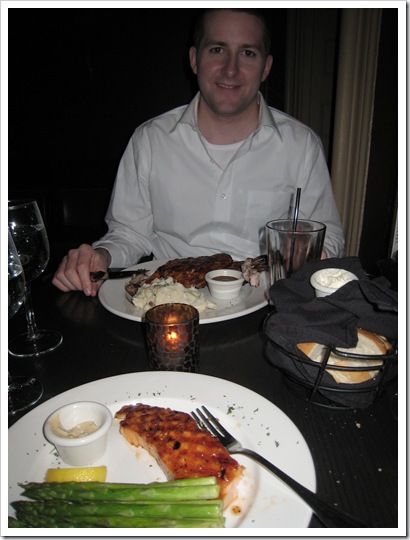 I got a yummy spinach salad to start (garnished with clementines, walnuts, and cranberries!) and for my main I had a sweet + spicy Salmon and STEAMED Asparagus (and to my delight they didn't even put butter on them! who hoo!).
Eric had ribs and Garlic mashed potatoes….and an entire garlic cheese loaf for a starter! lol.
Oh to eat like a man, eh? ;)
The drive home was filled with city lights: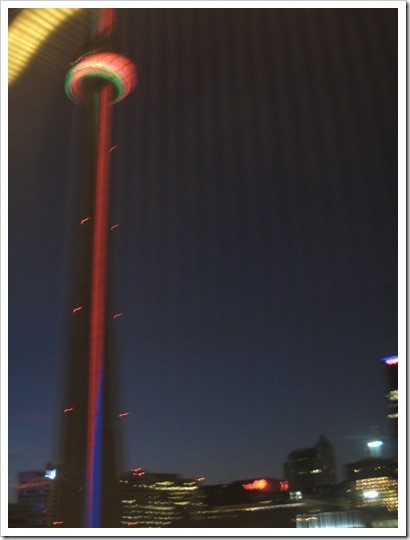 The CN Tower above at night.
My poor camera couldn't handle the car and got motion sick: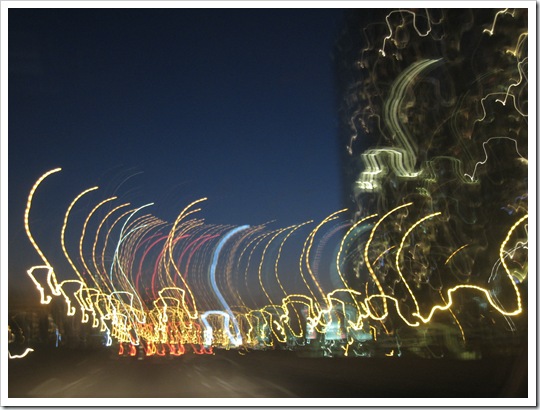 Well guys we are BEAT! Going to watch some 24 and then hit the hay :) I am NOT looking forward to taking off my fake eyelashes! lol. I may just leave them on tonight and deal with them tomorrow morning.
Today was everything I could have imagined and MORE!
I have much more to tell you tomorrow (when I have more time) and there will be lots of professional pictures from the day coming SOON!
All I can say is that all my hard work the past 2 weeks was definitely worth every minute. :)
I have a new respect for models now- it was HARD WORK! I am sore from having to position my body in weird ways and weird bends!!
Night!