Good morning!
I hope everyone is having gorgeous weather like we are here! Spring is definitely right around the corner. It has been sunny and warmer here over the past couple weeks. My mood is so happy when it is sunny outside!
I am going to see if Eric wants to go hiking with me today! We agreed that this summer we would alternate bike-hiking and walk-hiking. He enjoys bike-hikes better while I enjoy walk-hikes (well really run-hikes but he isn't a runner so I do those solo!). The best part is we have about 6 conservation parks near our house so we are extremely lucky. That is one thing I don't miss at all about where we lived in Toronto…it was all cement!
Last night I tried "Crunch Fat-Burning Yoga" that a friend lent me. Oh my gosh, it was amazing! I think I have finally found a video and instructor that I 'click' with. Even Eric said, "Wow she is normal! And this video looks normal!" lol. I was in love.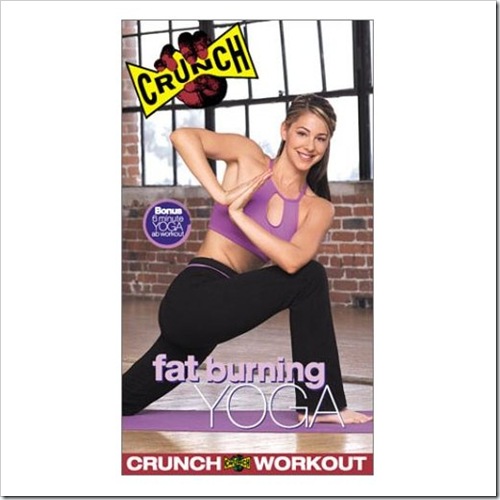 I did a full 30 min. workout and I didn't get bored once during that time. I am going to borrow the other Crunch videos from my friend asap.
I loved this video because it had a fast pace, but it wasn't too fast for my beginner level. She explained everything SO well, much more than other videos, and I really figured out how to do the poses properly. She also focuses a lot on breathing, but not too much to the point that it is annoying. It was just perfect, that is all I can say!! They even have someone in the class that does modified poses for beginner and disabled people, so it was great for me if I felt that a pose may compromise my injury recovery. A+++++
Has anyone else tried this video series?
Green Monster:
I started my day off with some GREEN Sunshine: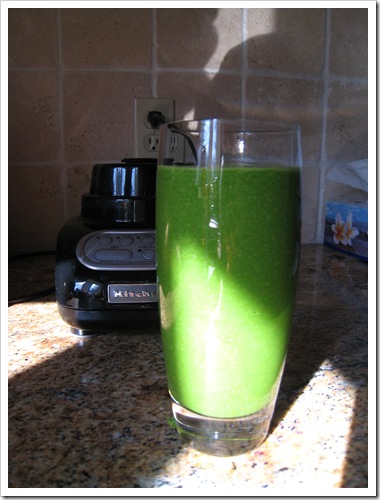 The contents:
3 organic kale leaves
1.5 cups Almond Breeze, Original
1 Tbsp flax
When I up the liquid content in my all veggie smoothie, it makes it VERY smooth and not chewy. I also blend it for about 3-4 mins. A long time, but it is worth it!
Wedding Photoshoot Prep:
I started my day off with some wedding photoshoot prep!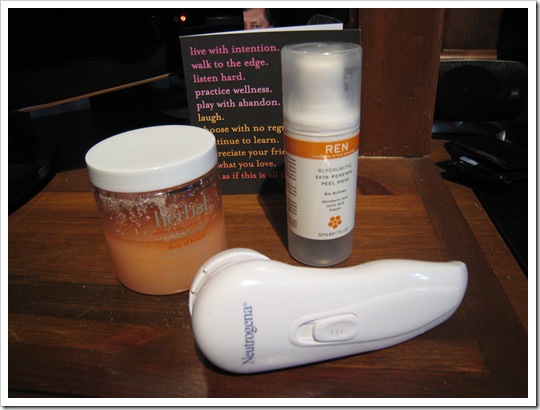 On the left is the famous "Show of Hands" By BeautiControl. I bought this and the Skinlogics Lip Balm from BeautiControl and they are both AMAZING.
The Show of Hands is a sea salt scrub for the hands (I used mine on my feet too) and it makes them softer than anything I have ever tried! They are so silky I can't get over it. After the scrub, I washed them and then put on an intense cream + socks. This will help make them extra smooth over the day.
I used the Ren Peel mask yesterday for about 15 mins. and I might do a quick one tonight as a touch up. I love this mask- it is my favourite.
This morning, I used my Neutrogena Microdermabrasion wand. I love love love this product and strongly suggest getting it. It takes away my black heads around the nose area and it makes my skin so smooth.
Well, I am going to do some Crunch Yoga! See you this afternoon for what product I am going to try to make- for much cheaper! :D
Don't worry the next giveaway is coming, I just need to get to the store first. ;)
Question of the day:
What high fat dessert would you want me to 'healthify'….make healthier and lower fat?