Evening!
Do you know what tonight is??? OFFICE night! Yippee.
I had three taste testers for my new + improved black bean brownies tonight! Here are the brownies that I put together for my brother and sister in law:
My request was simple:
Tell me if these Black Bean Brownies are Glo Bakery worthy
All three said yes! Ok, ok I did too. I had a couple bites…the cook has to sample! :D I was so excited because they were awesome tasting! I finally got it right. A little adding and a little subtracting and I think these will be one of my Glo Bakery hits.
And guess what? Zero oil or butter! Zilch! I still can't believe it.
By the way for everyone asking where I got my Brownie pan- It is from AVON! :)
Yoga:
Today I did Part 2 and half of Part 3 of Weight Loss Yoga by Sadie Nardini:
I had my Heart Rate Monitor on to see how hard my heart was working.
Part 2 was somewhat manageable for me, although I do have to modify some of the poses because I am still being wary of my injury and I don't want to strain it. Also, some of the poses I can't do correctly because I am not flexible enough yet so they didn't feel as hard as they probably would have if I was doing it properly!
Then I got to part 3, which starts off with handstands. I almost turned it off! There was no way I could attempt it with my injury just healing. So I just did some of my own poses…some down dogs, planks, cobras, etc. Needless to say this workout could have been much more difficult had I been doing it correctly.
I burned about 35 calories in 15 mins. according to my HRM. Of course that number is going to vary a lot depending on one's size and fitness level. Generally my heart rate is very low so it takes a lot of effort to get it up high. The feeling I get with yoga is that while you may not burn many calories by doing it, you burn more throughout the day because your muscles are repairing and strengthening themselves similar to weight training. I think I would really tone up if I did one of these videos every day! It was tough stuff.
I am enjoying Sadie's videos so far, so I am going to keep checking out the new ones on You Tube. I am also going to try my first Yoga Download in the next day or two.
I had another suggestion in my yoga confessional to look up these yoga classes called "Moksha Yoga".
"Moksha Yoga is a form of hot yoga that is ideal for the yoga beginner as well as the seasoned practitioner. Every Moksha Yoga class takes you through a series of strengthening and toning postures in the detoxifying calm of a heated studio."
I must say after browsing their website I started to get really interested in taking a class! They even have a studio not too far from me as well. The only thing is they are expensive, but no one says it couldn't be a couple times a month treat!
Everyone tells me that you have to be in a good class to really get hooked with yoga and I can totally see that. I have had instructors in previous classes (body pump, spinning, pilates) and the instructors were the reason I kept coming back and back.
The only thing I am concerned about is being too hot. I generally don't take well to heat (my skin flushes) so I am a bit concerned about that aspect of it. I guess it is worth a shot though.
If anyone has taken a hot yoga class, please leave me a comment and let me know how it was!
The Workout:
My workout was late tonight because I didn't go to the gym until Eric got home from work. I hate going to the gym at the end of the day. I don't know how people do it. I am such a morning workout person!
By the time I finally mustered up the nerve to leave I had no desire to workout. The hardest part is getting to the gym! But I kept thinking 'wedding dress shoot, wedding dress shoot' and that gave me some temporary motivation to leave. Sometimes all you need is some visualization to help with the motivation.
Once I got to the gym, I made a beeline for the Step Mill. It was a hard 15 mins! I climbed about 1.65 vertical miles. :D
The stats:
15 mins. Step mill (level 10)
25 mins. Elliptical (resistance 10-12, incline 12)
Max Heart Rate: 170 bpm
Avg Heart Rate: 152 bpm
Feel the burn: 354 kcals
I have been meaning to mention when I workout on the elliptical I always do 5 mins. forward, 5 mins. backward intervals. It helps break up the time and make it go by faster.
Once I got going into my workout and had some Britney tunes cranking on my Shuffle, I got into the zone and my workout was great. I had a good sized snack beforehand (apple, pear, and crackers) so that definitely helped carry me through to dinner at 7:30pm.
Well, The Office is on and Eric and I are going to watch! (Ok, watching now: Willy Wonka!?!?!)
Sketchie says, "What happened to your clean office???"  Oops. :)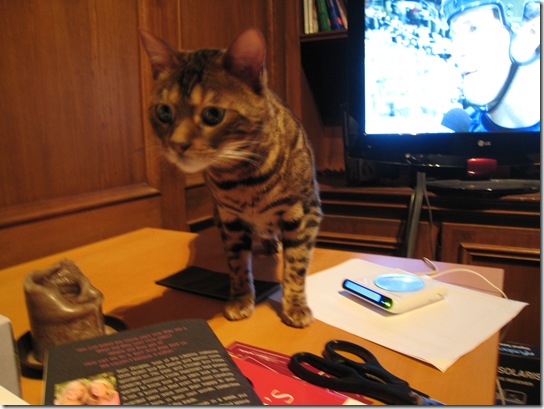 Hopefully I can calm my nerves tonight and sleep better! Maybe I will do a bit of yoga before bed. And 'Jack Bauer"' of course. :D
Have a great night everyone! Tomorrow is Friday. :) You should check out a really cool granola mix giveaway on NHerShoes!

"When you have once seen the glow of happiness on the face of a beloved person, you know that a man can have no vocation but to awaken that light on the faces surrounding him; and you are torn by the thought of the unhappiness and night you cast, by the mere fact of living, in the hearts you encounter." ~Albert Camus