Good afternoon!
I have been re-testing my Banana Bread and Black Bean Brownie recipes today. I am happy to say that I drastically improved the black bean brownies, however I think my banana bread got worse! I just am not sure if honey is going to work in this banana bread. It turns out SUPER dense. While I don't mind a dense bread, I know many people prefer a lighter banana bread.
I think when I test it again, I will use only 1/4 cup honey and the rest Turbinado or cane sugar. Hopefully this will let it rise more and not be so dense!
However, the Black Bean Brownies only got BETTER! :) Whew. Thank goodness one of my modifications turned out. Baking really is nothing more than an experiment at times!
It is fun when it turns out…not so much when it doesn't and you have a huge mess to clean up.
I used my Brownie Baking Pan for the first time. I got this as a Christmas gift. It is so cool and now that I have used it, I happen to think it is even cooler.
  Before going into the oven…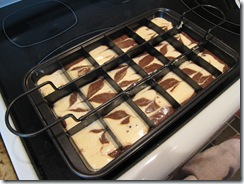 You put this handy separator in, so when it cooks it divides them up!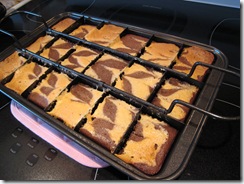 After 37 mins. at 325F…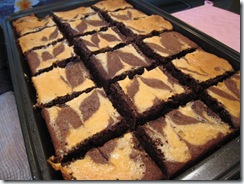 After removing the separator carefully…

I doubled the batch this time, so they turned out nice and thick…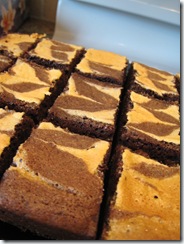 Looking good…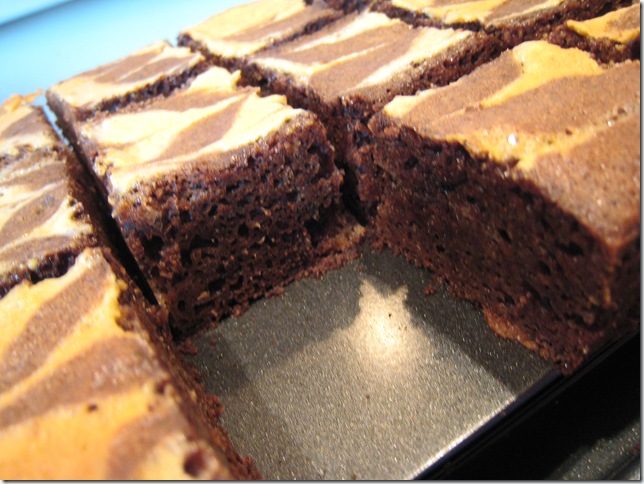 Mmmmmm…I can't wait to try these new versions! They definitely stayed together better than the last batch.
Lunch:
I loved my dinner last night so much I decided to make it again for lunch! This time I added Neil Brothers Salsa and some mashed sweet potato to the top of the money's veggie patty
In the mix:
1 Tbsp salsa
2 Tbsp sweet potato
1 Money's veggie patty
2 handfuls baby organic spinach
1 Tbsp Kraft Balsamic
1/2 Zucchini
1 handful black beans (leftovers from baking my brownies!)
Then I had 1 red pepper sliced and drizzled with Kraft Balsamic Vinagrette: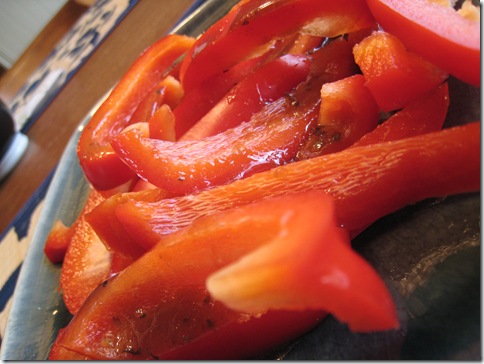 And finally an orange on its last legs…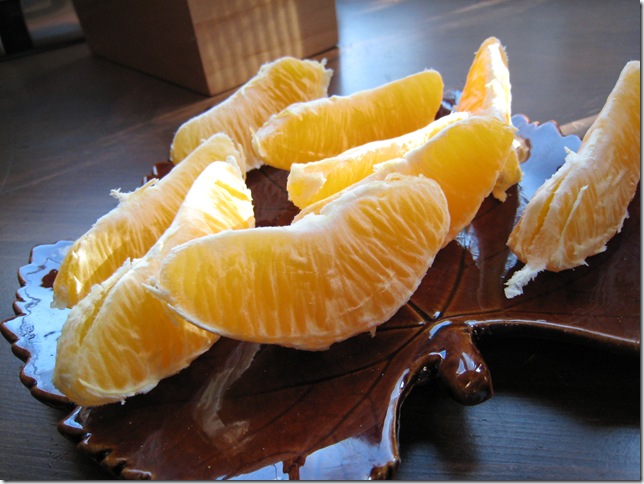 Breakfast was  green Monster that included 3 organic kale leaves large, 1.5 cups almond breeze in Original, 1 Tbsp flax: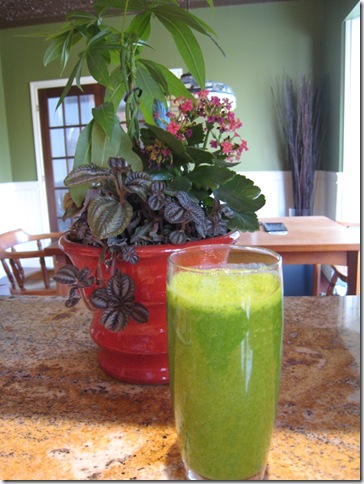 My mid morning snack was a serving of Amy's organic crackers. So addicted to those. :)
I have received so many awesome green monster posts from all of you! Don't forget- for everyone who has blogged about a Green Monster experiment, send me the link to your post and I will be including it in a future post (or page) with everyone's GM's! If you don't have a blog simply email me a picture of your creation. Green Monster's are taking over the world! lol.
Love Green Monster's so much? Check out this Juicer giveaway at hangrypants!
Ok, I am going to do some Yoga now. I am going to wear my HRM and see how many calories this burns. Apparently these You Tube videos (see link) can burn 500 calories per hour or more, so I am going to do at least 10 mins. and see what it says.I know, I know Yoga isn't about how many calories you burn, but when someone makes a claim like that it makes me curious!  Should be a fun experiment!
After that, either the treadmill or Glo Bakery paperwork (e-work?). I haven't decided whether I will workout at home or workout at the gym tonight after Eric gets home. That Stair Master is calling my name!
See you tonight! Have a great day everyone!

"The person who makes a success of an important venture never wails for the crowd. They strike out for himself. It takes nerve, it takes a great lot of grit; but the person that succeeds has both. Anyone can fail. The public admires the person who has enough confidence in themself to take a chance. These chances are the main things after all. The person who tries to succeed must expect to be criticized. Nothing important was ever done but the greater number consulted previously doubted the possibility. Success is the accomplishment of that which most people think can't be done."
C. V. White
Have any of your life decisions ever been criticized?