Hey guys!
Well, my sugar free challenge lasted 18 days! lol. I can't believe I went that long. I caved tonight and tried both a piece of my banana bread and black bean brownies. They were calling my name. Both of them only had natural sugar in them (honey and natural cane sugar) so it could have been worse I guess. :) At least I felt good about what I was eating- black beans and bananas!
The Banana bread needs tweaking (I'm a very picky Banana bread connoisseur!) and the black bean brownies were hands down the best brownies I have ever tasted!!! Oh my gosh. So good. They are a bit soft so I have to add a bit more flour and tone down the honey, but other than that they will be a huge hit I think.
Eric doesn't even know there are beans in them….LOL!!! He HATES black beans. Oh my gosh I am so evil, aren't I? *evil cackle* I won't tell him if you don't, mmm kay?
So what led me to cave and give into the goodies?
Well, dinner was late tonight- we didn't get to sit down until 8:45pm! So we were starving. When I get really hungry like that I lose all consciousness when it comes to the kitchen. Well, not really, but my guard goes way down. Kind of like when I have alcohol! Watch out!
They were fabulous though and I don't regret one bite! I am proud of how long I went. I am going to try to keep doing the sugar free challenge until Saturday when I have the dress fitting because the dress is still probably a bit tight. I'll be on my best behaviour tomorrow and Friday and hope for the best!
Dinner:
Like I said, I was a HUNGRY ONE-EYED MONSTER tonight and wanted everything in the kitchen. I can't remember the last time I felt that hungry! So naturally, a Tasting Plate was in store…a bit of everything…
Grilled Zucchini…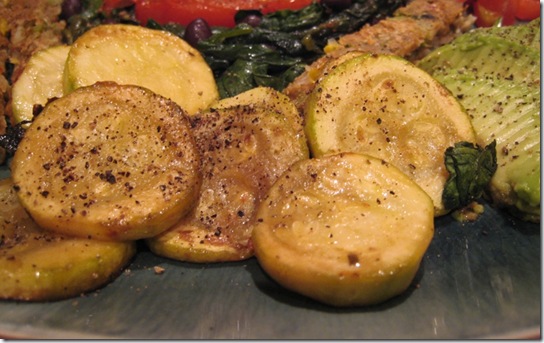 Avocado…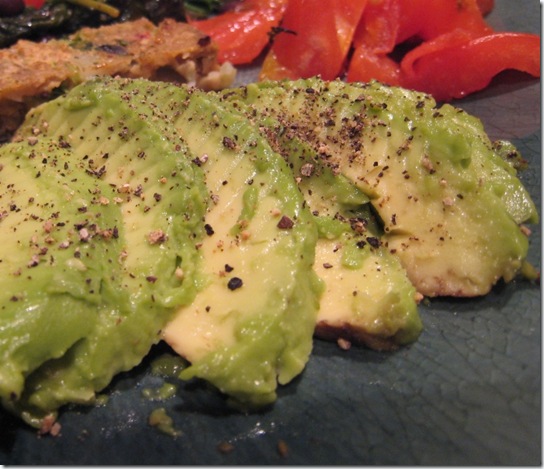 grilled tomatoes, Money's veggie patty, 3 handfuls of spinach, and black beans leftover from the brownies (Yikes, Eric almost just read that!!!)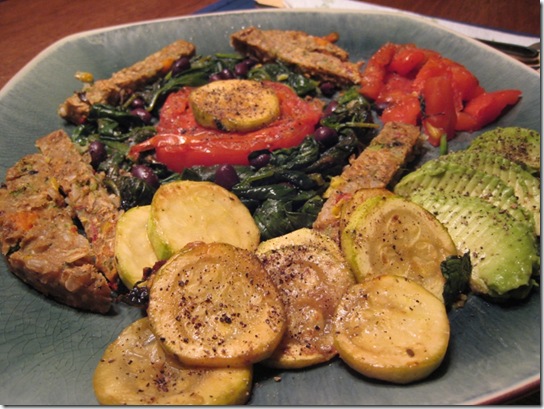 This dinner was delicious! I tried to put a bit of each food on each bite and the tastes were bursting out of my mouth! hehe. Who knew an all veggie dinner could bring so much joy?
Then I had an orange, a tiny piece of no oil banana bread, and a black bean brownie (ok ok 1 BIG brownie!).
Calling All Green Monster Lovers (GML):
I have been seriously excited by the huge response that my Green Monsters are getting the past few weeks! When I first posted about them I thought everyone was going to think I was weird and stop reading. But to my dismay, so many of you are rolling up your sleeves and jumping on the GREEN bandwagon and I think that is awesome stuff.
So I am doing a call for Green Monster posts! If you have posted about your green monster experience please send me the link to your green monster post either below or in an email. Once I get enough, I will be devoting a whole post (Page??) to everyone's green monsters!
If you don't have a blog, just send me a picture along with a short description. It's all good. :)
Send me your posts and you will be included in this green movement!
New Workout Love:
I have a new workout love. I'm sorry elliptical, you have treated my joints and muscles with only the upmost respect and love, but my eyes have been wandering…
Only after just 25 minutes on the elliptical today…my heart strayed. With what you ask? Feast your eyes on this bad boy: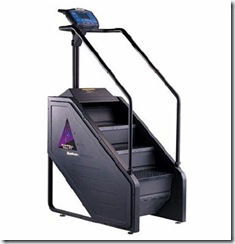 Moving stairs.
If you recall I am a huge fan of climbing stairs. In my old condo building I used to climb 25 flights of stairs each and every day. Stairs are a kick-butt workout (literally) and really tone the legs. So since I have been injury and pain free, I thought, why not! So off I went for an intense stair climb. It felt amazing!
get this- I stair climbed 1.25 miles! Yowza. I think it was level 10.
I will admit, the elliptical does get B-O-R-I-N-G. Especially today because there was no TV! *gasps* What's a gal to do?
The stats:
25 mins elliptical + 12 mins stair master + 3 mins walking
Max Heart rate: 172 bpm
Avg heart rate: 154 bpm
Feel the burn: 351 kcals
I can't wait to use this machine again!
That Damn Car:
Unfortunately, Eric's car is in the shop AGAIN (the gears were grinding again) so I will be without a car tomorrow unless I drive him to training in rush hour and then pick him up in rush hour (sounds real fun, I know!). So I will likely be doing my first treadmill workout in 8 weeks at the comfort of my own home!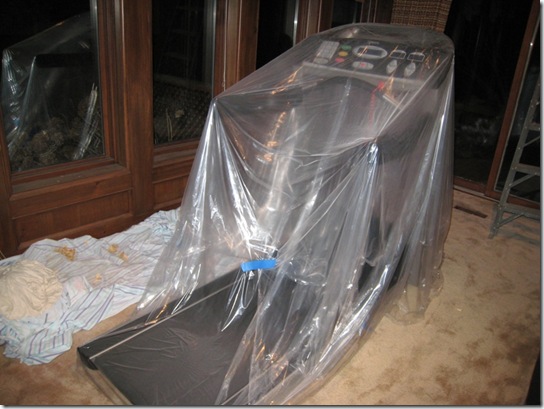 I almost spit out my tea when I uploaded this picture! I just realized how insane you are going to think I am after seeing this picture. Yes, we had a burial service for the running beast when I got injured. I hope it still works tomorrow!
Note. I tend to be a bit sarcastic at times.
I will probably be doing some hill walking. It is what got me into such great shape before I started running last summer. Little known fact- my heart rate is often higher doing hill walking then it is when running! Crazy, eh?
Since today was a wash, tomorrow I need to bust it with Glo Bakery work. Friday is my spa appointment in the afternoon, so Friday is pretty much out and then Saturday we are modeling from 9-6pm! I need to make tomorrow VERY productive!
Hope everyone is enjoying their night! I'm off to watch ANTM at 11pm (gotta love time shifting!). Everyone has a guilty pleasure. Mine are black bean brownies, hiding veggies in Eric's food, and ANTM. No biggie, right?
"Besides the noble art of getting things done, there is the noble art of leaving things undone. The wisdom of life consists in the elimination of non-essentials." ~ Lin Yutang
PS- Jenn from Eating Bender is having a lovely all natural giveaway!