What a bust!
My homemade soy milk, that is.
But first let's get to my fun trip to the gym, shall we?
The Workout
40 mins. Elliptical
Incline 10-12, resistance 8-10
Max Heart rate: 171 bpm
Avg heart rate: 155 bpm
Feel the burn: 355 kcals
You know what's funny? Since I started working out again over the past week, I have noticed that my heart rate isn't as high as when I first got back into it! It is crazy how the body adapts so quickly!!
In my first few workouts my heart rate reached 176-178 bpm…and today no matter how fast I went on the elliptical I could barely, barely hit 170 bpm. I guess this means that my body is bouncing back pretty quick. :D
Does anyone else wear a heart rate monitor? Have you noticed any changes in your heart rate over time?
Homemade Soy Milk:
I was in the bulk foods store yesterday and I passed a product called 'Soy Milk Powder'…I looked closer and it had a recipe for making homemade soy milk:
1 Cup soy milk powder + 4 cups water
Sweet, I thought. I could make a whole litre of soy milk for about 25 cents!
So I threw in 1 cup of soy milk powder into the blender along with 4 cups of water.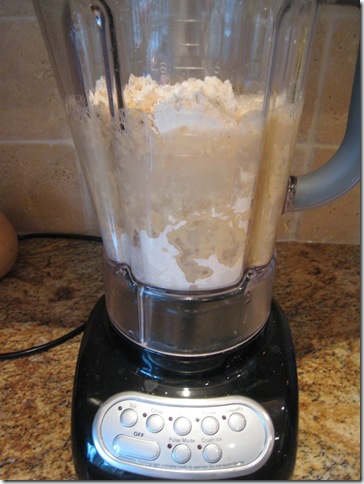 No you aren't seeing that wrong.
This is when I started to feel a little anxiety. Oh it will be great! I tried to convince myself, half smiling, half cringing.
After blending for a while (5 mins or so)…I got this…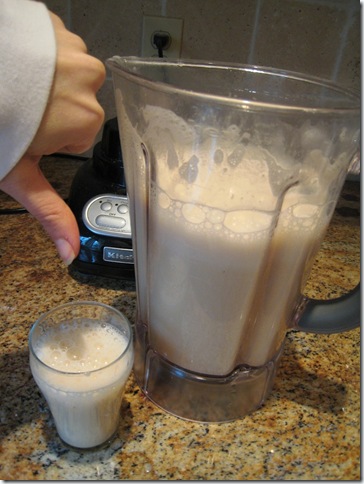 It looked like soy milk.
And it tasted like a disgusting, powder-like SLOP! I almost gagged. Blech. I tried adding more water and that did nothing. The powder was there and there was no way of getting rid of it or the texture.
Ladies and Gents, that's what we call FAIL.
Luckily the powder I bought was only 70 cents! lol.
I looked online, and apparently there are much more sophisticated ways of making homemade soy milk. But to be honest, it seems like a lot of work for something that runs about $2-3, doesn't it? I think I will stick to buying it for now. I do want to try homemade Almond Milk though. :)
Winner of Dempster's Healthy Way Giveaway:
Thanks for everyone participating in this morning's giveaway!
The name I drew was Krista from Krista's Kravings!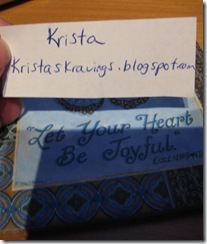 In her comment she said,
Hi, Angela!

I've tried the new fresh squares and we only eat Dempsters 100% whole grain bread at home. I think I would like to try the new pro cardio healthy way bread. It looks darn tasty!!!

Thanks for running the contest!
Congrats Krista. :D Please email me your contact information and I will send you two coupons to try Dempster's Healthy Way Products! ([email protected]).
In other news…
I have been mulling over recipes and trying to write some news ones to test for the bakery. I am a bit discouraged because the black bean brownies I made were way too moist/dense and stuck to the bottom of the pan! Eric said they were amazing, so I am going to try to work on the recipe. The brownies included no flour, so I may try adding 1/2 cup and reducing the beans and honey. I may use half the honey and also add in half of Turbinado sugar to make them less dense. Usually, I am trying to make things MORE dense or moist, but this time it was too much! It is all trial and error when coming up with new recipes! I'm sure I will nail it sooner or later. ;)
I am also going to do some yoga over at Yogatoday.com. I have been feeling really stiff in my shoulders (I get this way from sitting at the computer too long) so some yoga will surely help me out! Does anyone know of any other FREE yoga sites besides yoga today that offer free videos?
Does anyone else have bad posture while at the computer?
I must say it is my WORST habit. I hunch over the computer and my back just aches. If anyone has any tips on breaking this habit I would be open to them! Maybe I should move my Ab ball in the office??? Anyone tried this? I seem to think I would be much too low at my desk…
Back to the drawing board! Have a GREAT night everyone! :)