Hey guys!
So nice to 'see' you! :)
I am still riding the high of my wonderful bone scan appointment. I cannot even begin to describe how good it feels to finally know what has been going on with this injury!
Good news- my new website works in Windows Live Writer! I just did a test post and it is so fabulous. This is going to save me so much time, I can't believe I lived so long without it. My old website theme didn't work properly so I had to do without it. It is such a great program though.
Immediately after my afternoon post I made a beeline for the kitchen to have lunch. It was almost 4pm!! This time change still has me messed up. I wasn't overly hungry because I did have Part A of my lunch before my appointment (cereal + apple). So part B is below: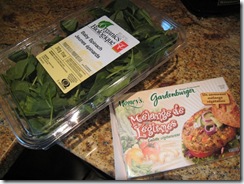 I found this box of frozen veggie burgers in the freezer that I didn't know was there. Score! They are Money's Garden burgers and they are really good. They are not as good as Amy's veggie burgers, but they run a close second! I think they are cheaper too…
I cooked about 4 handfuls of baby spinach and 1 veggie patty in a skillet.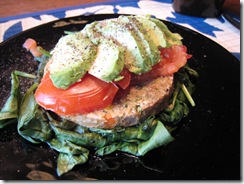 Then I sliced 1/2 an avocado, a couple tomato slices, and I suddenly had a fabulous lunch! The spinach again served as my 'bread' as a great + delicious calorie saver.
It tasted. so. heavenly.
Wedding Dress Plan: I saved about 150 calories by forgoing bread and having spinach instead.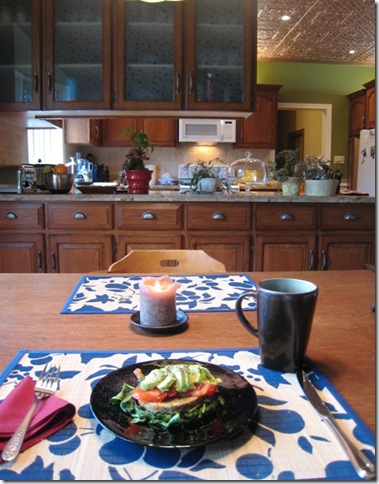 Magnifique!
Mail Surprise
Look at the wonderful surprise that came in my mailbox today!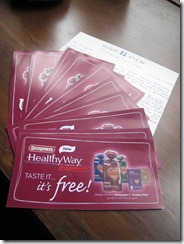 If you recall, in my review of Dempster's Healthy Way Pro Cardio Bread I said that it was a delicious and healthy bread, soft, chewy, and hearty. My only quip was that because Eric and I are on a budget, it was a bit out of our price range at this point in time. Our friends at Dempster's saw this review and surprised me with a lovely hand written note in the mail that included 10 FREE coupons for more Dempster's Healthy way products. How amazing! This just made my night. Dempsters also came out with a new health bar that I will be reviewing this week! Thank you Dempsters!
Stay tuned for a chance to win a sample yourself!
For an afternoon snack, I had a serving of Amy's Organic Crackers (Yes, I am going to try to make some soon!!) :)
Dinner:
Skinny Spaghetti
Tonight's main feature was spaghetti squash! We haven't had this in a long time.
Directions: I sliced 2 spaghetti squash in half and put in 2 large casserole dishes, face down, in 2 inches of water. I cooked them at 400F for 40 mins. For the spaghetti sauce I mixed tomato paste (2 Tbsp), 1/2 avocado, 1 tsp mashed garlic, pepper, dash of Almond Milk (to thin), and about 1/2 cup Organic Tomato + Roasted Pepper Sauce. I mixed it all together and heated it up, then poured over squash.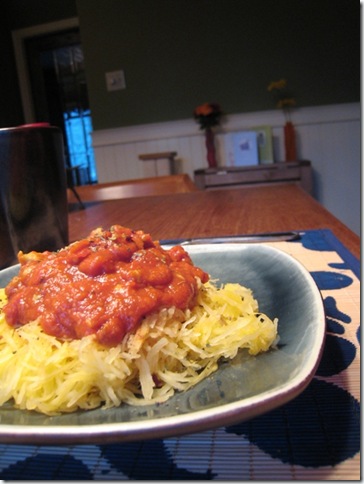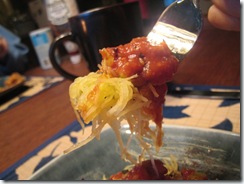 Wedding Dress Plan: Obviously the huge savings here was using the spaghetti squash rather than traditional pasta spaghetti! 1 cup of Spaghetti squash has just 42 calories, where I cup of spaghetti pasta noodles has about 200.
The only snag? Eric hates squash (all forms). How is that even possible!? lol. He is not a fan when I make this meal. To be fair, his serving had a piece of grilled pork seasoned all nicely. I think that kept him from complaining too much. ;)
Dessert:
A delicious Bartlet pear…sliced length wise (I thought that looked so cute!)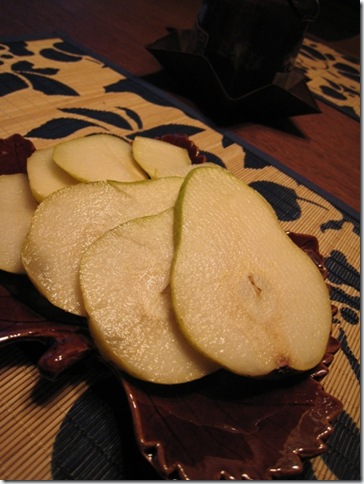 Beauty Product Review
We haven't had one of these for a while on here! I have been pinching my pennies so I haven't been buying any products. Except for this one…
Revlon Blonde Glam Pure Pearl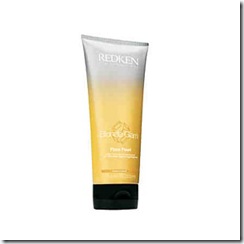 I heard that this product was great for reviving tired hair colour in between salon appointments on Make-up Alley. My hair colour tends to fade fast and the 'brightness' of the blonde highlights doesn't last very long- especially in the winter!
That is until I tried this wonderful product by Revlon!
I admit I was skeptical, very skeptical. But I figured it was worth a shot. I have had good experiences in the past with Revlon afterall. This product was no exception.
It is a conditioner treatment that you leave on for 3 mins. Then rinse. After using this conditioner, my hair was noticeably brighter and blonder and my highlights really showed through. It was like a wake up call for my colour! I was really happy with the results after just one use. Next time, I think I am going to crank up the treatment a bit more and put a shower cap on over the treatment to let it soak in even more. I may leave it on for 5 min. next time. I will report how it goes!
This product was expensive, but many of the reviews online said that this bottle lasts for months, so I figured I could splurge a bit. It was about $19 CAD.
What are your favourite 'splurge-worthy' beauty products? Are there some products you will buy again and again regardless of the price?
I love, love, love MAC's Cover-up. I will buy it again and again and again. It is the only cover-up that I have ever truly loved.
See you tomorrow for some baked goods I bought yesterday today (see my time is mixed up!)and what I baked!
I'm off to work on some bakery stuff. :) Then 24 (season 6, episode 5!)
"I know the price of success: dedication, hard work, and an unremitting devotion to the things you want to see happen." ~Frank Wright