Is anyone else's day all out of whack today? Gosh, I can't believe it is 5:30 already! I feel like I am just getting in the working groove.
I honestly don't even remember what I did today! lol. I did make it to the gym, which was great because the weather is so gloomy out and I was in one of those moods where I just wanted to stay inside. I am really glad I went though, it always put a little pep to my step so to speak. :)
I was feeling a bit tired today so I just went at an easier pace and didn't push myself too much.  before the gym I had a small bowl of Spelt Cereal + AB.
The Workout:
Elliptical: resistance 10, Incline 12
Duration: 40 mins.
Max Heart rate: 165 bpm
Avg Heart Rate: 154 bpm
Feel the burn: 355 kcals
I love these quick, no non-sense workouts! I am there and back within an hour. The only thing I hate is having to drive 10 mins. each way just for the gym. I really miss the convenience of my treadmill. Soon enough I guess! After the gym I had an apple and 2 carrots.
Lunch:
Savoury Tomato and Spinach Quinoa
We still haven't made it to get groceries yet (will be doing that in a couple hours) so the pickings were slim yet again today. I am getting so sick of the lack of choices the past few days!
I put my thinking cap on and came up with something really delicious though!
The inspiration that I found deep in the lazy suz'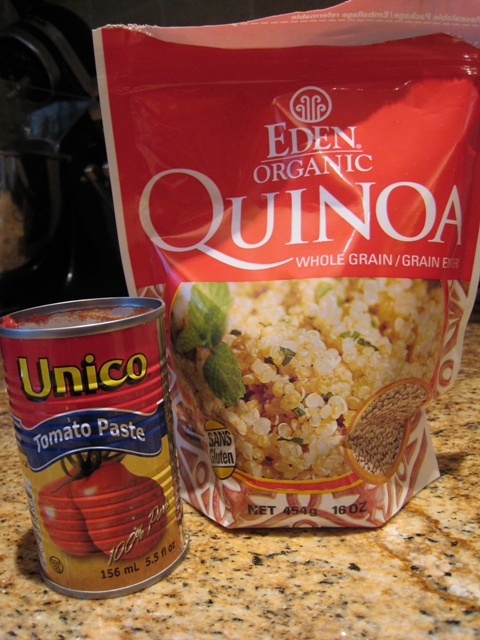 I thought, ok I need to make a healthy sauce to mix with the Quinoa!
I looked in the fridge: Soy yogurt (unsweetened), Almond Breeze, 1/3 Avocado, homemade hummus, baby organic spinach.
Sure, why not, I thought!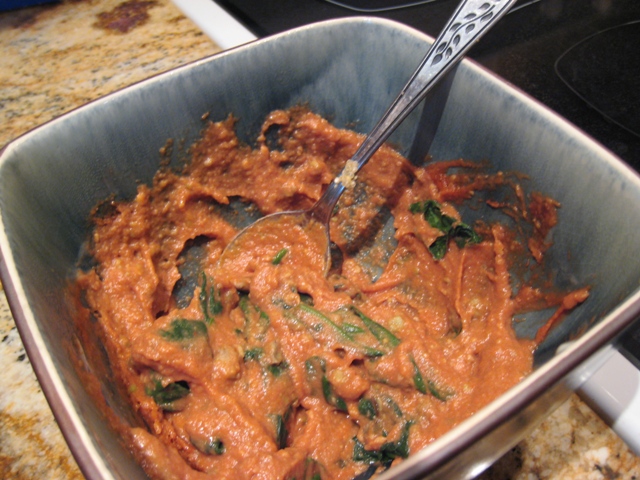 The contents of the sauce:
1/3 cup tomato paste (unsalted)
handful baby organic spinach, sauteed
1 Tbsp hummus
1 Tbsp soy yogurt (plain, unsweetened)
1-2 Tbsp of Almond Breeze to thin out
1/3 avocado, mashed
Directions: Cook Quinoa for about 12-14 mins in almost equal parts (1 cup Quinoa + 1.25 cups water) until light and fluffy. Sautee Baby spinach a few mins. Mix spinach into sauce and heat up in microwave. Spread sauce over bed of grains. Top with fresh black pepper and season to taste.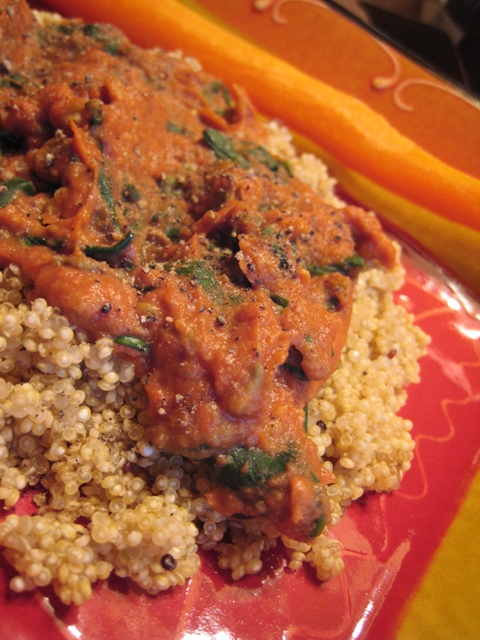 The sauce was amazing!! The soy yogurt and avocado really toned down the somewhat tart tomato paste (remember it was unsalted), resulting in a creamy and savoury sauce. The Almond milk gave it a slighty nutty flavour that went well with the quinoa. All and all this sauce was a keeper! Quick and easy, what could be better? Of course you can substitute the soy yogurt with regular plain yogurt and the Almond milk with cow's milk.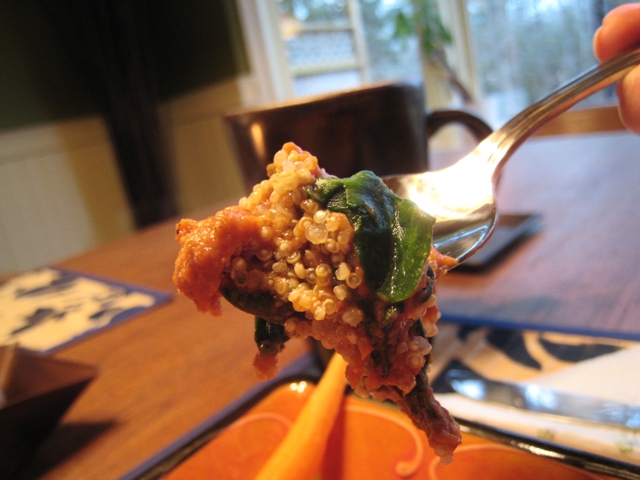 I had it with 2 organic carrots (yes, I am very much getting sick of carrots this week!! Groceries where are you?)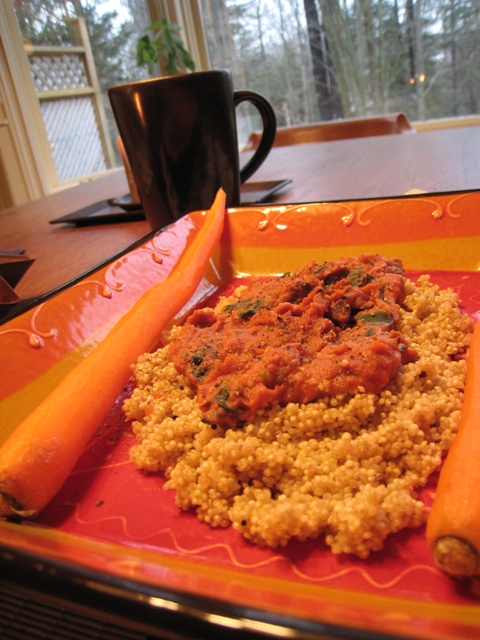 Here is the nutritional profile for the whole meal (including 1/2 cup Quinoa). This does not count the carrots.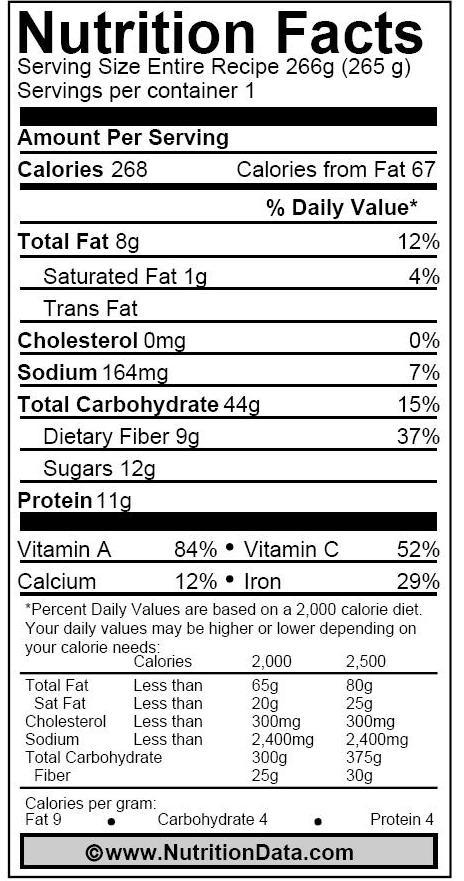 Pretty rocking, eh? 7 grams of healthy fats (avocado mostly), 11 grams protein, 9 grams fibre- and look 29% of iron! Women tend to be low in iron so this meal gives you 1/3 of your daily needs. More if you use more quinoa. I would suggest using about 3/4-1 cup of it (unless you are trying to fit into a wedding dress in 1 week's time!) :)
Look who got up to no good: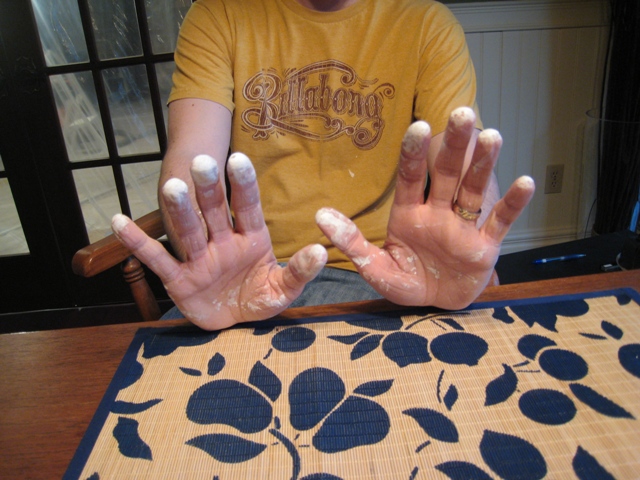 We'll just call him the reno man! I will be glad to have my family room back I tell ya. Although that won't be for a while because we need pot lights put in and all that jazz before we can even paint.
Dessert: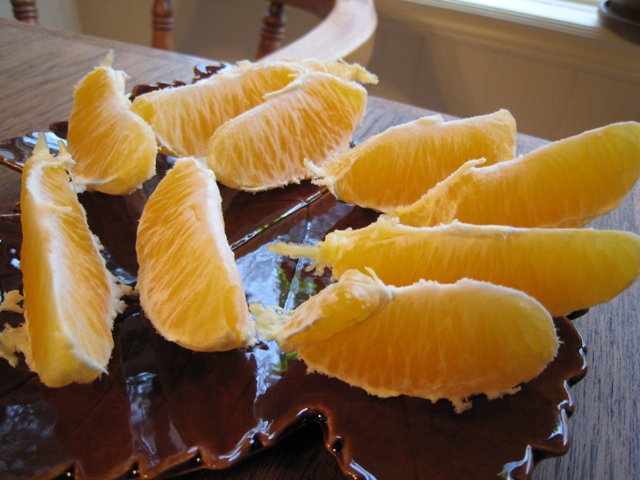 Oh I forgot to mention, last night I almost gave in and had sugar! I was not feeling good last night for some reason (headache and tiredness) and I was craving sugar around 10pm. I thought about it and was going to reach for a handful of chocolate chips when I remembered that I had frozen pineapple chunks in the freezer. They are super sweet. A handful of those and I was good to go! Oh and a handful of raisins too. ;) That was the closest I have come to giving in. It must have been the headache because my body felt like it needed a quick pick me up. Luckily the pineapple worked.
I was thinking about this today at the gym…
If you could live off of one meal the rest of your life, what would it be?
Mine would probably be wraps. I love wraps. There are so many ways you can eat them too. A close second would be penny candy. :D
Off to work on Glo Bakery recipes…!