Hello fabulous women (and men!).
Did you know that today is International Women's Day?
"IWD is a global day celebrating the economic, political and social achievements of women past, present and future. In some countries like China, Russia, Vietnam and Bulgaria, IWD is a national holiday. The first IWD was run in 1911."
Click herefor a really interesting video on how it all got started! Now go and tell the women in your life why you appreciate them so much. :)
Springing Forward
Did you remember to turn your clocks ahead last night? :)
No, it isn't fun losing 1 hour of sleep, but I won't lie, I am SUPER excited now that it will be light outside until 7:45pm! It makes the day feel so much longer.
I made Eric a wonderful breakfast this morning! I love making fun + new breakfasts on Sundays. Sunday mornings are so much more relaxed than Saturday. On Saturdays we always seem to be rushing every which way.
Coconut Macaroon Pancakes
Adapted from 101cookbooks.com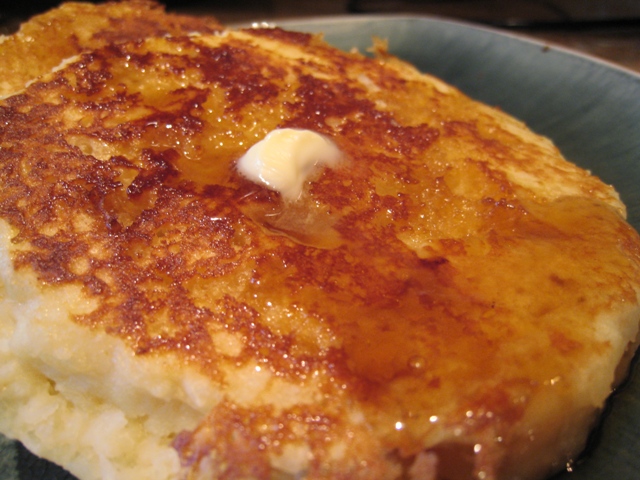 In the original recipe, Heidi uses Coconut milk, WWPF (whole wheat pastry flour), fine grain sea salt, and natural cane sugar. Since I had none of those I thought I could make some simple substitutions. I also didn't have the full quantity of coconut, so I used what I had and substituted the rest with flour. I halved the recipe since I wouldn't be having any as per my sugar free challenge.
Ingredients:
7 ounces of Unsweetened Almond Milk

1 Tbsp honey

1/4 cup white pastry flour

1 cup unsweetened shredded coconut

1/2 teaspoon half salt

1 tsp baking powder

1 large brown egg + 1 egg white

1/8 cup brown sugar
Directions:
"In a small saucepan heat the coconut milk and honey, bring barely to a simmer. In a separate large bowl combine the flour, coconut, salt and baking powder. Stir the coconut milk into the flour mixture. Whisk about 1/3 cup of the coconut mixture into the eggs. Now quickly mix the eggs back into the large bowl of coconut batter. Stir until well combined. You can do this the night before if you like. Heat your favorite non-stick (or very well-seasoned) skillet, pan, or griddle to medium-hot and brush it with a bit of butter. Test for the right temperature. If a drop of water dropped onto the pan starts to dance, you are in the ballpark. Drop a heaping tablespoon into the skillet, sprinkle the top with a bit of brown sugar. Wait until the pancake bottom is deep golden in color, then flip with a spatula and cook the other side until golden and cooked through. Repeat with the remaining batter."
With a sprinkle of brown sugar: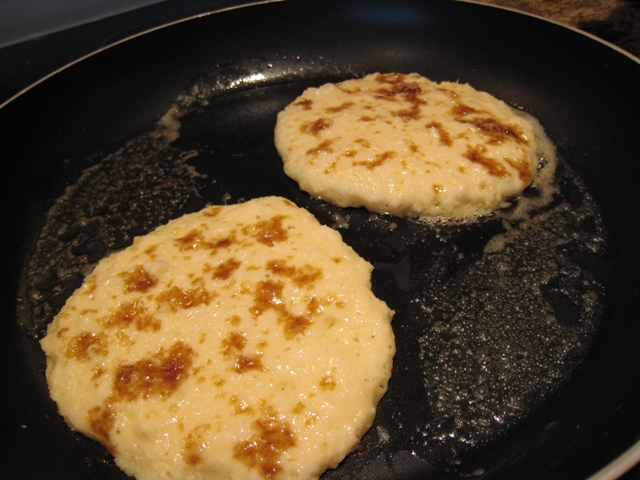 After flipping: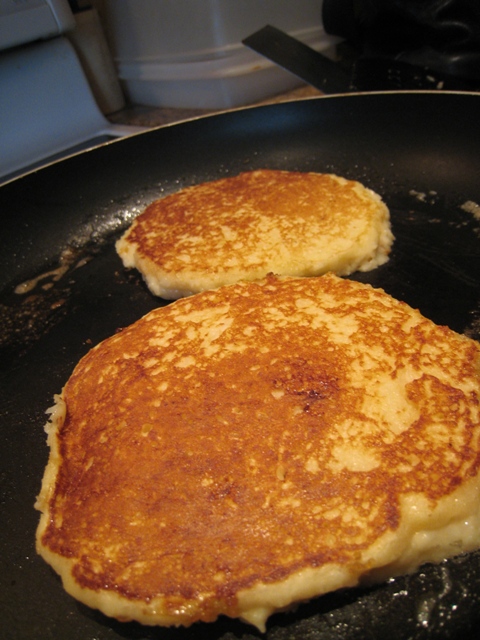 With vegan margarine and real maple syrup: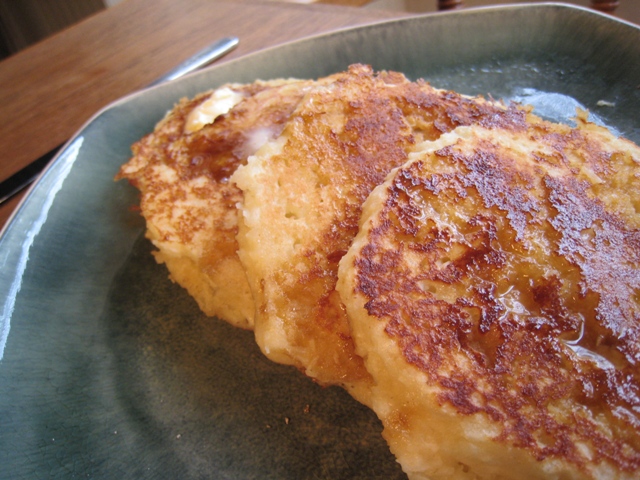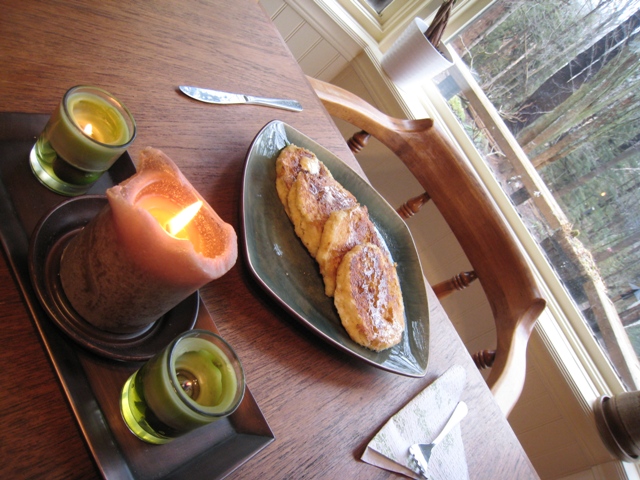 What Eric thought:
"They smell sooo amazing and taste really good. They are fluffy and have sort of a chewy/crunchy texture which is a nice change from all flour pancakes. I would love these with chocolate chips too."
These were really easy to make and such a nice twist on the traditional pancake! The coconut smelled awesome while cooking. I can't wait to try these myself!
Question: What is your favourite way to mix your pancakes? What are your fav. toppings and add ins?
I had a Green Monster with kale, spinach, 1 banana, 1.5 cup Almond Breeze, and flax! It twas lovely. :)
Wedding Dress Fitting #2
I rolled out of bed this morning and I decided to try on my wedding dress again to monitor my progress since I only have 6 days left before the photoshoot! The dress zipped up a bit more than my last fitting which is good news. Eric was able to zip me up, however it remains quite tight. I have some 'butt clevage' in the back so he had to tuck my skin underneath to hide it. lol. I hope by Saturday this isn't the case, although I am feeling relieved that at least I know I can get it zipped up.
In pictures…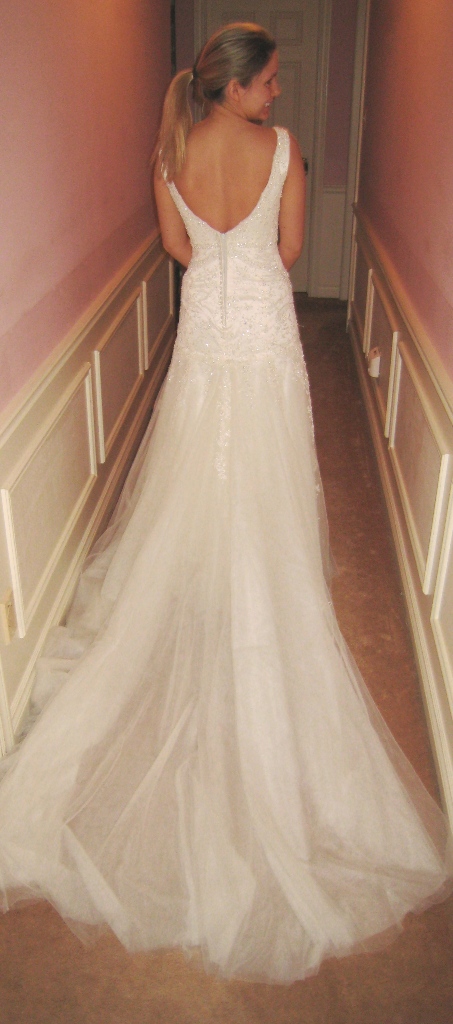 What doesn't everyone wake up and put their wedding gown on?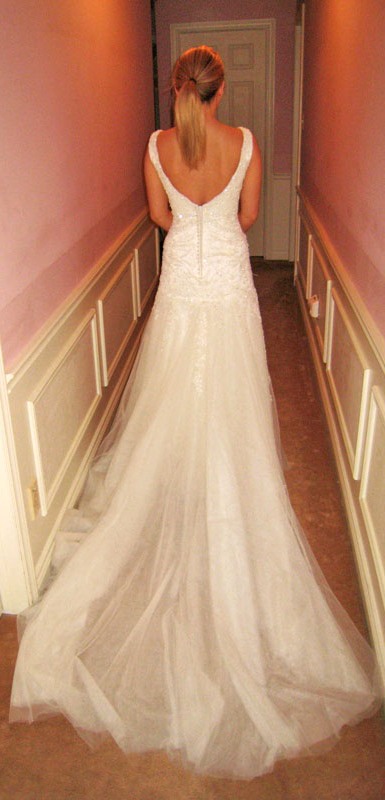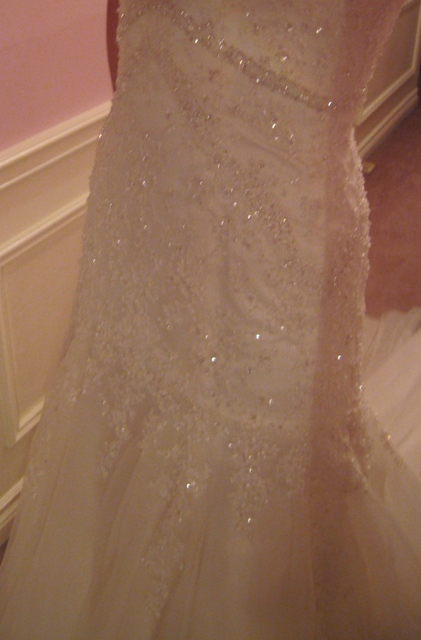 6 days!! I'm getting so excited! I can't believe we get ALL of the workshop photos for free! :)
Sunday To-do's:
Groceries for next week (I haven't officially looked yet, but I think we managed to only spend around $55 last week on groceries which is a huge decrease!)
Buy shower decorations for a special someone ;)
Clean office + kitchen
Gym??? Or perhaps walking on the treadmill today??
Post office
See you guys later! Have a super smiling Sunday!
"Kindness can become its own motive. We are made kind by being kind." Eric Hoffer