Note. Oh She Glows is currently experiencing technical difficulties with the domain transfer. Your patience is greatly appreciated! If you are viewing this website with no issues, I would appreciate if you email me at [email protected] and let me know. :)
Thanks + wish me luck….patience is running out this week fast! lol.
Angela
Now back to your regular scheduled program….
Well, there you have it!
Whatd'ya think? Personally, I'm quite the smitten kitten with my new website! Now you know why I haven't been sleeping this week. Yup, I was up again after only 6.5 hours of sleep this morning!
Isn't my husband, A-W-E-S-O-M-E!?
The fact that he was able to put this together with me in less than a week (while working full time) is beyond me. He is so much better at coding than I am! He was able to fix the category issue with finesse, even though no one could help him on the WordPress Help Forum!
Thanks Hubby. You truly are a gem.
Now, that isn't to say that I can't toot my own horn, because hey I worked long and hard on it too! I probably put about 30+ hours into the new website this week.
Here's a bit of what I contributed:
The NEW Header! Yup, that was all me baby. I went through about 5 revisions of it until I felt it was perfect for my site. I must say my Adobe Photoshop skills have improved greatly! There was a slight snag in this process because my absolute favourite font in the world is so rare that it wouldn't even show up on most computer screens. So I had to write the title + tag line directly onto the image. No problemo! I have to give credit to Eric for making the image clickable. lol. The header brings you back to the home page in case you are wondering how to find your way home if you should get lost! lol.
Wedding Pictures– Located on the right sidebar, this image brings you to my wedding page where you can take a peek at wedding pictures and honeymoon pictures. You can also read about our engagement story. I will be adding more wedding pictures and honeymoon pictures shortly!
Ditch The Scale and Free Your Mind– Located on the left sidebar, this image brings you to my Road to Health Series, starting all the way from the beginning all the way to Part five (b).
Welcome to Oh She Glows– Located next to the image header, this is what I like to refer to as my Welcome Mat! Everytime you visit OSG you will be reminded of the healthy concept behind the creation of Oh She Glows. No that isn't my full name by the way. ;) The M.A. stands for Magisteriate of Arts which is my Master's degree in Social Psychology. Hey, I didn't go to university for 7 years for nothing! :P
You Might Like These Stories– Located at the bottom of each post, you will find three new related posts that you may also enjoy reading. Tripling your OSG reading pleasure if you will!
I was also responsible for selecting all the fonts, sizes, colours, and widgets. Oh and mending broken links!
Eric did 90% of the behind the scenes coding stuff. I would not have been able to create this website without him! I was actually planning on hiring someone to do the website because Eric is so busy with overtime at work, but when he found out how much I was quoted for (I had quotes in the $200-500 range), he immediately took over. Gotta love it!
Well, lovely readers. I hope you will enjoy this website now and in years to come. I will be constantly adding new features so keep your eyes peeled! I am in the midst of researching how to add a forum to the website where we could all chat and develop a nice healthy living community!
With that being said, I have not left my desk since I started working at 8am this morning! I need to move. Off to the gym as soon as my clothes dry. Then errands. Then drawing for the 30-Day Shred workout DVD! Are you excited??
See you tonight for the winner of 30-Day Shred and my wonderful eats of the day! :D
Here is a cool pic I edited in photoshop to make it look like a funky painting: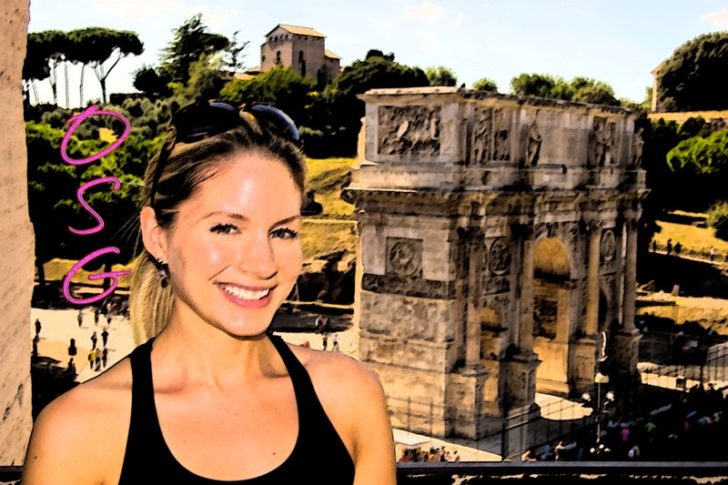 "The most successful people are those who are good at plan B."~ James Yorke