Good afternoon!
I hope everyone is having a great Thursday. I am having a great + productive day. Luckily Eric's car was finally ready to pick up at the shop, so he got his wheels back, which makes things easier on both of us. Let's keep our fingers crossed that his car stays in working condition! The repairs came to almost $1500 (!!!!!!) and luckily the warranty covered $900 of it. The seller is supposed to be kicking in at least a couple hundred as well, but that hasn't been confirmed yet. Personally, now that Eric has already paid in full, I am skeptical whether he will get any money out of the seller at all. I just have to take deeps breaths when I think about this entire situation!!
Moral of the story: Be very very careful when buying a used car!
On ward and upward! :D
I was hard at work all morning and into the afternoon without taking a break. If it hadn't been for Polly's delicious pink-back, I would have not stopped for lunch until very late. Polly made my homemade spelt wraps and after I checked them out, my tummy said FEED ME NOW! So I bolted to the kitchen around 1:30pm.
But before I get to my delicious lunch, let's take a look at what I accomplished!
Crossing off the To-Do list:
Booked spa package for next Friday (Eric got me a spa package for Christmas and I thought it would be a great time to use it so I can get a mani + pedi before the wedding shoot next Saturday!)
Followed up with Bone Scan results– they are IN- but I am waiting on my Dr. to get them and get back to me (my anxiety is through the roof!)
I spent about 2 hours researching food scales as I need to buy one. Finally I found one and then amazon.com wouldn't ship it to Canada! And of course I couldn't find it anywhere in Canada. So I had to start over. I finally settled on this Starfrit scale that Eric is going to pick me up on his way hom from work.
Then I ordered some Glo Bakery products (tons of unique cookie cutters, a few packages, and piping bags)
I 'purchased' my www.globakery.com domain! But guess what? I got it FREE! Thanks Blue Host! :)
I also emailed the local Farmer's market and asked them about renting a booth for my bakery products
I have lots left to do today…
I hope to have the category problem resolved by the end of the day (on the new website)
Continue working on the sidebars/updating broken links
GYM + yoga
Lunch was lovely leftovers!
I polished off the rest of the Chick Pea stir-fry from yesterday: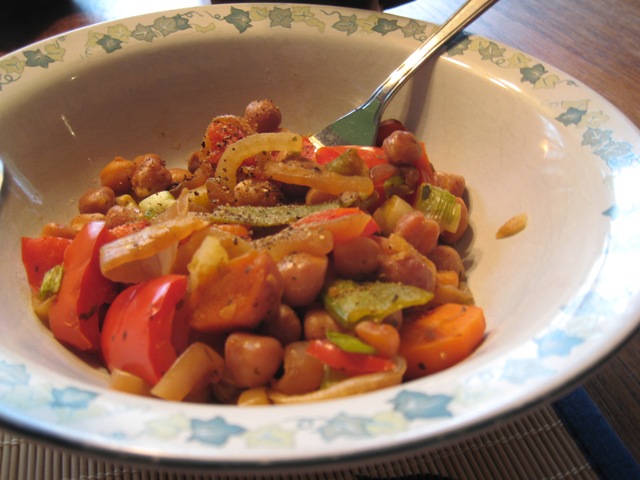 And had more of my Vegetable Kale Soup: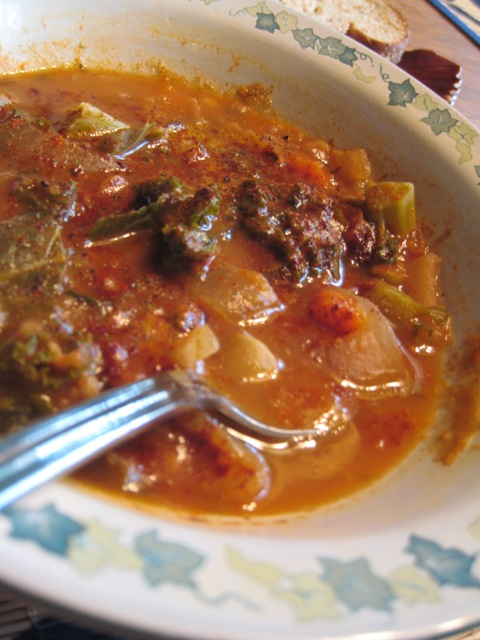 Sprinkled with paprika…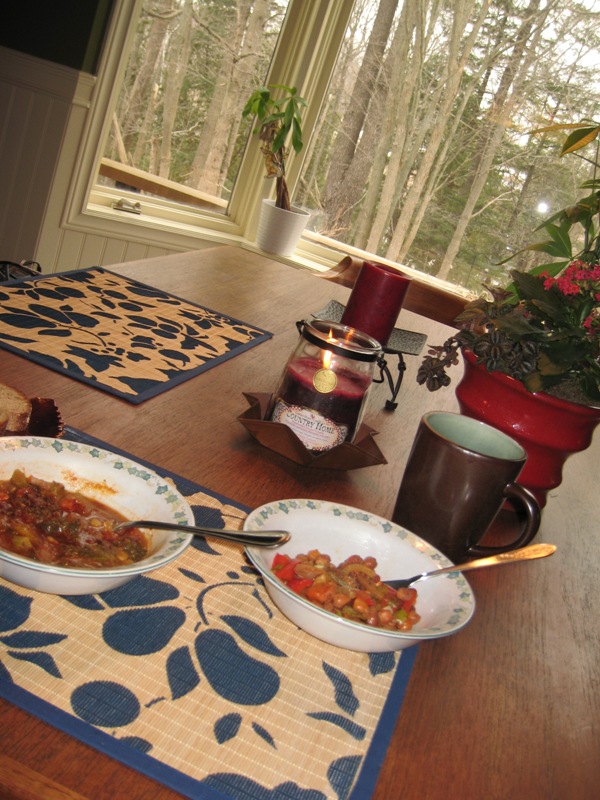 I dined with a squirrel friend: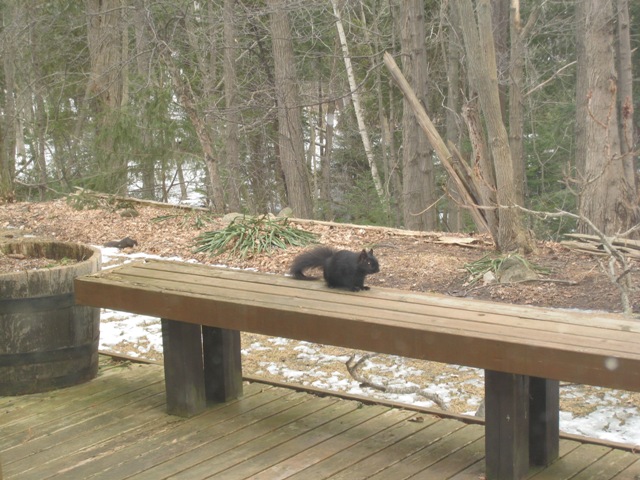 I also got to sample a new product!
Our lovely friends at Dempster's sent me 2 coupons to try their new bread: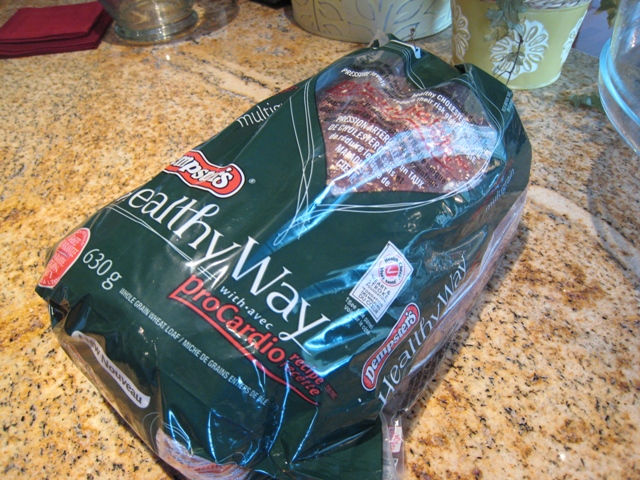 Dempster's Healthy Way Pro Cardio Bread: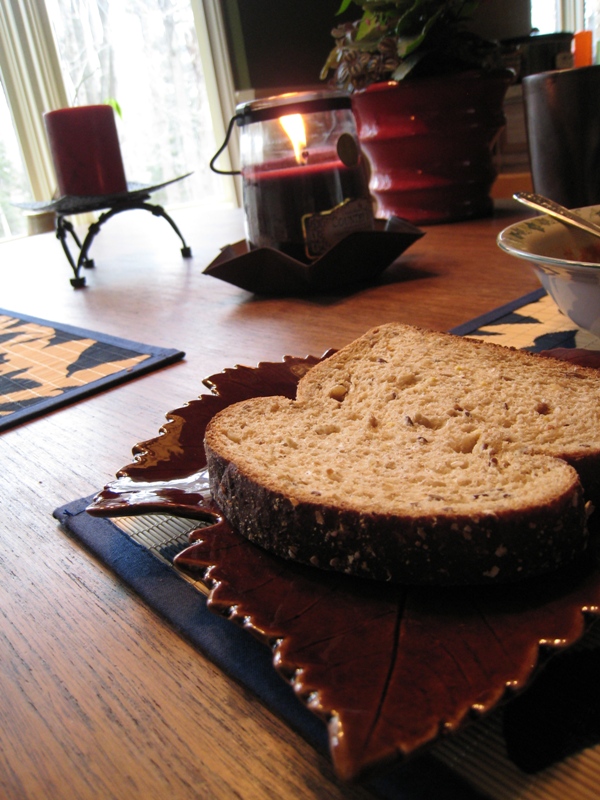 This was the multigrain kind. The kinds available are white, wheat, and multigrain.
What this product offers:
5 grams of fibre per slice 110 kcals
5-6 grams of protein per slice
The taste test?
It was a fabulous tasting bread. It was thick, soft, and hearty. I loved that it has 5 grams of fibre and protein per serving. However, I was not a fan of the price-$3.49 per loaf. Since we are on a budget I doubt I will be buying this bread unless it was on sale.
Wedding Dress Plan:
I was going to put Vegan Butter spread on my bread at lunch, but I realized I could save about 80-90 calories if I skipped it and just dipped my bread in the soup
I was going to scoop hummus onto my soup and stir fry, but instead I opted for paprika seasoning and saved about 60 calories or more. Since I had a ton of chickpeas in the stir fry I figured I wasn't going to miss much!
Lunch savings: Approx. 150 calories
I am feeling like I am loosing some weight slowly but surely. I think my minor adjustments + exercise are adding up! I am going to try on the dress again either today or tomorrow and report if I feel any changes.
Well, I am off like a herd of turtles! LOL
I said this to Eric yesterday and he gave me a strange look. My parents used to always say this saying to me when I was young. :D
What are your favourite sayings? Do you have any catch phrases that you say that make you giggle? Any inside jokes or nicknames?