Hi everyone!
I hope you all had a great day! :) I sure did. Yup, still riding the endorphin high from my first workout in 7 weeks! haha.
I have been getting some great questions as usual today so I thought I would do another FAQ installment.
FAQ Installment 19
157. AGS asks, "I was wondering if you could speak to stress and sleep at some point.  I'm so stressed (I love what I do, but it's still stressful) that I've been having trouble sleeping.  Have you dealt with this?  If so, how did you deal with it?  The main problem is that when I'm not well rested I tend to have to drink coffee/eat more to keep energy levels up."
Great question- I and so many others struggle with this too! I have always had problems with sleep. I tend to have lots of anxiety and ruminating about situations and possible future events is one of my weak points. It is something I am constantly working on. During high stress times of my life, such as last summer when I was finishing my Master's degree as well as working FT and planning my wedding, I had such a problem falling to sleep at night. I tried many things, many of which did not work. I tried a herbal sleeping pill, melatonin, 'sleepy' teas, etc. None of these were powerful enough for my anxiety, nor did they quiet my brain running at mock speed. I even tried over the counter sleeping pills, but they actually had the opposite effect on me- they kept me wide awake!
As my background is in psychology, I knew that I was only trying to mask the problem by using pills. I had to stop and address a few questions with myself. I encourage you to try writing this out for yourself- it helps! Here is an example of mine:
1) What specifically are the thoughts that I am thinking about while in bed?
I am never going to finish my thesis analyses or finish and defend my thesis for that matter!
I am not finding good/significant results with my data.
My study sucks!
I am going to fail my defense because they are going to find some major flaw in the thesis/analyses.
Work is stressing me out…I have this presentation next week and I haven't even finished entering in the data or analyzed it let alone writing it up!
How am I going to arrange the seating plan at the wedding so it pleases everyone? What am I going to say in my speech? What makeup should I pack in my purse for emergencies?
What groceries did we run out of and need to pick up?
As you can see, my thoughts can be anything and everything! I am sure many people can relate to this. During times of stress my thoughts tend to be quite negative. This results in a vicious cycle. Negativity breeds more negativity!
2) How can I counteract these thoughts?
E.g., "I am never going to finish my thesis analyses or finish and defend my thesis for that matter!"
Of course I am going to finish! What a ridiculous thought. I am driven and motivated. I will figure out my analyses…sure it is taking me much longer than anticipated. To get there, I am going to sign up for some special stats help at the math learning centre this week. I'm sure that will put me back on track.
Some nights, I would write out all of the thoughts that were bothering me, and then I would write a thought to counteract it and then cross out the original thought. The act of crossing it out is a metaphor for eliminating the thought from ruminating in your mind. Try it out!
158. Ashley H asks, "What do you plan on doing to help you fit into your dress?  I know you don't count calories so I was just wondering."
You are right, I don't count calories anymore and I want to show others that it is not necessary to count calories to drop some weight. I am making small cutbacks in my diet. For example, instead of having almond butter with jam I might have hummus instead (lower calorie). I am eating the same foods, just substituting lower calorie foods when I can. Small enough so I don't feel restricted, however they will add up over the course of the day leaving me with a moderate caloric deficit. I am also working out each day on the elliptical. My aim is to burn 300 calories or more through my daily workouts.
Stay tuned this week for lots of examples!
159. Lindsey asks, "Quick question – I've noticed lately on some of your posts there is a "click here to read more" link – is this due to the length of the post?  Just curious – I'm not a blogger, so I have no idea how they "work" on the development side of things. thanks!"
I just recently learned how to do this (it is the image of the split page in the wordpress toolbar) and I do it every now and then when I want to create a little suspense in my post. For example, I used it to cut to my pick for worst dressed at the Oscars. It isn't related to anything more than that- just something I enjoy doing once and a while! :)
160. Lydia asks, "Hi! I have been reading your blog for a short time and really like it. Wanted to ask- do you ever use Stevia? I don't know if it is available in Canada. Just curious- I often use it to sweeten up things without the calories, or the "artificialness"- it is a plant derived sweetener. Great blog! You are inspiring!"
Thank you!
I tried Stevia a while ago (2 years maybe) and I didn't like it, but I am starting to think I should give it another chance! I think it gave me some stomach problems when I tried it, but I can't fully remember.
161. Jody asks, "Question regarding the flax in the "green monsters", do you grind it up before you toss it into the blender?"
Nope! I don't need to…my Kitchen Aid blender has a 'liquefy' setting and this grinds it all up. Perfecto!
Keep those awesome questions coming!
OSG Announcements:
1) Crap Free Week!
Day 11 CFW complete! I have exciting news….my sugar cravings are gone! They actually vanished yesterday. :D How crazy is that? It only took 9 days for the sugar demons to shrivel up and die (for now anyways!). Thus, CFW is feeling darn right easy at this point….sugar didn't even cross my mind today. It is really encouraging me to stick with it at least until I am back in that wedding dress!
Have any of you found any improvements or decreases in cravings as a result of CFW?
2) Oh She Glows
Remember the exciting blog announcement I was talking about?
Well, Eric and I have been hard at work on Oh She Glows. We have transferred OSG to a new host! I am in the process (long, long process!) of finding a new theme/template. As I mentioned, Eric majored in Computer Science and he is a genius with computers, programming, and the like. I was going to pay for something to help me with this because he is so busy and works overtime, but when he found out I was going to pay for it, he refused and said he would do it. :D Gotta love it! So you can all say a big thanks to my hubby when the new site is revealed, hehe. Right after this post, I am going back to work on it! So much involved….but I can't wait.
Stay tuned for an exciting NEW + IMPROVED Oh She Glows reveal in the next couple days!!!
Oh and because no post can be pictureless….
Me, Leah, and my friend Kristine at a bar celebrating Leah's Bday (2008) and me passing my defense! We were up to no good that night! haha. The bartender kept giving us free shots and beer!
I had my trial up do that day which is why my hair is up all fancy.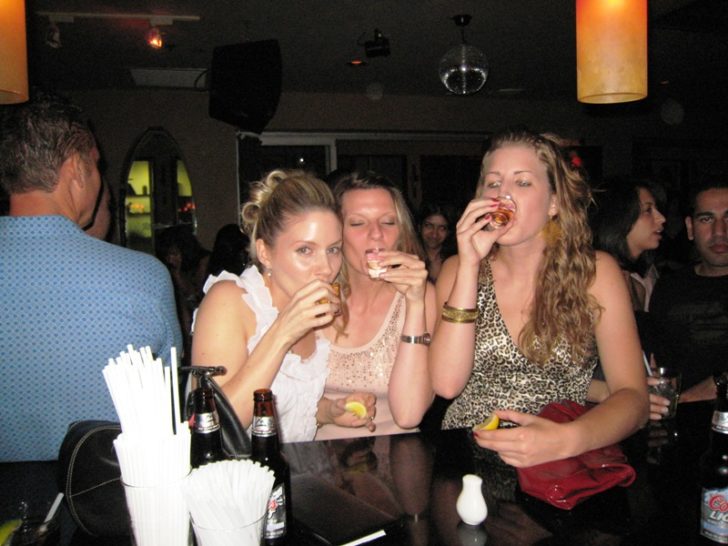 "Flatter me, and I may not believe you. Criticize me, and I may not like you. Ignore me, and I may not forgive you. Encourage me, and I will not forget you." ~William Arthur Ward
What is a piece of encouragement you have received from someone that you will always remember?