Good morning!
We are in for another special treat today as Andrew from Go Healthy Go Fit is back again! This time for Part 2, Andrew is talking about 'How To Monetize Your Blog'.
Ever wanted to turn your hobby website into a steady cashflow? This is your chance to learn all the tips and tricks for securing good advertisements!
Take it away, Andrew! :D
~~~~~~~~~~~~~~~~~~~~~~~~~~~~~~~~~~~~~~~~~~~~~~~~~~~~~~~~~~~~~~~~~~~~~~~~~~~~~~~~~~~~~~~~~~~~
Designing the website of your dreams:
"Part 2: Monetizing Your Blog"
Last time we talked about the preliminary steps you need to take when creating your very own website. Steps such as the layout, color scheme, and sidebar among others. Today we're going to discuss some of the most essential parts of monetizing your blog.
Understanding The Size Of Effective Ads
When you're looking at the size options for different ads, you may think that there are many simply to give you a choice, something to suit the ever-changing pallet of different bloggers.
But the truth is that the size (designated by the amount of pixels) of the ad has an enormous effect on how many clicks it will get. Here are the sizes that have been proven to be the most pleasing to the eye and thus generate the most clicks:
125 x 125 Ads – These are small squares, usually placed in the sidebar with two columns and up to about 8 rows depending on the amount of advertisers.
300 x 250 Ads – Also known as the medium rectangle. These can be placed in the sidebar, in individual posts, as well as their own section between posts and the comments section.
728 x 90 Ads – This is called the leaderboard, and everyone has seen one… that is, if they've ever created a MySpace page.
160 x 600 Ads – These fit in the sidebar and can be called a skyscraper ad.
468 x 60 Ads – This is a banner ad that can be placed in the header section next to a logo.
So when you're designing your sidebar, posts and header section, try and keep in mind that you will almost certainly be using the above ad sizes.
Understanding Which Ads Are The Most Proven
There are hundreds, even thousands of options that you have when choosing the type of ad you will place in your blog. Here are some of the best bangs for your buck (one for each of the most popular types of ads):
Google Adsense (https://www.google.com/adsense/) – This service provides ads that are based on a simple calculation of page impressions (the amount of times a person sees the ad) and the amount of times those ads are clicked. The ads are automatically generated based on the content of your blog.
Text Link Ads (http://www.text-link-ads.com/) – It's exactly what it sounds like. They provide a line of text that links over to advertisements.
Feedburner Ad Network (http://www.feedburner.com/fb/a/advertising) – A lot of your readers will choose to read your blog post from a reader, such as Google Reader or Netvibes. So by creating ads within your feed, you will be able to earn some cash from those readers as well.
This is just an example on how to get started. The key is to do what is suggested in the next section.
Do Your Research
This is the most important part of monetizing a blog. Luckily for us all, there are hundreds of experts that have free blogs out there dedicated to this very idea… making money on a blog. Here are the experts that I consult whenever I'm looking for new ideas.
John Chow (http://www.johnchow.com/) – John is the man, he knows his stuff and he can help you make money off of your blog.
Darren Rowse (http://www.problogger.net/) – Like John, Darren is the man when it comes to monetizing your blog. Both of these two gentlemen provide extremely useful information and you should take both, don't just pick.
These aren't the only game in town, but you can get started with these guys. So start taking notes and do your research!
Stay tuned for Part 3 of How to Design the Website of your Dreams!
~~~~~~~~~~~~~~~~~~~~~~~~~~~~~~~~~~~~~~~~~~~~~~~~~~~~~~~~~~~~~~~~~~~~~~~~~~~~~~~~~~~~~~~~~~~
Thanks Andrew! I am definitely going to check out these awesome links today. If anyone who has a food-related blog is interested in securing a Food Buzz advertisement please email me for more information.
Time for breakfast!
See you this afternoon. :) I hope everyone has a GREAT day!!! Afterall, it is OFFICE night! Yippee.
Don't forget to enter Oh She Glows Fit Gear Contest #2 if you haven't done so! All you have to do is leave a comment telling me your favourite item of clothing!
Success is getting and achieving what you want. Happiness is wanting and being content with what you get.
Bernard Meltzer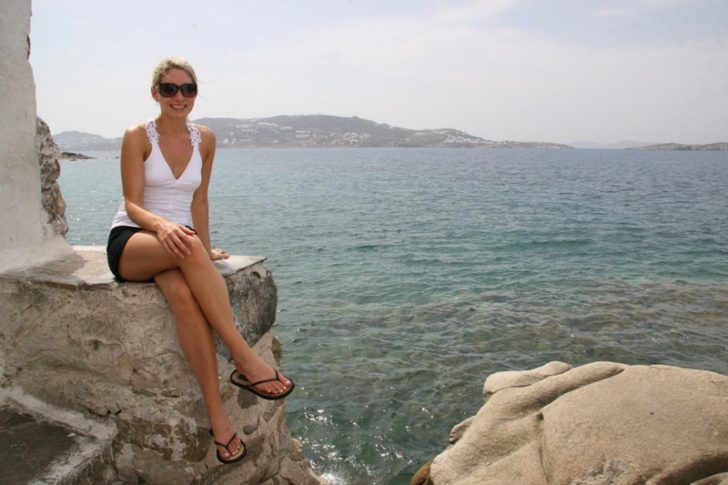 Mykonos, Greece