Good evening!
As I was getting ready in front of the bathroom mirror today, I thought what a fun post it would be to take a look inside my makeup bags!
I don't know about you, but I always love seeing what other women have lurking in their prized make-up bags. I wonder, what do their make-up bags look like? Do they use an old stand by or are they the type of person that updates their bag often?
I was always the 'old stand by' make-up bag lady. In fact, my make-up bags used to be so worn and dirty that I wouldn't even show them on this website if I hadn't bought a new one last summer. I don't know why I held on to my old make-up bag for so long. I mean…my new one has only brought me so much joy since I purchased it at Sephora. It was cheap + cute– how could I go wrong? I mean, I do stare at it at least a couple times a day, so why not have a make-up bag that looks half decent?!
I am a bit embarassed to admit this to you all, but my old make-up bag was actually not even a make-up bag. It was a bag that a pair of slippers came in one year for Christmas. I liked it because it was huge and held all my crap, but I could never find a darn thing. It was so hideous- red and covered in make-up gunk. Just disgusting.
So sometime last summer I purchased a bright new + sparkly make-up bag. I felt like I had a new lease on life as I exchanged bags that day in my bathroom. Each morning I would stare at this make-up bag and wonder how I lived so long without this beautiful spectacle greeting me in the bathroom each day.
And so I present to you….my make-up bag and all of its contents: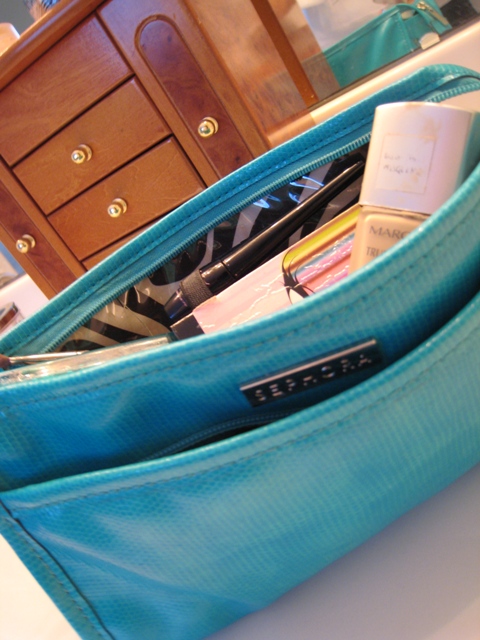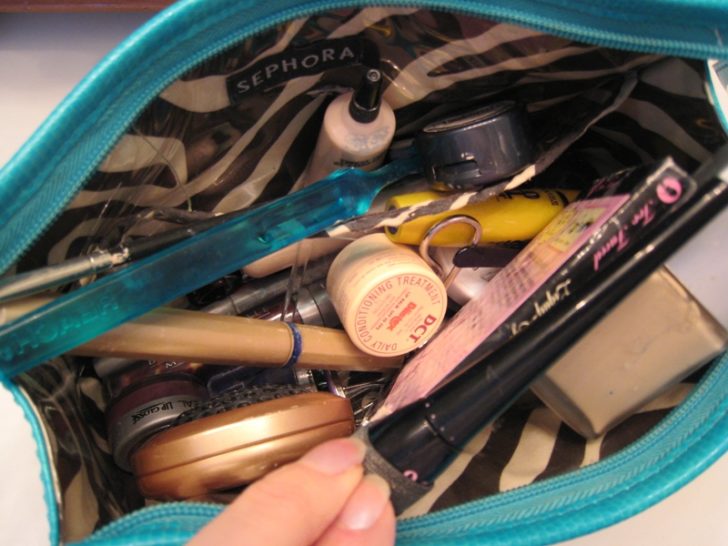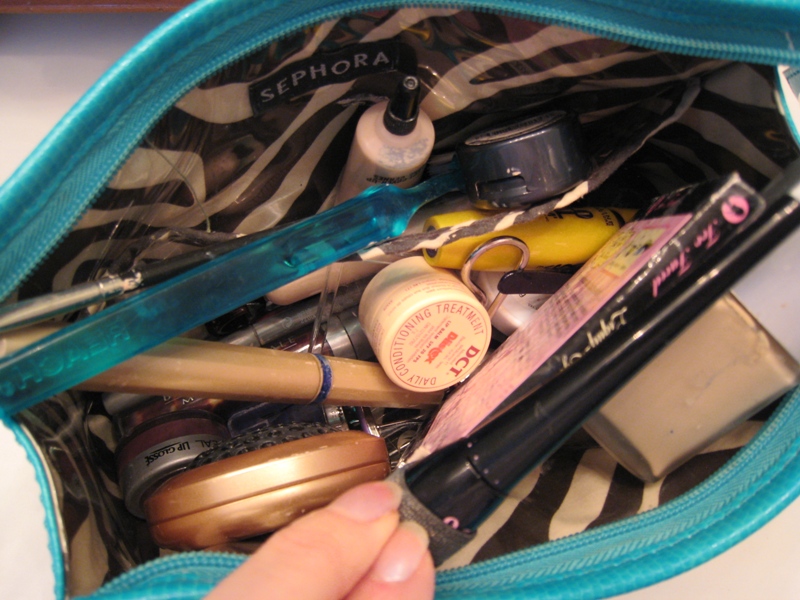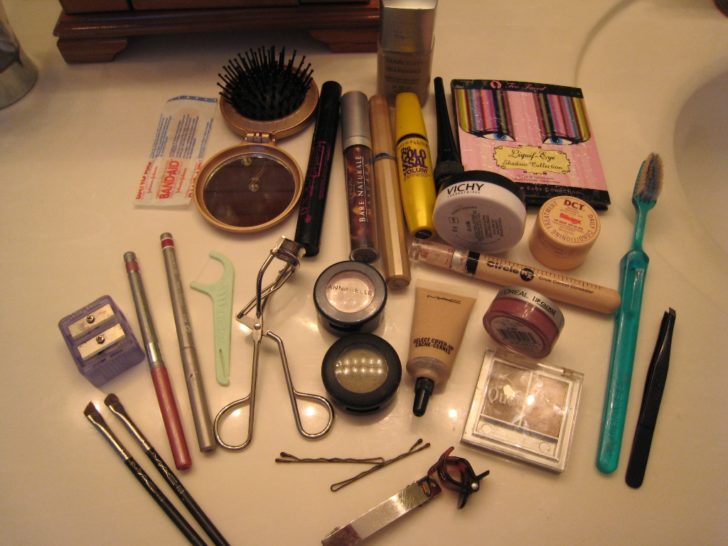 The contents:
Sephora mini travel brush + mirror (I always have one in my purse and bring with me on trips)
band-aid (injury prone!)
A few assorted mascaras
Vichy cover up (I used for a scar on my wedding day)
Blistex lip balm (a cult favourite)
a toothbrush (not used!) for eyebrows
Tweezerman tweezers
Quo eyebrow powder + wax (I don't use the wax part)
Mac Cover Up (the best cover up ever!)
Mac eyeshadow
Annabelle Eyeshadow pale pink
Mac make up brushes
pencil sharpener
Too Faced Liquify-eye  wet + dry eye shadow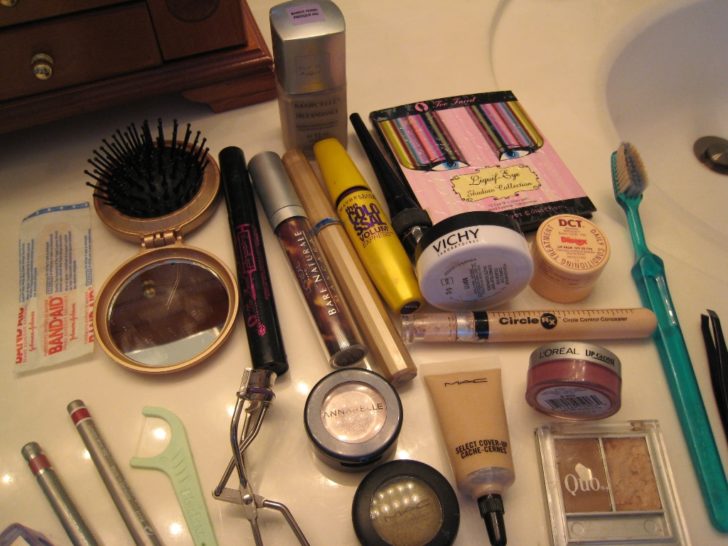 What I actually use each day: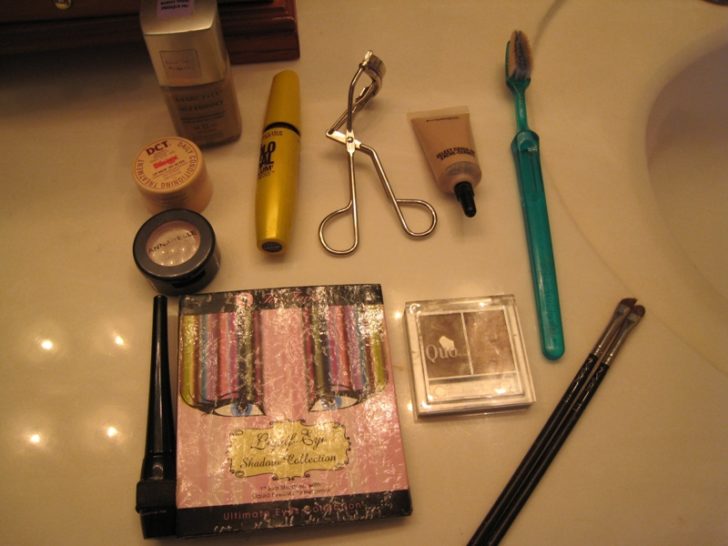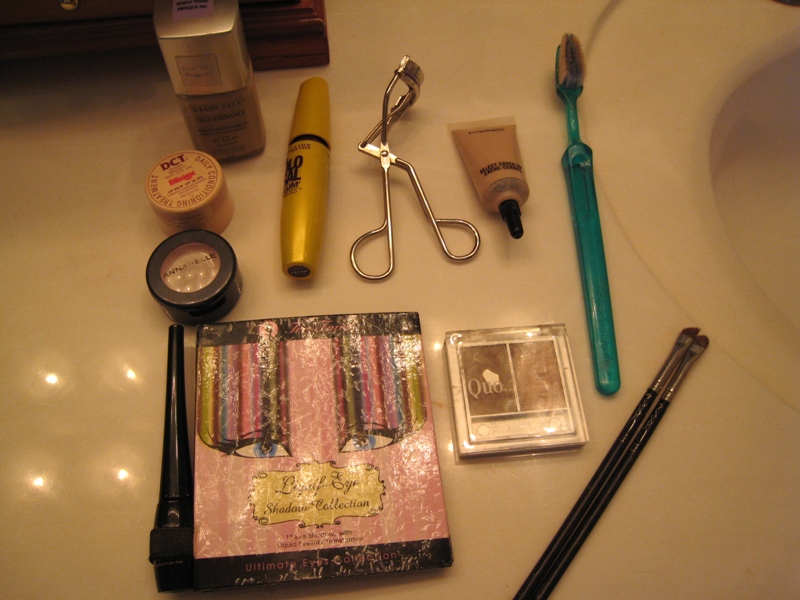 My mini MAC make-up bag I got as a gift. I carry this in my purse: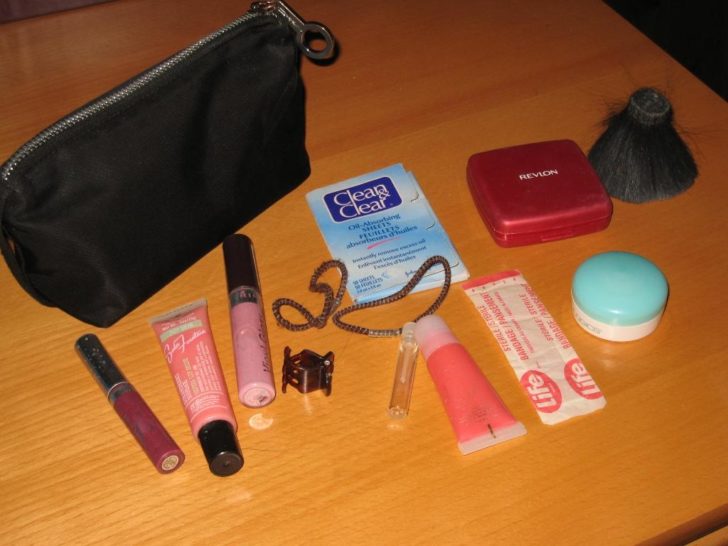 The contents:
Clinique lip gloss in very berry
Bath & Body works pink lip gloss
Rimmel Vinyl lip gloss
hair ties + clip
mini perfume (I filled an empty one with my favourite Victorias Secret Perfume)
Clean + Clear oil blotting sheets (love these!)
Band-aid (again, injury prone)
Revlon compact powder + broken powder brush
lip balm from Skinlogics
So there you have it- my beauty loot. I didn't show you the huge bag of old makeup though. Not sure why I am still holding onto all my old makeup that I don't use. Maybe I will get the courage to post a picture of that some day….
Now my question to you is….
What are your favourite products in your make up bag? Do you bring a mini make up bag in your purse with you?
I challenge all fellow bloggers to show us what is inside your make up bag! :D Weeeee
For all of you who have an eye sore for a make-up bag….I am giving you permission to go buy a new one- THIS WEEK! :D You are worth it!
~~~~~~~~~~~~~~~~~~~~~~~~~~~~~~~~~~~~~~~~~~~~~~~~~~~~~~~~~~~~~~~~~~~~~~~~~~~~~~~~~~~~~~~~~~
"Whenever you're in conflict with someone, there is one factor that can make the difference between damaging your relationship and deepening it. That factor is attitude.~Timothy Bentley