Good afternoon!
I hope you are having a better day than Eric and I are! Eric recently bought a used car at the end of January. To make a long story short he has had a list of problems with this car. Our brother in law was driving it during his stay and he mentioned that the brakes seem like they are going. Well Eric went to leave for work today and the brakes are almost shot so he had to stay home. We decided to take the car into a different dealership to get it inspected because we are almost certain that the safety certification that the seller gave us was a FAKE. The transmission is almost shot, the brakes, etc etc. And guess what? It miserably failed the safety inspection. Now Eric has to take this evidence back to the seller and force him to either return the car and refund his money or he is going to call the ministry of transportation and report the dealership. Poor Eric. I feel so badly for him…they really screwed him (us) over big time. I don't know how these people sleep at night! I am following him in my car because I am terrified that something will happen while he is driving it!
~~~~~~~~~~~~~~~~~~~~~~~~~~~~~~~~~~~~~~~~~~~~~~~~~~~~~~~~~~~~~~~~~~~~~~~~~~~~~~~~~~~~~~~~~~
FAQ Installment 17
142. Mariel asks, "Hi! I just found your blog and love it! Could you tell me more about the Nutrition and Wellness Specialist certification? It sounds right up my alley! I am hoping to start a Masters in Nutrition program in the fall but really like the wellness aspect as well. Do you know if there are any certification programs like this in the US? You can email me if you want! Thanks :)
I am planning to get certified as a Nutrition and Wellness Specialist through CanFitPro. I am doing the study from home option. I purchased a textbook and once I have read it and prepared enough I will schedule my test date. In addition to the written exam, I will also be doing a 1 hour practical where I will counsel a client for 1 hour and be graded on this. You must get 80% of above to pass and get your certification. With this certification I would love to counsel individuals on how to start living a healthy lifestyle. A NWS does not replace a RD by any means and a NSW is not qualified to give medical advice or to counsel individuals who have health issues. Basically, you use the fundamentals taught in the course to help teach and encourage your clients to start making healthy modifications to their lifestyle.
Topics Include
The wellness concept, health evaluation and lifestyle choices
Nutrition basics (macro and micronutrients)
Weight management (weight loss and gain)
Counselling and behaviour modification
Sports nutrition and supplements
Nutrition resources and referrals
Complimentary therapies and therapists
Spiritual health and stress management
You can find more information on this certification here.
143. Re: Green Monster Smoothie Drinks:
Holly asks, "I have a silly question regarding the "Green Monster."  It seems like all of the ingredients are tasty in their own right, why is it necessary to liquefy them together into a drink that is less than pleasing?  Why not just add a great nutrient-rich salad to your lunch or dinner menu to up the vitamins in your diet?  I'm sure there is a great reason, but I just can't figure it out."
Eatinnyc asks, "I love your blog :) Can I ask where you got the information/idea for the smoothie? What are the health benefits/rationale? I am sure you have a post all about it but if you would link me back to it that would be amazing :) Thanks again for this terrific blog!"
AGS gave a great reply in the comments section…
"To give a partial answer to the question about veggies — I used a juicer quite a bit at one point and made all kinds of concoctions (my favorite was 3 carrots, a small apple, and ¼ of a beet, which gave it this luscious color).  Juice is easily digested by the body, which is one reason some folks go nuts over their fresh carrot juice each morning.  A downside to juicing is that you do remove some of the fiber.  So. . . blenderizing your veggies – as seen in the case of the green monster — makes for quicker digestion/eating and keeps the fiber."
I couldn't agree more! As I have said in previous posts, the reason I love smoothies in the morning is because they are quick and easy. Additionally, a smoothie filled with veggies and fruit is a fabulous way to cram in as much fruits + veggies into your daily diet before you have even left the house! With just one of my green drinks, I get about 3-4 servings of veggies and 2-3 servings of fruit! This drink ensures that no matter how busy my day is I know it started off on a great foot.
I am also trying to persuade the fabulous Kris Karr from Crazy Sexy Cancer to do an interview with me on her on thoughts on the green drinks, health benefits, recipes, etc! Keep your fingers crossed! :)
144. Stephanie asks, "Have you ever heard of a green drink called "emerald balance"?  I drink it every day and it has so many terrific things in it.  Here's the link.  We buy it in bulk which for us means 5 or 6 boxes of the individual packets through Amazon.com.   It's really nice tasting too. Like spearmint. It has stevia in it as a sweetener and I HIGHLY recommend it. It gives a nice burst of energy too.  I haven't gotten sick at all since taking it as well.  I think that's important to note and I definitely attribute it to the Emerald balance. Give it a try.   http://sgnnutrition.com/emerald-balance/"
No I haven't heard of this drink before, thanks for sharing your experience with it! I tend to avoid powdered drinks, mostly because I would much rather have the veggie or fruit in its natural unprocessed form. However, I could see how these drinks would be great for trips, camping, or travelling. I also noticed on their website that they have a number you can call to get a free sample: 866-599-7022.
145. A reader asks (Sorry I lost the name on my document!), "Could you please email me an example of what a typical day of foods you eat (breakfast, lunch, dinner and snacks) and how far apart….and how much you exercise?  I have read that you like to just exercise according to how your body feels but if you could just give me an example of what a normal….balanced day looks like I'd greatly appreciate it.  I can't seem to find an example of a day's worth of meals and exercise on your blog. Thanks so much for the wonderful, inspiring, no-nonsense information and stories."
Please see my new 'What I Eat' page created especially for this purpose. I will be updating it from time to time. I am also making an effort to photograph more of my meals so you can have more of an idea of the foods and quantities that I eat from day to day.
146. Michelle asks, "Where did you get that top you are wearing in the pic?"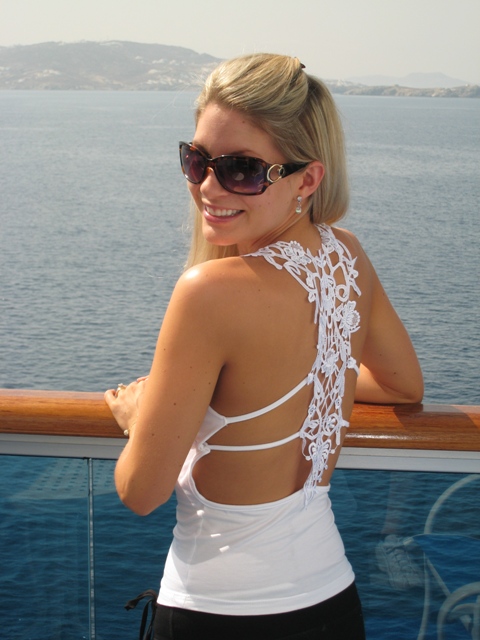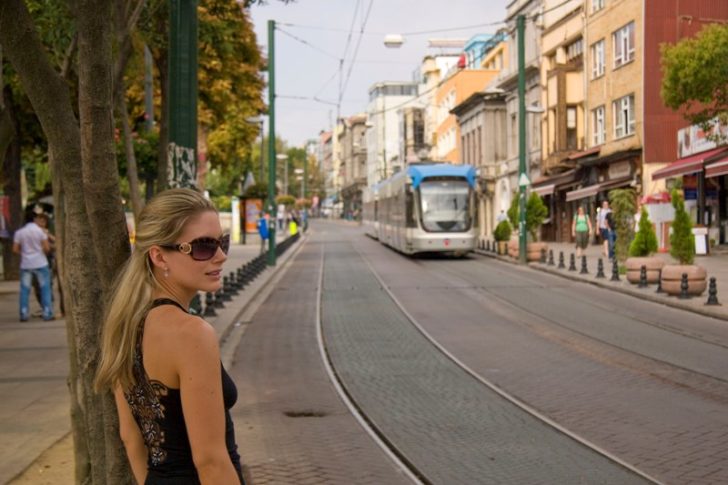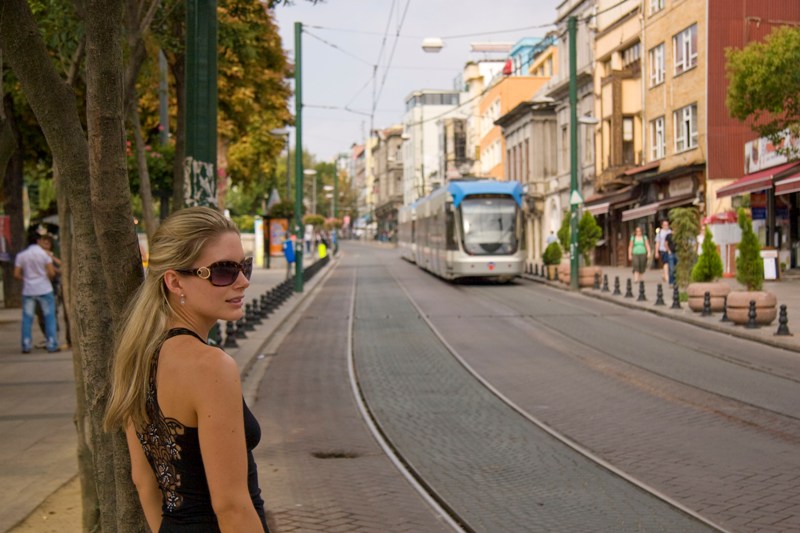 I got both tops from Kusadasi, Turkey while on our honeymoon for dirt cheap! I went back and forth with the guy and got him to drop the initial price by over 60%. I love a good deal! I loved all the fashion in Europe! Amazingly enough, those were the only two shirts I bought while on my honeymoon. I was really on my best behaviour and didn't spend more than $100 on myself. I mostly bought souvenirs for family.
147. Deb asks, "That is almost the exact smoothie I drink everyday. I add water instead of Almond milk though & have never put parsley in mine, Is there a reason for the parsley, not sure I know much about the nutrition in parsley."
Parsley (as with other herbs) have tons and tons of nutritional benefits:
Rich source of Vitamin A and C
Inhibits tumor growth
Rich source of antioxidants
Great source of folic acid
Protection against arthritis
You can find a huge amount of info on Parsley here.
148. AnneP asks, "Why do you have a XXXX beer mat in your bar??? i studied abroad in Australia and LOVE that beer….and all things Australian :)"
Funny you noticed that! Eric travelled to Australia several years ago for about a month. It was one of his favourite beers too. He picked it up at a souvenir shop in Sydney, Australia."
149. Bobbi asks, "I have a question. I am so inspired about your keeping track of spending that I have decided to do it myself. Hubby and I are trying to save, save, save, but I have a question is there a number you are trying to spend weekly, monhlty,daily??? I want to do this in hopes that helps us be accountable to our spending."
This is a great question and one that I have not sat down to figure out yet. What I realized is that since I have been making major cutbacks on my spending, since I don't have a target or 'goal amount' to not go over each week it makes it easy to spend more than needed. I think if I set a weekly target, this would give me something to adhere to rather than just saying…I will cut back as much as possible. I really need to sit down and figure out what a practical amount would be. There are so many expenses through the run of a week (especially while doing renos and owning a house), so I would likely make a separate budget for food, entertainment, personal items, etc. We are tracking all of our reno expenses in an excel sheet because the government is kicking back 15% of all reno expenses this year up to $10,000 so we are taking full advantage of this opportunity! Stay tuned for more budgeting posts. :)
149. Melissa asks, "Wow amazing before and after photos. This is probably too personal, so feel free to ignore or delete the comment, but what does Eric think about the transformation that occurred during your relationship?"
I just actually asked Eric this question as he is sitting right here. He was a bit nervous to answer this. LOL. He said, "I have always supported you 100% throughout our entire relationship. Whatever you wanted to do I supported you. I do think you are happier now, whether that is a result of the weight loss or simply because you made so many great changes to your lifestyle. You also got rid of so many negative behaviours (calorie counting, obsessing with your weight, etc) so I think that made a huge difference. In terms of your appearance, I have always thought you were beautiful at any weight so that has never been an issue for me. I think you are the most beautiful when you are happy."
So sweet!
I agree with Eric…when someone is happy it shines through and they are beautiful no matter what their size. You have to do what is best for you and arrive at a place where you do not feel trapped and uninspired by your lifestyle.
~~~~~~~~~~~~~~~~~~~~~~~~~~~~~~~~~~~~~~~~~~~~~~~~~~~~~~~~~~~~~~~~~~~~~~~~~~~~~~~~~~~~~~~~~~
See you tonight for more FAQ's!
We are off to the car dealership…..ugh!
~~~~~~~~~~~~~~~~~~~~~~~~~~~~~~~~~~~~~~~~~~~~~~~~~~~~~~~~~~~~~~~~~~~~~~~~~~~~~~~~~~~~~~~~~~
Positive thinking won't let you do anything but it will let you do everything better than negative thinking will.
Zig Ziglar