Hey everyone!
Thank you all so much for your comments on this afternoon's post! I really love the support on this website! So amazing, each and every one of you. I always walk away feeling uplifted after I read all of your comments and emails.
And it is my only hope that I can do the same in return!
So tonight I thought I would address an issue that I have been getting lots of questions about since I wrote about my past struggles with binges.
Yes, the B word. The often unspoken issue that millions of people struggle with every day.
Binge eating.
Like other eating disorders, there are varying degrees of binge eating. For some it is extreme in the amount of calories that are consumed as well as the debilitating effect it has on their life. For others, it is a pesky problem that causes emotional upset but does not severely impact their life.
At any rate, binge eating leaves its sufferers shameful and guilt ridden.
I was talking to a fellow reader of Oh She Glows, and I admitted to her that I had some anxiety over disclosing the fact that I had struggle with binges at times in my past. I think that is because binge eating, along with bulimia (which I have never suffered from), have a huge amount of shame associated with them. This makes it hard for women to reach out and seek help from others.
Here are just a few of the emails that I have received on binge eating:
"I feel like I may be going through some of the same stuff that you did and others who read your blog currently are. For the most part, I eat very healthfully. I don't know what the problem is…I exercise everyday (sometimes I take a day off), I follow a healthy diet (oatmeal for breakfast, fruit mid-morning, lunch of salad/sandwich, yogurt, veggies, granola bar or something for afternoon snack, healthy dinner of chicken or fish or veggie "stir fry", brown rice, you know the deal. I usually have a "dessert" too-Kashi Go Lean Crunch with raisins or yogurt, nuts, peanut butter on a slice of bread–something like that. Sometimes though, I find myself overeating. I have never had a weight problem. I'm thin (would like to be a bit more toned!) but sometimes I feel like I just go on these binges for no reason. Sometimes I am hungry, but what I eat ends up being excessive. Often, during the binge, I realize I'm doing it but don't stop. I've been better about that type of binge lately and don't really do that anymore. I feel like the latest thing is secretive eating. I will wait until I'm alone until I prepare snacks or eat them. This has been especially problematic when I'm at my boyfriend's house.  His mom keeps the cabinets/fridge STOCKED with loads of food (some healthy, some not). I don't like sneaking around and was wondering if you have any advice for this? I feel like I eat enough, but maybe my body is feeling deprived? I don't know. I just try to eat healthfully and naturally (whole foods). I really want to resolve this issue though.

Sorry for the long email, just hoping maybe you could relate!"

 

"How did you stop the binging? I know that my issue is that I don't seem to be balancing my meals (also feel deprived) and may be over exercising then I over eat, over exercise, etc."

 

"Hi Angela!

You said in your blog tonight to email if we need to vent! So…here goes:

I'm trying VERY hard to overcome binge eating. I know you said you've dealt with that in the past. I know this is something that a lot of women deal with. Is there anyway that you could put a blog up about overcoming binge eating, how you did it, tips, etc….I think that would be super helpful. I know I'd appreciate it. I think this is an "unspoken" issue that is far more prevalent that we all realize.

Keep up the great work!"

 
Please note that I withheld names from the emails, not because I think these comments should be hidden, but because I am not at liberty to judge what amount of disclosure others are ready for at this point.
All of these are wonderful and honest questions and I appreciate that.
The experience I have had with binges are that they usually stem from one or more things:
1) A mental deprivation
2) A physical deprivation
3) Stress
4) Habit
5) A combination of the above
An example of a mental deprivation would be feeling like you are denying yourself foods that you are craving, even though your diet may be 100% healthy.
As in the case with comment #1, it sort of sounds like the commenter has a very healthy diet, however I question whether she is truly allowing herself some indulgences that she craves now and then. Of course, I have no idea and so this makes it hard to answer these questions, but I can of course give my own experience here.
From my experience, when I have had what seemed like a perfect & healthy diet, I still struggled with binges and over eating. My indulgence was some fruit after dinner or something fairly safe, however what I may have wanted was just a chocolate bar! I felt mentally deprived because I wanted something a bit exciting and off the beaten track now and then and my healthy diet, while balanced, did not give me this. So even if you are eating enough calories and the right food groups, sometimes your mind just wants a little fun. And for me, when I didn't give it that once and a while, binges and over eating would happen. Only you can be the judge of what is a good balance for yourself, but if you are indeed experiencing binges then something is not working.
An example of a physical deprivation would be that your body is literally lacking certain nutrients in your diet and is making you binge to try and get these nutrients.
For example, if someone with an eating disorder is calcium deprived, they may find themselves binging on cartons of ice cream and not know why.
In this case, it is very important to assess whether your diet is giving you the right nutrients that it needs to function properly.
I highly recommend seeing a Registered Dietitian for an assessment if you think you may be lacking nutrients. I saw one during university and it was one of the best things I ever did!
An example of stress binging is fairly obvious. This is the time when you are going through a chronic (a family member is ill) or acute (You failed an exam) stressor in your life. Your body is cranking out adrenaline and cortisol. Cortisol increases your appetite for fatty and sugary foods. If you are depressed, your body will also use the food as a way to temporarily increase the endorphins in your brain.
Yes, food gives you endorphins- it is an evolutionary function so that humans desire to eat and find eating pleasurable. In fact, many of the 'feel good' human experiences (e.g., eating, drinking, sex, love) are adaptive because if they weren't pleasurable we would all die out and have no interest in them.
So eating makes you feel good. We know that, the thing we have to do is figure out other adaptive ways to make ourselves feel good and to increase the endorphins in our brains.
Stay tuned for part 2 on strategies that helped me overcome overeating as well as breaking the habit.
~~~~~~~~~~~~~~~~~~~~~~~~~~~~~~~~~~~~~~~~~~~~~~~~~~~~~~~~~~~~~~~~~~~~~~~~~~~~~~~~~
Tonight's quote comes straight from a graffiti wall in Istanbul, Turkey
It reads:
Don't be afraid of Art.
Don't be afraid your mind.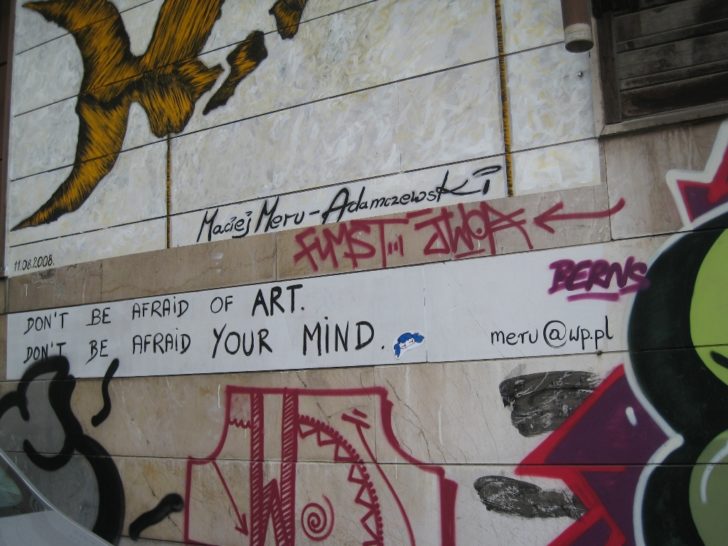 See you tomorrow morning for a sad mail delivery and what home renos Eric and I are working on!
Night! :D