Good afternoon!
Oh. My. Gosh. this contest judging has been soooo difficult! I had to bring in outside consultation!
In case you missed it this morning:
After reviewing all of the entries there was one that I felt should be the winner, but at the same time I wished that I could give everyone the same loot bag because all of the entries were so amazing!!!
To get an unbiased opinion, I had Eric review the entries without knowing my pick. His pick and my pick were the same so I think that I have made the right decision. The entries were judged on 3 qualities:
Creativity
Presentation
Nutritional Quality
All of the entries had a wonderful mixture of these aspects! Your creativity just blew me away! I honestly feel so lucky to be able to hold these contests because I get to see what creative and amazing people are lurking behind these screens. When I was going through the entries I started to realize just how healthy many of you eat- and that is awesome!! Some of you had foods in your power snacks that I had to research to find out what they were and what the health benefits were. It was a great learning experience!
All of them made me smile, lick my lips, or laugh.
Your recipes or stories were often hilarious and I found myself laughing out loud and wishing that I could come over to share your snack with you.
Some people gave me a break down of the nutritional information of the snack, many pointed out the health benefits of the foods used, and some simply loved their power snack because of the way it made them feel– powerful and energized.
It was so utterly hard to narrow this contest down. So I decided to give away 6 runner up prizes in addition to the grand prize!
So without further ado….I present to you the winner of the Oh She Glows Power Snack Contest!!!
Laura and her spa worthy power snack!!!
Laura wrote:
"Hey Angela!
 
I decided to present my favorite power snack with my favorite way to unwind at the end of a long day–a warm bubblebath and a soothing face mask!

My power snack is an awesome bowl of plain yogurt with some pumpkin mixed in, banana slices, a sprinkling of raisins, and a spoonful of all natural almond butter!

This combination always keeps my hunger at bay, but never gives me that too full feeling! It also packs a nutritional punch with calcium from the creamy yogurt, vitamins and fiber from the fruits and veggies, and a dose of healthy fats from the delicious almond butter. Lastly, It's tastes sooo good and I love the different textures!"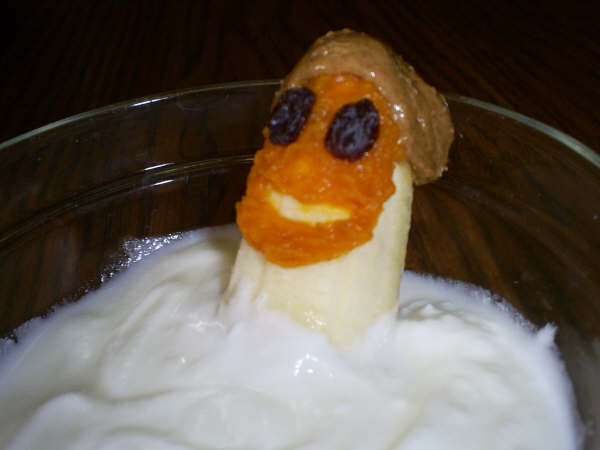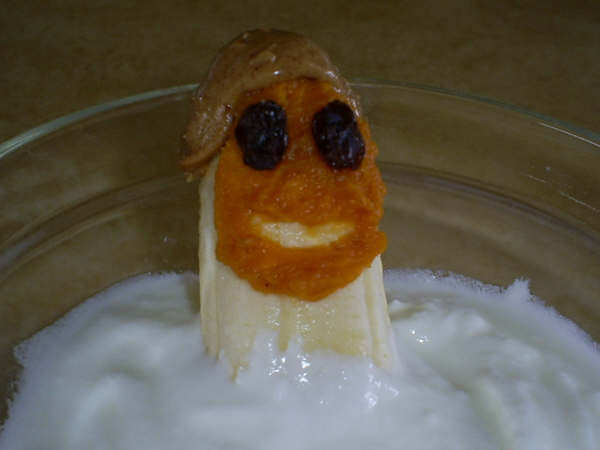 Congrats Laura!!! :D
I must say when this entry arrived in my inbox, it was everything I could do but to laugh like a crazy woman while at work! I couldn't hold in the laughter!!! Each time I reviewed the entries I laughed when I saw this one. I am so impressed by the creativity. I loved that the power snack touched on some of the fabulous elements of Oh She Glows- inner and outer beauty. I really thought that Laura's submission tied in all of these elements well.
This is what Eric had to say when he reviewed the entries:
"If a picture of food can make you laugh every single time you open it, then it is truly special."
I couldn't agree more. I will never see bananas the same way again.
Beyond the presentation and creativity, this power snack is truly a nutritional powerhouse. As Laura said, it has protein and fibre for fullness and healthy fats for the long afternoon stretch.  Additionally it has many vitamins like Calcium, potassium, Vitamins A-B-C, iron, and folate.
We all need a little pampering now and then right?
Laura please email me your address and I will ship this off to you!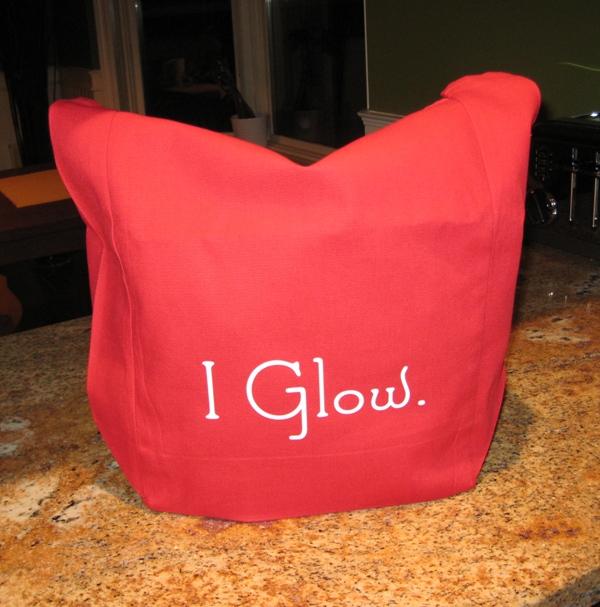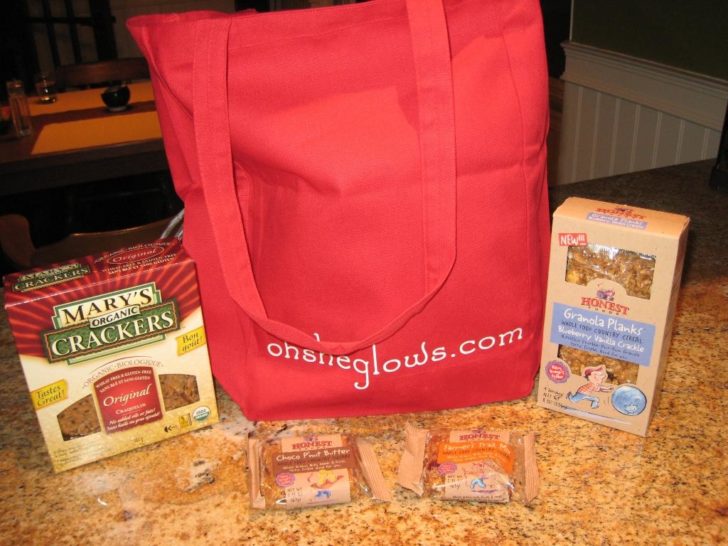 A huge thank you to everyone who entered! Stay tuned this weekend for the reveal of the next Contest Giveaway!
Coming up tonight: The 6 runner ups and their prize! :D
~~~~~~~~~~~~~~~~~~~~~~~~~~~~~~~~~~~~~~~~~~~~~~~~~~~~~~~~~~~~~~~~~~~~~~~~~~~~~~~~~~~~~~~~~~
 The most wasted of all days is one without laughter.
~E.E. Cummings