Hey guys!
Wow what a day. It was quite stressful to say the least. I have so much on my plate before I am done on the 6th. I am trying not to get stressed out about it but it is hard. I have a feeling like they are overloading me and trying to squeeze every last drop from me before I am gone. It is going to be a rocky 2 weeks. *Deep breath* 8 days….The good news is I told all my coworkers the news today and they were all thrilled for me! Giving me hugs and saying they would miss me. :) It made me feel better.
So to do something fun, I thought I would put together this fun Worst Dressed of the SAG awards! I am currently in the car on the commute home from work! Eric is on call this week so he has his wireless 'anywhere'  internet so I am able to connect to the internet while in the car! Not too shabby :) I wish I could do this every day!
I looked at the poll results from this morning and Kate Winslet won with 28% of votes, just inching in front of Anne Hathaway with 26% of votes! What a close race! :) I still can't decide who was my fav- there were sooo many gorgeous ones!! Kate is always a winner though- such a class act that woman is.
And now for the SAG awards Worst Dressed….(according to yours truly! haha)
1. Christina Applegate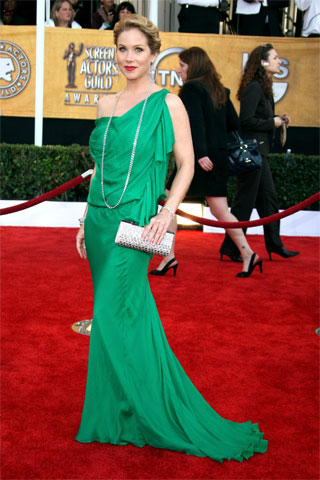 This green dress reminds me of my Green Monster smoothies. Nough said.
2. Nicolette Sheridan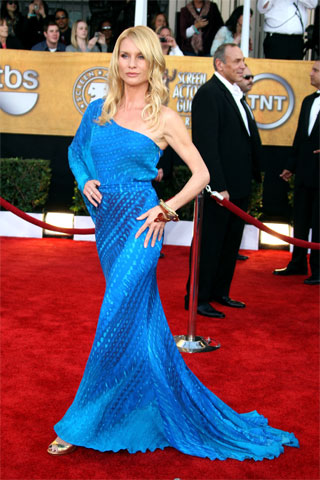 Ok maybe I am biased because I don't like her, but I find this dress looks a bit too mermaid-ish.
3. Claire Danes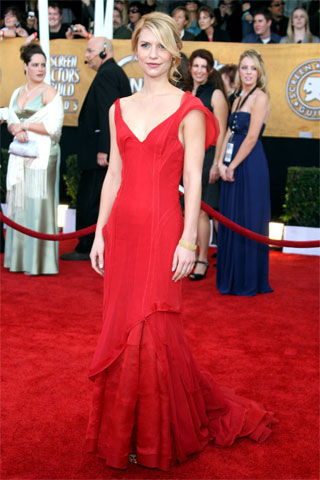 This dress would be stunning if it fit right! Shes drowning in it. Tailor please!
4. Teri Hatcher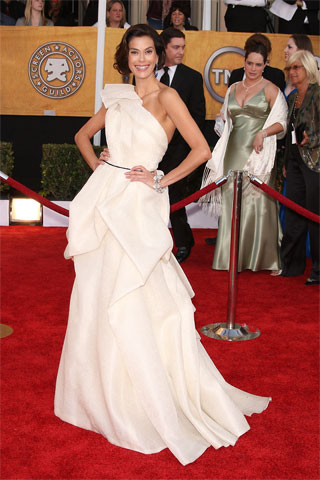 Again, this dress overwhelm her. It's not the worst, but it's not great.
5. Meryl Streep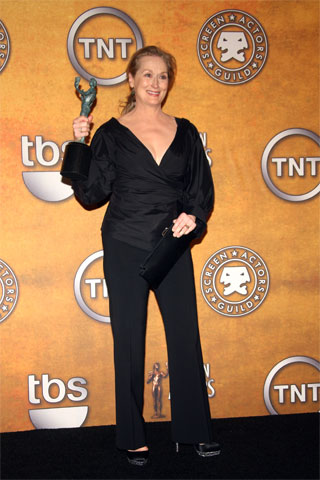 Apparently she said she didn't think she was going to win so she didn't wear a dress! lol. And she won. Note to self- always come prepared!!
6. Sally Field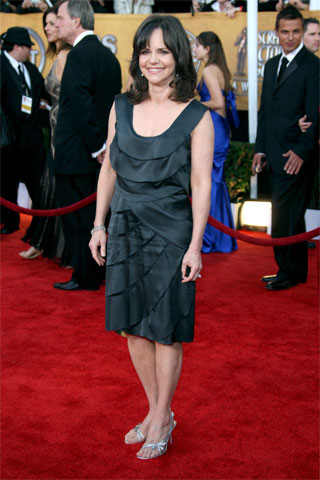 This dress looks like it was bought at a second hand store. Ok that is harsh but it isn't the best she could do. She has a great body but you can't see it here.
7. Angelina Jolie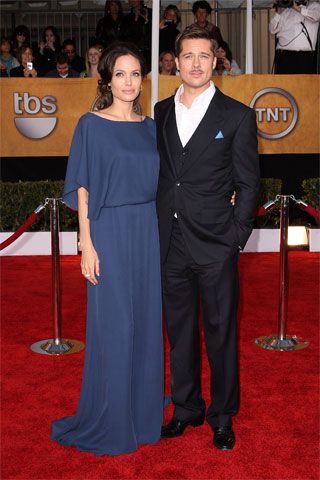 Oh dear. Is anyone else sick of these two and their holier than thou attitudes? So somber and cold!
~~~~~~~~~~~~~~~~~~~~~~~~~~~~~~~~~~~~~~~~~~~~~~~~~~~~~~~~~~~~~~~~~~~~~~~~~~~~~~~~~~~~~~~~~~~
And now for the top fashion trends from the SAG's:
SAG Fashions Trends according to E Online:
Halter tops (e.g., Olivia Wilde)
Return of Old Hollywood glamour (e.g., Rosario Dawson)
Rainbow colours (e.g., Diane Lane, Kate Winslet)
One shoulder dresses (they were saying the trend was set by Michelle Obama)
I love all of these trends so I am quite happy about them! Bring on the colour, glamour, and halter style dresses!
~~~~~~~~~~~~~~~~~~~~~~~~~~~~~~~~~~~~~~~~~~~~~~~~~~~~~~~~~~~~~~~~~~~~~~~~~~~~~~~~~~~~~~~~~~~
See you guys tonight! :D
No man can be ideally successful until he has found his place. Like a locomotive he is strong on the track, but weak anywhere else.
~Orison Swett Marden