Hey everyone!
Happy Friday!!! :D Yawhoo
I decided that I am feeling well enough to try out some light yoga this morning! I have been dying to try my new Power Yoga DVD that arrived the night before my injury! I have watched a bit of it and couldn't wait to try it out.
This DVD has 3 levels:
1) Energize (beginners)
2) Tone (Intermediate)
3) Sweat (Advanced)
Each workout is about 50 mins.
Bryan Kest's Power Yoga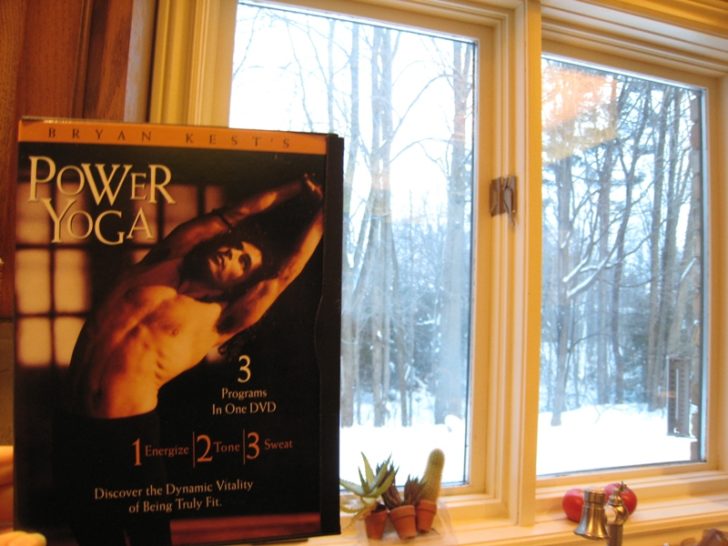 Tips at the beginning of the DVD:
1. Only breathe through your nose. No mouth breathing whatsoever. Don't ever hold your breathe. Fluid breathing is a priority.
2. There is no such thing as a perfect pose. Don't worry about jamming and pushing yourself hard to try and get somewhere. Where you are at is perfect. All you need to do is feel something and breathe.
3. If you are new to yoga don't have any expectations before you start. Do what you can do and leave the rest behind. Stay out of your ego.
Ok, as corny and 80's as this video looks….this opening part was AWESOME. It was just what I needed to hear from a yoga instructor. He makes you feel comfortable and nonjudgmental. I am starting to see why this was rated so high on Amazon! Yoga snob this guy is NOT! The fabio of yogis? Perhaps…. :D
I went gentle on myself this morning and didn't push any moves. I did about 12 mins. and had to modify the workout so that I wasn't straining my injury.
I love when he said this during the workout:
"If you are feeling something then you are doing it perfectly. Don't feel anymore than you can be non-reactive. Then your face can stay calm and your breath can stay deep. Because if you start losing the fluidity of your breath, you are being counter productive. If you start reacting to what you are doing, you are building tension here…"
"If worst comes to worse and you need to drop the pose, that's cool!" :D [I think he was speaking to me directly here!]
"All poses are endless. That's why we have to be where we are at because we are already there."
~~~~~~~~~~~~~~~~~~~~~~~~~~~~~~~~~~~~~~~~~~~~~~~~~~~~~~~~~~~~~~~~~~~~~~~~~~~~~~~~~~~~~~~~~~
My breakfast this morning made me feel as calm and centered as my yoga did!
I made yesterday's kale smoothie again, with twice the amount of kale today:
2 large kale leaves
1 Tbsp flax
1 ripened banana
1 cup Almond Breeze (unsweetened)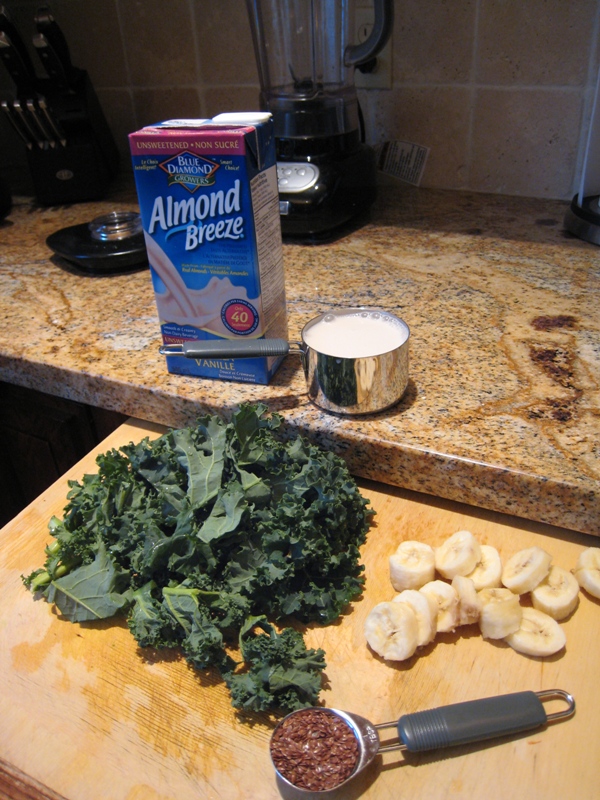 I was asked the question why I turn these veggies into smoothies instead of just eating the veggies in their whole form.
I will admit, this question did stump me at first!
but what I have realized, is that I would never have the time in the morning (or during the day for that matter) to consume this volume of veggies. I figure this is about 4 cups of kale or more!!!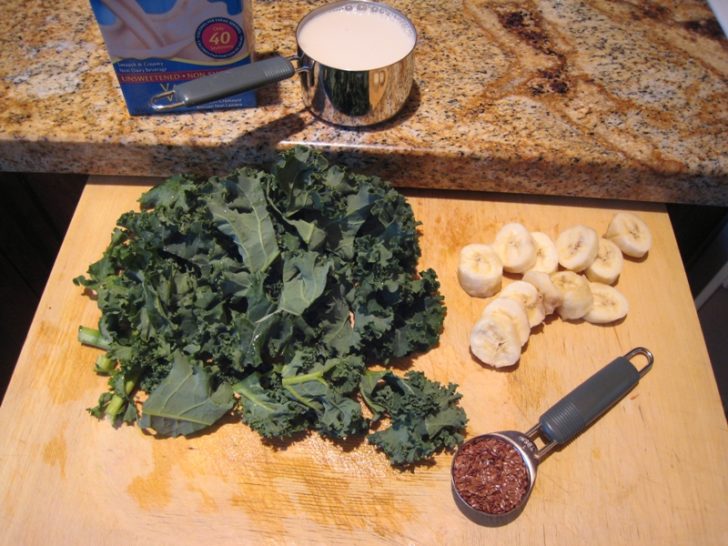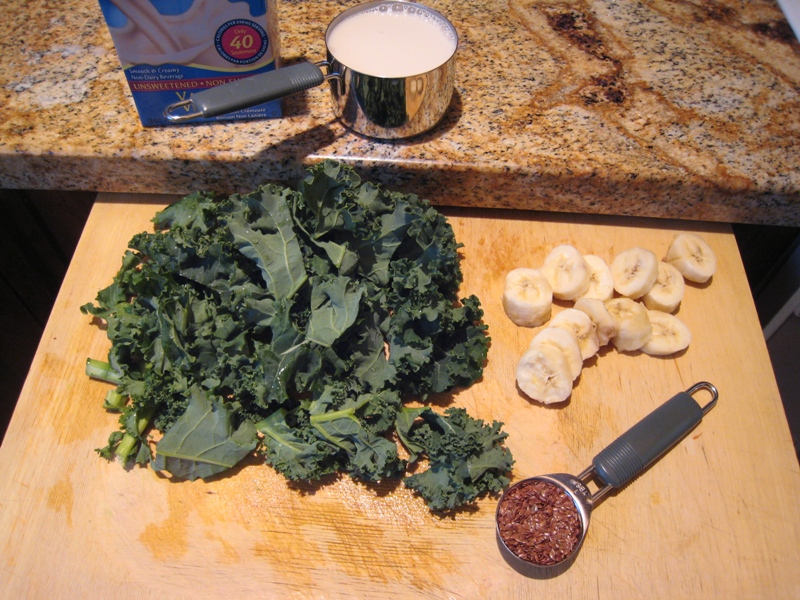 So for me it is about convenience. Days I am running late, I can pour it into a thermos and drink it during my commute.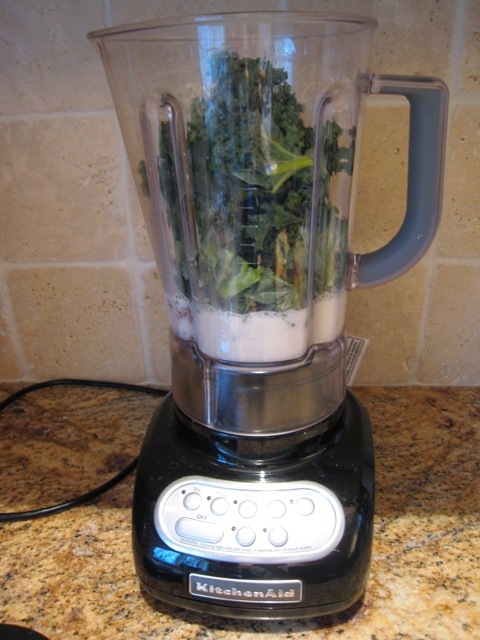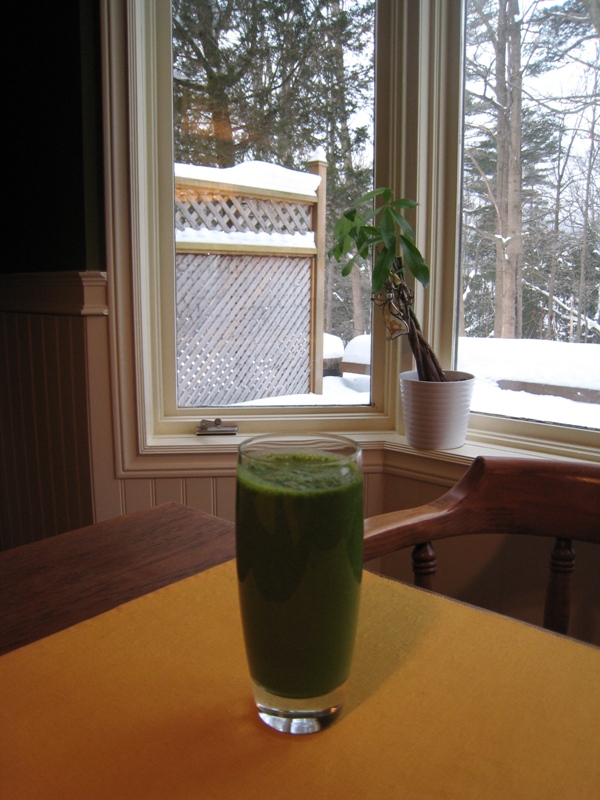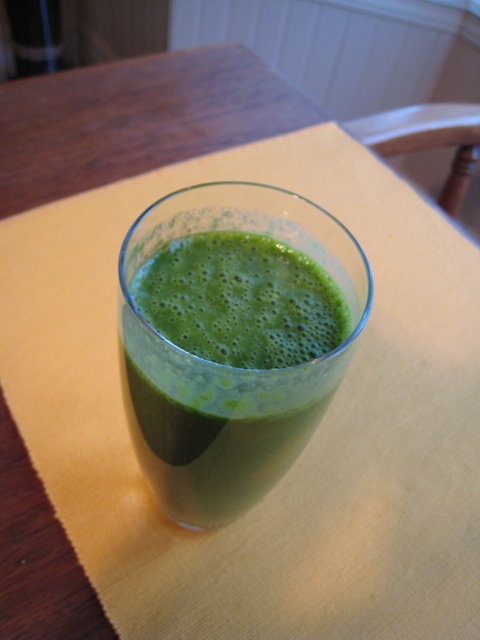 The taste? It was definitely more bitter tasting today since I used the unsweetened Almond Breeze and my banana wasn't as ripe as yesterday's (i.e., black!). However, it was still pretty good. And I really love that it is more liquidy since I have been adding 1 cup of AB.
I tried the unsweetened Almond Breeze on its own and while it wasn't as sweet and tasty as the original with 60kcals, I think I would consider buying this to use just for cereal and stick to the original for smoothies. :)
I blended it for a good 2 mins. It was delicious and energizing, just like my yoga! :)
~~~~~~~~~~~~~~~~~~~~~~~~~~~~~~~~~~~~~~~~~~~~~~~~~~~~~~~~~~~~~~~~~~~~~~~~~~~~~~~~~~~~~~~~~~
See you this afternoon for some Free for all Friday fun!
Stay tuned for a grab bag of celebrities, fashion, health news, and beauty! And find out what is on the agenda this weekend….
Don't forget to submit your photo for contest #3!!!
~~~~~~~~~~~~~~~~~~~~~~~~~~~~~~~~~~~~~~~~~~~~~~~~~~~~~~~~~~~~~~~~~~~~~~~~~~~~~~~~~~~~~~~~~~
Do not anticipate trouble, or worry about what may never happen. Keep in the sunlight.
Benjamin Franklin